reuben-style sandwich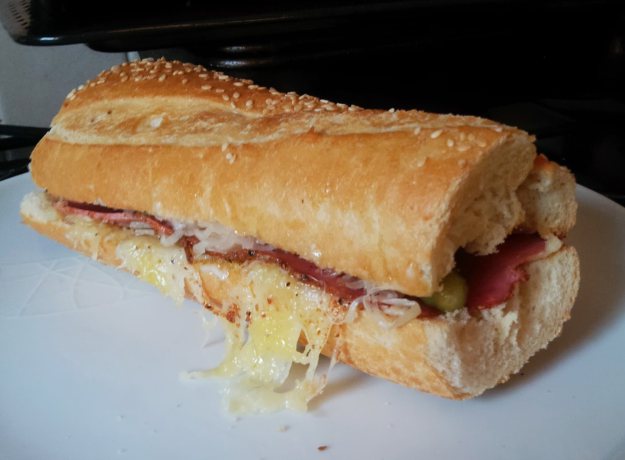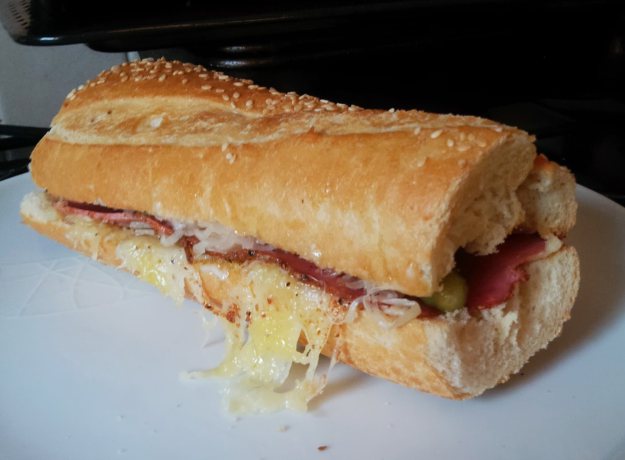 Goodness, those New York delis know how to make a decent sarnie, don't they?
This is a take on classic Reuben sandwich, which has about a thousand origin stories. Whatever its beginnings, this stacked snack is packed with sharp, salty, savoury delights. I can't claim this is authentic; just "inspired by". I've put lovely, lovely Comté in here. The sweet nuttiness is brilliant with the strong meaty flavours.
I had to buy an enormous jar of sauerkraut to make this; just as well I've discovered I have a real appetite for it!
Reuben style sandwich (serves 1):
6 inch french stick bread
2 gherkins, sliced
2 slices pastrami
1 slice salt beef
30g Comté cheese, grated
Mayonnaise
English mustard
1 heaped tablespoon sauerkraut
Preheat your grill to high. Slice the bread in half and pop under the grill and heat the cut side until dry and crisp. Remove one side from the grill and spread over mayo and mustard as desired. Brush the other side lightly with oil, top with the sauerkraut, meats, gherkins and cheese and put back under the grill until the cheese starts to melt. Sandwich together and munch happily.