rigas's lamb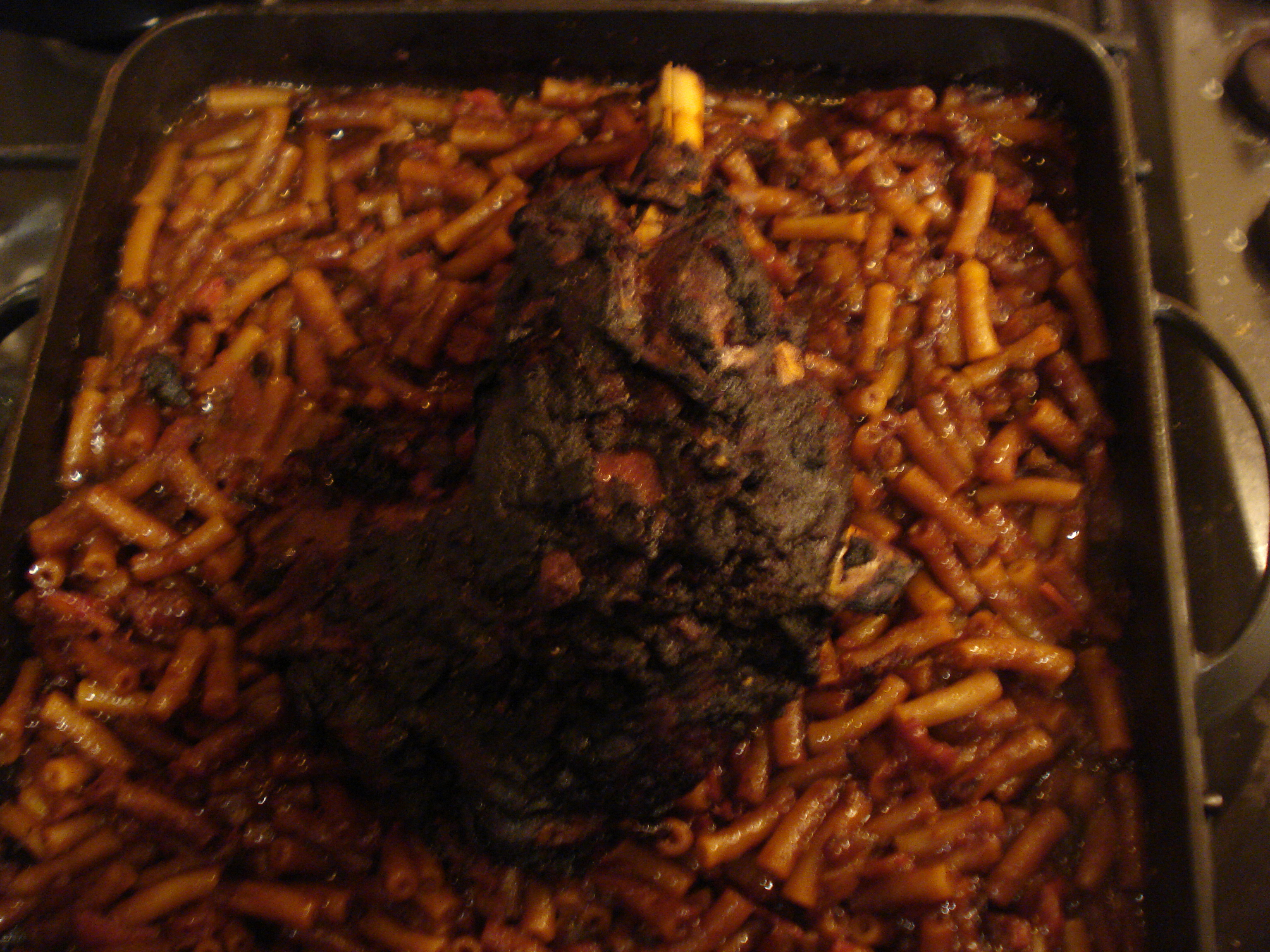 Another slice of pure joy from Leon 2
. This Greek-inspired family recipe is a delight, and I particularly enjoy the use of macaroni as a carb. The tiny pasta tubes bring out the kid in me. The original recipe called for dried mint but I tend not to use it and went for the mostly authentic dried oregano instead. And we haven't even mentioned the lamb: rich, soft and sweet. Try instead of a roast one week, it's almost zero maintenance. I served mine with some steamed Savoy cabbage and it was wonderful.
PS. I recommend not falling asleep halfway through cooking – it does need the occasional baste…
Rigas's lamb:
1 onion, diced
1 shoulder of lamb
5 cloves garlic, peeled
A few mint leaves
2 tins of tomatoes
250g macaroni
1 tablespoon dried oregano
Get the oven on about 150°C.
Put the onions in a baking tray and mix with the tomatoes. Fill one of the tomato tins with water and slosh that in too. Poke the lamb all over with the tip of a sharp knife. Break the garlic into bits and stuff into the holes, then cram some torn mint on top. Pop this on top of the tomato mix, season like billy-o and slam in the oven.
Cook for about 3 – 4 hours, or until the lamb is tender. Baste frequently to make a lovely cakey crust on the lamb, and you may need to add water from time to time to stop the whole thing drying out.
About 20 mins before the end of cooking, throw in the macaroni and oregano, stir about and put back in the oven. Continue to add water through this cooking time as necessary.
Serve by hacking the lamb into chunks with a big scoop of tomatoey onion pasta.