roast chicken with petits pois a la francais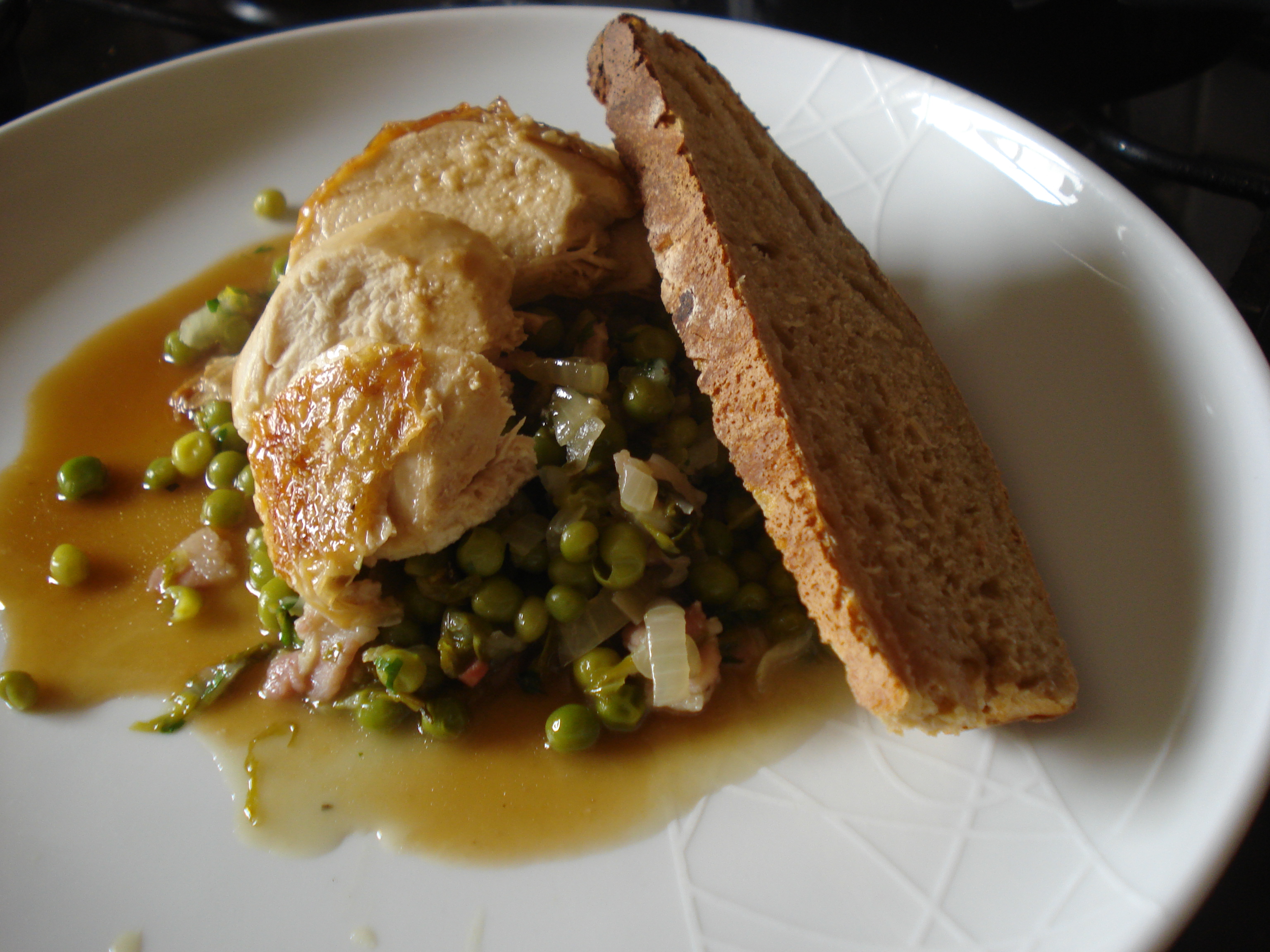 Sometimes, when you're cooking dinner you just know it's going to be good, you can feel it. This was one of those times.
It was an excuse to eat peas, this one: the peas are a recipe from attending Waitrose Cookery School recently (more on that in a future post). I know it's a classical French recipe but this is just so damn tasty. This from someone who isn't that bothered about peas. Seriously, they're amazing. Try this on their own. I would of course usually roast a chicken in my favourite Heston way, but on this occasion I was caught short and had to cook the chicken on the quick and roasted it in the traditional way. It was fine, but I do miss the succulence afforded by lovely brined meat. All that aside, this combination of chicken and braised peas is just brill. The gravy is inspired by a method described in Alex Mackay's new book Everybody, Everyday
.
By the way, note only the breasts were required for this recipe. I used the other parts of chicken for meals elsewhere in the week.
Roast chicken with petits pois a la français (serves 4):
For the chicken:
1.7kg chicken
1 onions, quartered
1 head of garlic, halved horizontally
For the peas:
25g butter
1 onion, peeled and finely diced
4 rashers bacon, sliced
1 sprig of rosemary, leaves picked and finely chopped
250g petits pois
2 little gem lettuces, shredded
A large handful of parsley, finely chopped
For the gravy:
600ml chicken stock
2 tablespoons soy sauce
1 tablespoon cornflour
Sourdough bread, to serve
Preheat the oven to 200°C.
Free the chicken from its trussing, put it in a roasting tray, slather it in olive oil and season well. Pop a quarter of the onion and half the garlic in the cavity, and scatter the remaining alliums around the chicken. Pop in the oven for 1 hour to 1hr 30mins, until a thermometer inserted into the thickest part of the breast reads 70°C+. Allow to rest, covered, for at least 15 mins before carving (only the breasts are required for this recipe).
When the chicken has been in for about 30 mins, melt the butter in a large saucepan and gently fry the onion for a couple of minutes until softened. Add the bacon and rosemary and cook for a couple more minutes, then add the peas and lettuce. Cover and allow to raise for 30 mins, stirring occasionally. When the peas are tender check for seasoning and add the parsley.
For the gravy, boil the stock and soy together until reduced by a quarter. Mix the cornflour with a splash of water and whisk this in. When the chicken has been removed from the oven add the juices from the pan to the gravy. Serve everything together with sourdough bread to soak up the gravy.