roast rose veal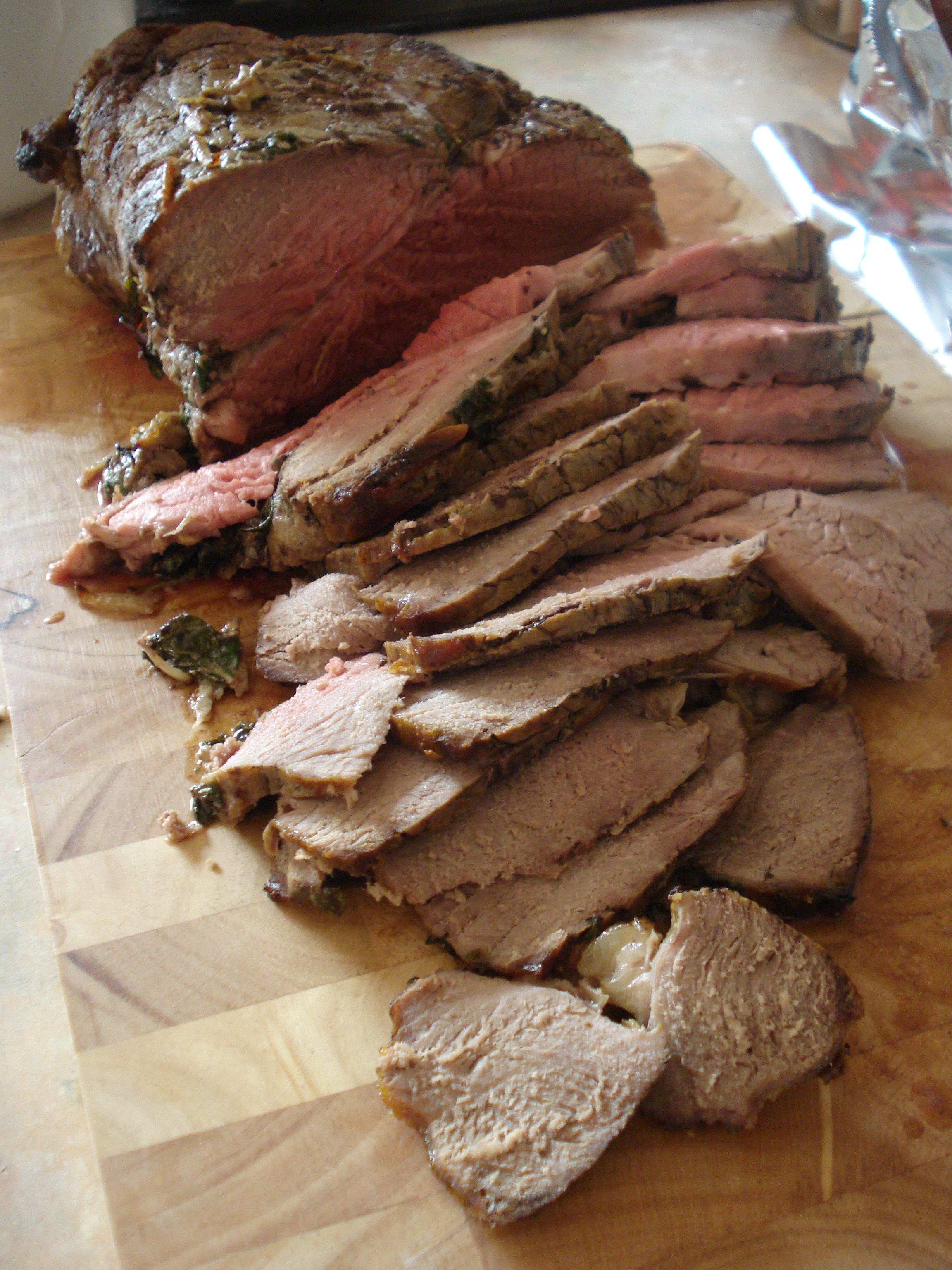 I've lamented far too many times on this blog how difficult veal is to get at a decent price, it's just not even a discussion point any more. So bravo Farmer's Choice for pushing their rose veal back to the top of the menu. Here's some photos of their farm.
I'd never roasted veal before. Rare enough as a steak or escalope, I'd never seen a chunk of veal the length of my arm. I wasn't quite sure where to start, which meant I just had to relax and follow my roasting instincts. After all we are talking about baby roast beef here but with a lighter touch, so I headed off in a faintly mediterranean direction instead, massaging it with plenty of garlic, lemon and basil. Roasting high then low I waited until it was in the high sixties when probed. I was not disappointed with it. Just look at the colour of it, a vibrant pink (rose!) and a texture to die for, loose and luscious.
It may be on the pricier side at £19.60 for 1.4kg but it's all meat – despite not having the bone in this is a joint packed with flavour. And it went round four meals feeding 3-4 people each time. So in the best tradition of Sunday roasts the main dinner kept on giving. Here's to veal making a serious comeback!
Farmer's Choice sent me this complimentary meat to try.
Roast rose veal and Marsala gravy (serves 4 with miles of leftovers):
1.4kg roasting joint veal
6 cloves garlic, peeled
Zest of ½ lemon, finely grated
Handful of basil, stalks and all
1 onion, halved
2 carrots, halved
For the gravy:
1 tablespoon soy sauce
1 tablespoon balsamic vinegar
50ml Marsala
500ml beef stock
Preheat the oven to 200°C. Pop the onion and carrot in a large roasting tray and arrange in a line to act as a trestle for the meat. In a pestle and mortar bash up the garlic, lemon and basil with salt and pepper and add enough oil to make a slushy paste. Slather this all over the joint and pop on top of the veg. Put in the oven and after 10 minutes turn down to 160°C. Roast the veal for 1½ – 2 hours until the internal temperature reaches 65°C in the thickest part (use a meat thermometer). Leave out of the oven to rest, covered, for around 30 mins.
To make the gravy, remove the roasted onion halves from the tray, discard the skin and roughly chop. Add to a separate saucepan with the soy sauce and vinegar. Heat until they sizzle then add the beef stock. Bring this up as hot as it will go and reduce by about a third. Meanwhile put the roasting tray on the hob over a high heat and add the Marsala. Allow to bubble and scrape away for a minute or two. Put a sieve over your reducing stock and tip the contents of the roasting tray into the sieve. Discard all the carroty bits and keep on simmering the gravy. You may need to add salt, pepper or sugar as required. Keep reducing until it coats the back of a spoon.
Carve the veal, tip the resting juices into your gravy and serve in thick slices with potatoes and greens.