rossi's lemon ice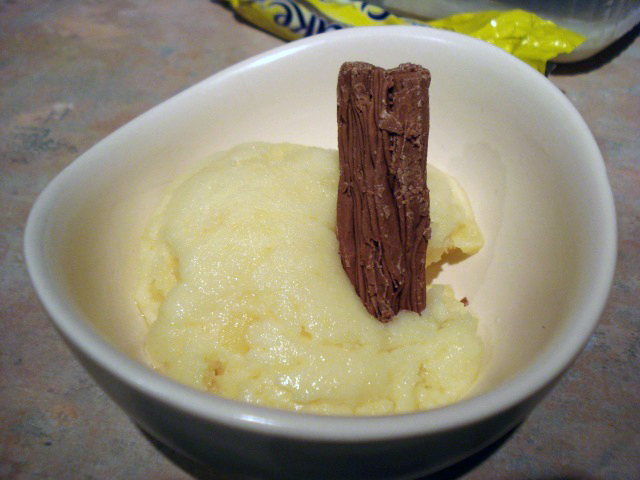 One of my favourite food bloggers, Kavey of KaveyEats, hit upon a great idea for bloggers everywhere to explore their childhood ice cream-related memory. Like most Britons, particularly those that grew up on the coast, ice cream is a very tangible memory to me. One brand in particular is the first that comes to mind: not Wall's, not Lyons Maid, not Haagen-Dazs. Rossi's.
Rossi's is known throughout South Essex as the ice cream brand. The Rossi's van came round my street every night after school, you could stroll along Marine Parade and visit their shop, or drop by their kiosk on Southend High Street. I was astonished as I grew up and went outside of the county to realise no-one else had heard of it. But it's a brand that goes back eighty years, and it's familiar blue-and-white livery is a prominent landmark on the Southend promenade.
The kiosk is now unfortunately gone, yet you can buy tubs of their ice cream in many grocers and delis throughout the county. It's not quite as magic buying it this way, but it still tastes the same as when I was eating it thirty years ago.
Their "vanilla" ice cream is great – doesn't actually taste of vanilla, it tastes of white, but it's great – but the crown jewel in their flavour riches is the lemon sorbet, or as it's more commonly known, "the lemon ice". If you've not had the pleasure it doesn't quite taste like a sorbet that you are used to; it's smooth and extremely fine-grained, with a curious luminous yellow hue. But it's the perfect treat on a hot Summer stroll along Southend High Street.
For my attempt I needed a really strong syrup with a slick of gelatine to try and recreate the smooth texture. After freezing I was amazed how close to the real thing it tasted! I would probably dial down the lemon a tiny bit next time – maybe 4 lemons instead of 6, but otherwise it's a perfect little scoop of childhood memories.
(Oh and thanks to Kavey herself for kindly colour-correcting my typically crud photo)
Rossi's lemon ice (makes about 500ml):
300ml water
200g sugar
Zest and juice (about 250ml) of 6 lemons
1 leaf of gelatine snipped into tiny pieces
1 teaspoon yellow food colouring
Bring everything to boil in a saucepan. As soon as it boils take it off the heat and whisk vigorously to dissolve the sugar and gelatine. Pour into a freezable container and freeze overnight.
When ready to serve, whizz up in a food processor and serve in a cornet, garnished with a Cadbury's Flake.