salad from capri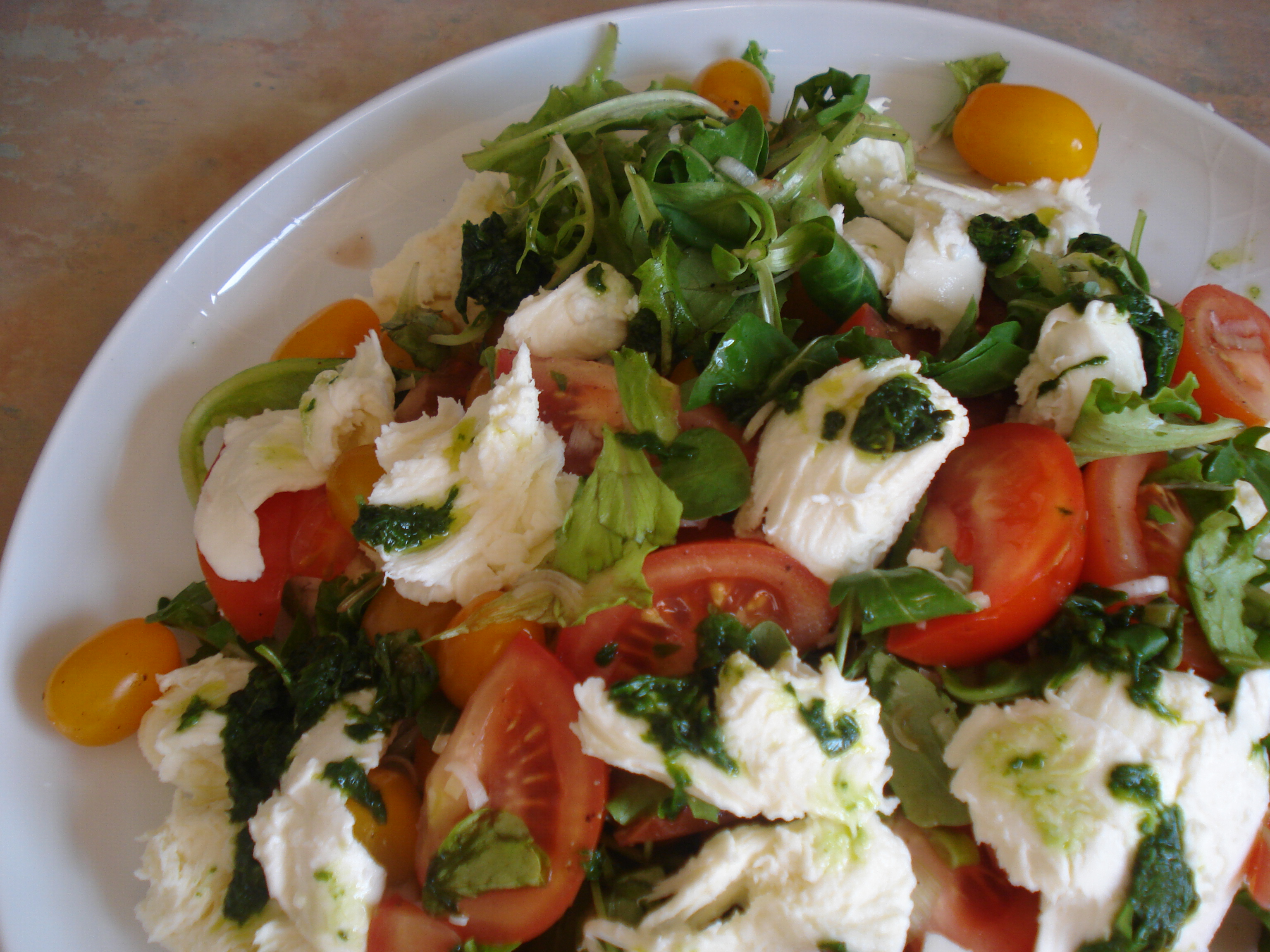 The sun shone in my corner of Rayleigh this weekend, and with family coming over for dinner a roast or stew didn't seem right for the occasion. I was browsing the ol' recipe book shelf and a skinny little booklet fell out: Jamie Oliver's Red Nose Day Recipes 2009. I was bought it as a gift, which is great, but it's so slender it disappeared between dusty volumes in my collection. Mrs. RoastPotato took one look at this salad recipe and that was it, it was on the menu.
It's a fairly simple affair, a celebration of tomatoes matched with milky mozzarella. I managed to pick up some arancia variety at the Co-op, and they were beautiful – sweet grape-sized amber tomatoes with bags of character. Paired with some more luscious vine toms they were a pleasing mix. Unusually there was only vinegar on the salad items, with the oil component coming from a punchy basil dressing, and as a combination it was brilliant. Lots of bright, sunny flavours and a celebration of it's core ingredients. Dust this one off for a barbecue this Summer, it will be an instant hit.
Salad from Capri (serves 6 as a side-salad):
600g mozzarella, torn into chunks
A few handfuls of mixed tomatoes
A handful of baby salad leaves
2 tablespoons red wine vinegar
For the basil dressing:
Large handful of basil leaves
Large pinch of sea salt
Extra virgin olive oil
For the basil dressing, bash the basil and salt together in a pestle and mortar. In seconds it will turn to a spinach-y mush. Add enough oil to make a vibrant green paste.
Strew most of the mozzarella over a large serving dish. Hold some back for another layer.
Toss the tomatoes and salad with the vinegar and a sprinkle of black pepper, and drape over the cheese.
Top with more mozzarella, and put splodges of basil dressing around the salad – these will provide big hits of salty basilness through the salad.