salmon en croute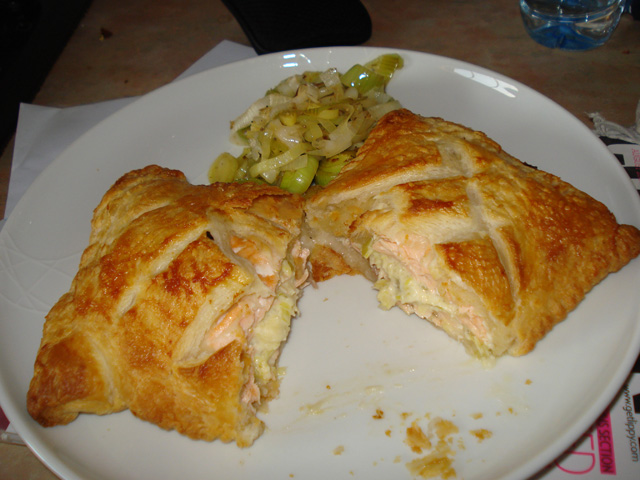 I'm not quite sure where this came from. I was sitting at work five minutes before leaving, and salmon en croute popped in to my head. I hadn't tried cooking it before so I grabbed a few things on the way home and this is what I ended up with. I was pretty pleased with the result.
I started with what would be called a duxelle in a Beef Wellington. I made a creamy leek version. I fried some crushed fennel seeds in butter and oil, and once sizzling in I threw in sliced leeks. After softening I added a splash of white wine and then tasted it. Salt & pepper, and it needed a twang so a tiny splash of white wine vinegar fixed that. Then a glug of cream and allowed to simmer a little, then at the last minute an egg yolk to help hold structure and add a layer of richness. I then blitzed to take the lumps out.
Then I turned to the pastry, which I bought that great frozen stuff, simply shaping into rectangles a little bigger than my salmon fillets. I sliced the salmon in half horizontally, spooned some creamy leeks on and sandwiched the fish back together.  Then I laid it in the pastry, added a lid, slashed for effect and brushed with the leftover egg white from earlier. 20 mins in a hot oven, and I got a crispy, fishy, creamy dinner. I love biting through pastry and feeling something warm and soft inside, both comforting and exciting. Great!