salted caramel ham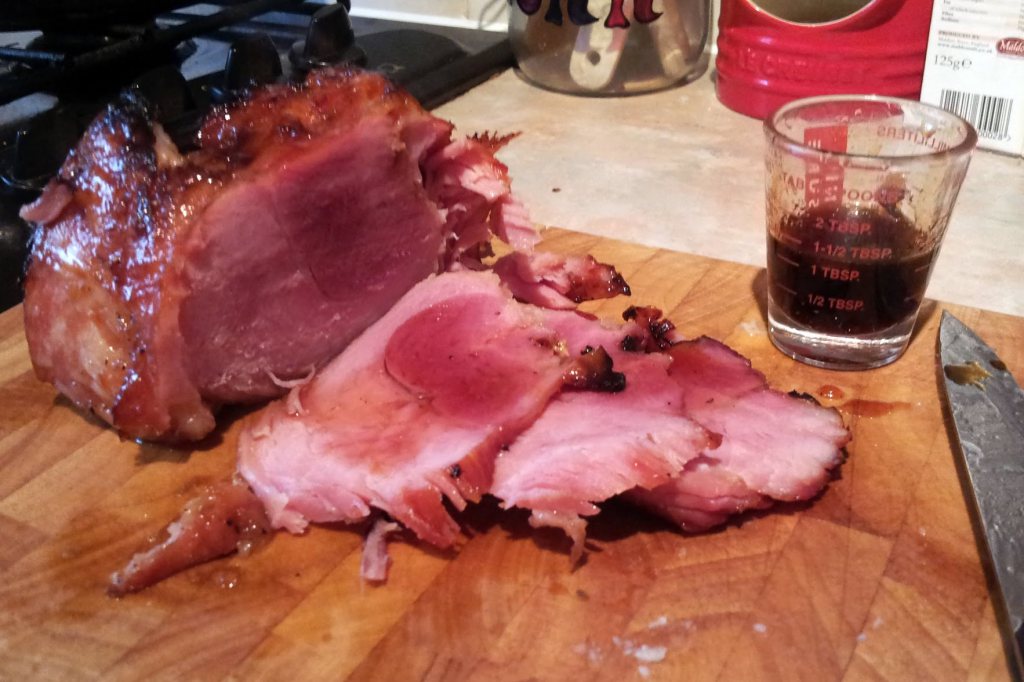 Yes, yes, salted caramel is uber-ubiquitous. But I love a sweet glaze on my ham, such as honey or maple syrup, so why not salted caramel?
It's not a fully developed caramel, more a syrup. But the flavours are there, and you get a salty-sweet kick with every bite. Make sure you hold back some glaze and baste the freshly-carved slices. After five minutes cooling it settles into a sticky sauce. If you can't bothered making a caramel, golden syrup will work just fine.
Salted caramel ham:
450g gammon ham joint
2 carrots, broken up
1 onion, quartered
2 bay leaves
1 tablespoon black peppercorns
1 star anise
For the glaze:
75g sugar
50ml water
40g butter
A large pinch of smoked sea salt
Put the gammon and other ingredients in a large pan and cover with cold water. Bring to the boil and reduce to a simmer. Cook for two hours or until a knife inserted into the middle slides in easily. Turn off the heat and allow to relax in the warm juices.
Preheat the oven to 200°C. In a small pan melt the sugar and water together until golden brown. Take off the heat and swirl in the butter. Simmer for a further three minutes and turn off the heat.
Remove the meat from the stock and drain for a minute. Line a baking tray with greaseproof paper and place the meat on it. Baste with the caramel, adding a splash of stock if it's too gooey.
Bake for 15 minutes, then baste with more caramel.
After a further 15 minutes remove from the oven and put the meat to one side to rest, sprinkling on the salt. Meanwhile add a trickle of stock to the baking tray to bring together the sauce and pour off into a bowl. Carve the meat, serving with the reserved caramel.