strawberry crunch trifle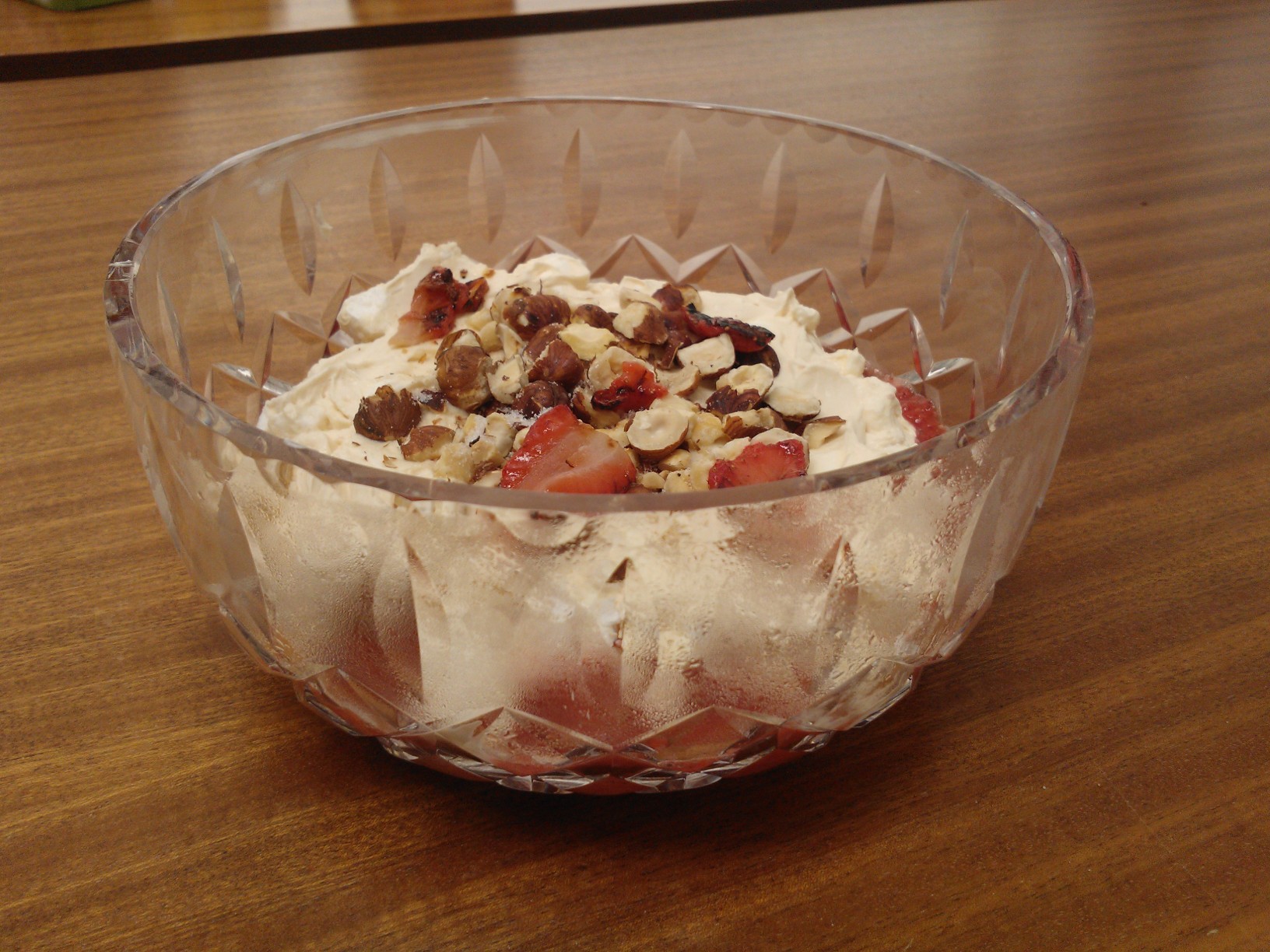 Waitrose and Heston Blumenthal have released strawberry crumble crunch as a recipe card in store to help celebrate the Jubilee. Sounds a bit like Mr Tumble Jumble to me. I'll be honest; I didn't seen the recipe card before making this but I had seen the recipe video on YouTube. Based on that I slung it together at work; during my lunch break I wasn't able to get everything possible and I had to make do with the equipment to hand (microwave, kettle and fortunately a George Foreman Grill!) All things considered I think I ended up with a pretty tasty dessert! Perfect for such a hot day and created lots of smiling faces in the office. Took about 15 minutes and is well worth it!
Heston's a bit obsessed with trifles. If you've made the real thing I'd love to know how it ended up.
Heston Blumenthal's strawberry crumble crunch (serves 8 – 10):
300g strawberries, hulled
1 tablespoon of sugar
400ml double cream
8 meringue shells
A small pot of strawberry yoghurt
A satsuma
20g hazelnuts
Put your serving bowl in the fridge to get nice and cold. Put the sugar and strawberries in a bowl (keep back one strawberry) and mash roughly with a fork. Add a splash of water and microwave for 4 minutes. Once the fruit is mushy add a grind of black pepper, pop into the base of your trifle bowl and refrigerate while you do everything else.
Whip the cream until thickened to where it barely falls off a spoon. Stir through the yoghurt and squeeze in the juice of ½ a satsuma. Crush the meringue shells and stir through.
Preheat a dry frying pan or George Foreman Grill to its highest setting. Thinly slice the remaining strawberry, sprinkle with sugar and grill until starting to turn black, and then flip over and grill the other side. When they're done remove to one side, bash up the hazelnuts and pop those on the grill for a couple of minutes until lightly toasted.
Once the strawberry mix in the fridge is cold, layer on the cream mix, top with the nuts and sliced strawberry.