strawberry pizza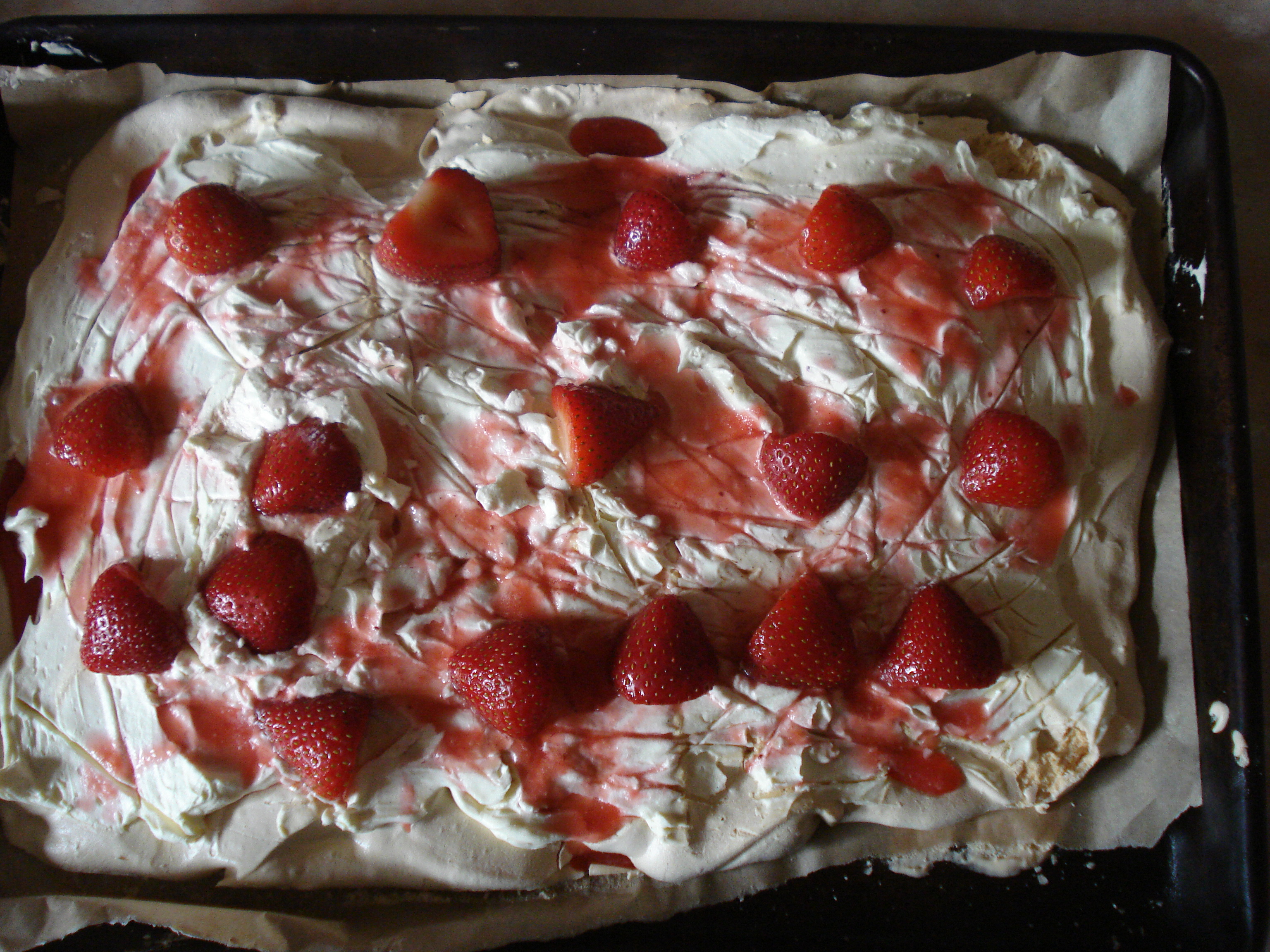 This was supposed to be a strawberry roulade, but the meringue was too fragile for rolling! As a birthday treat for Mrs. Spud, she didn't mind. When I cut into it, it held it's shape nicely to the point where you could pick it up to eat – hence, Strawberry Pizza. Massively inaccurate, but makes me smile.
Strawberry pizza (makes a meringue approx 35cm x 20cm):
For the meringue:
3 egg whites
¼ teaspoon salt
½ teaspoon white wine vinegar
½ vanilla bean paste
200g caster sugar
1½ teaspoons cornflour
For the cream topping:
200ml double cream
½ teaspoon vanilla bean paste
For the strawberry sauce:
500g strawberries
1 tablespoon honey
For the strawberry garnish:
6 strawberries, quartered
1 tablespoon icing sugar
Zest and juice of half a lemon
½ teaspoon vanilla paste
Heat the oven to 120°C. Line a baking sheet with baking paper.
Whisk the egg whites, salt, vinegar and vanilla until soft peaks form; by hand if you're bored or using an electric gadget like everyone else. At this point add the sugar and cornflour until stiff.
Smear the meringue in one swooping layer across the baking sheet. Bake in the oven for 2 hours until it is a gorgeous ivory colour and crisp on top.
While it bakes, combine all the strawberry garnish ingredients and leave in the fridge to macerate until needed. For the sauce put all the ingredients in a saucepan and simmer for 10 minutes. Want it rough and ready? Mash with a fork. Want something smoother? Pass through a sieve.
When the meringue has cooled and been removed from the paper, whisk the cream and vanilla together and layer on top of the meringue. Drizzle the sauce over and serve with macerated strawberries on top. If you have some knocking about, some holy basil dotted about would be awesome.