turkey chilli burgers with spicy potato wedges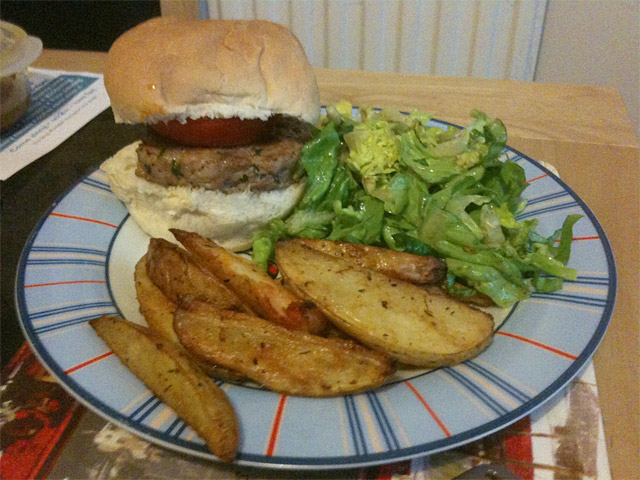 This is a precursor to the chocolate orange mousse; the main course of turkey chilli burgers with spicy potato wedges and a caesar salad.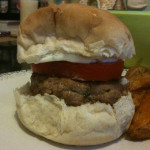 The burger mix was turkey mince, the slightly bland and lean meat gives space for spiky red chilli and citrussy coriander. I mixed this together with smoked sea salt for a deep savoury flavour. I then used my trusty burger press (given to me for my birthday by the person who got this food!) to make the patties. As a soothing contrast to the fiery chilli, I stirred some chopped mint into mayonnaise to be spread on to the bun. I hoped the crisp toasted bun would give way to meaty turkey with a pokey bite, then cooled by the refreshing mayo that coats the mouth. A thick slice of tomato finishes off with a fruity taste, accentuating the meaty element with a nice dash of umami.
On the side were some potato wedges. Sliced maris pipers were tossed in a blend of vegetable oil, paprika, oregano, coriander and sea salt and roasted in a hot oven until tender and crisp.
Happy birthday!
Turkey burgers:
450g turkey mince
½ red chilli, deseeded and finely diced
2 teaspoons smoked sea salt
2 tablespoons of finely chopped coriander leaves
1 beefsteak tomato, thickly sliced
baps, buns or muffins split and lightly toasted
For the mint mayonnaise:
2 tablespoons mayonnaise
6 mint leaves, shredded
Combine mince, chilli, salt and coriander in a bowl and form into patties.
Fry on a medium heat on both sides until browned.
For the mayo, mix mint and mayo together
Assemble in a bun with a thick slice of tomato and a slather of minty mayonnaise.
Spicy potato wedges:
5 maris piper potatoes, sliced into wedge shapes
3 tablespoons vegetable oil
½ teaspoon paprika
1 teaspoon oregano
1 teaspoon sea salt
½ teaspoon ground coriander
Mix the dry ingredients into the oil. (I like to use a freezer bag to do this)
Tumble with the potato wedges, and bake in an oven preheated to 200C for 20 mins, or until crisp on the outside and tender inside.
Serve with leftover mint mayo.