veal escalopes in marsala sauce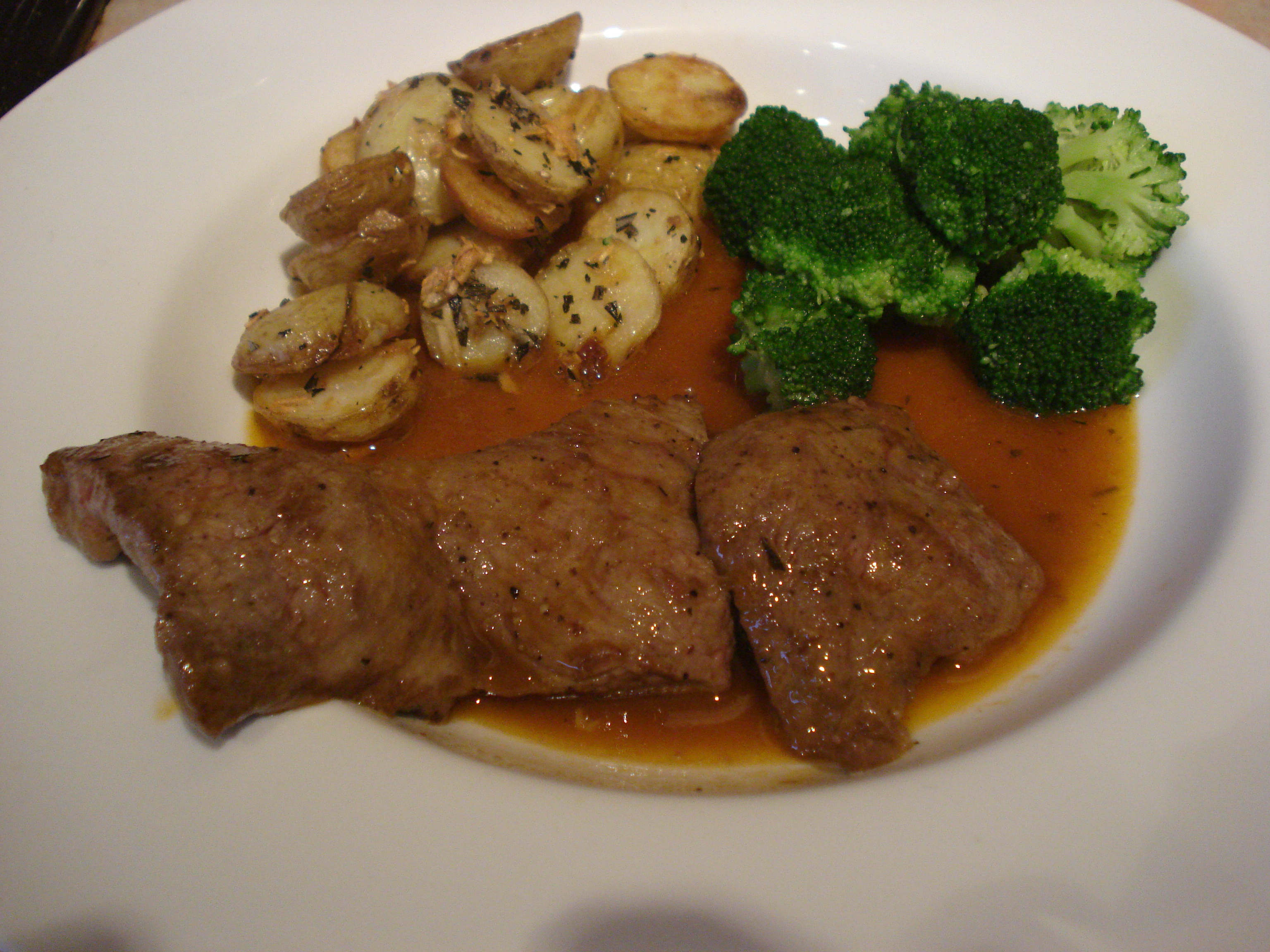 I really like veal, but it's always been so hard for me to get. You might find a tiny Dutch scrap in a supermarket, and my experiences with local butchers have been frankly embarrassing. Farmer's Choice recently sent me some veal to try out and I wasn't disappointed. It was tender and savoury, with a wonderful loose texture.
I've paired it here with a classic ingredient: Marsala wine. I keep a bottle in my cupboard permanently, and it lasts me about a year. It's perfect in sweet and savoury dishes where you need a smooth, sweet flavour. It enhances the sweetness of the meat and makes a great combination.
Farmer's Choice rosé veal is available from their site.
Veal escalopes in marsala sauce with garlic new potatoes and broccoli (serves 2):
250g baby new potatoes, sliced in half
20g butter
2 garlic cloves, peeled and crushed
2 rosemary sprigs, leaves picked and finely chopped
1 small head of brocoli
250g veal escalope
Flour
4 tablespoons Marsala
300ml chicken stock
Preheat the oven to 100°C. Get a large pan of water on to boil, add the potatoes, and cook until a knife passes into it easily. Drain them off while you get a frying pan over a high heat.
Add a good splash of oil to the frying pan and add the drained potatoes cut side down. Cook for about 10 mins or until they brown on the underside. Drain off the excess oil, then turn off the heat and toss the potatoes in half the butter, the garlic and rosemary with a pinch of salt. When they are well coated transfer to an oven dish and keep warm in the oven to allow the garlic to cook very gently while everything else happens.
Get the broccoli into some more boiling water and cook until cooked to your liking.
Dust the veal in a little flour and season with salt and pepper. In the same pan you cooked the potatoes in, fry the veal on a high heat for 1 minute on each side, then put aside to rest. Deglaze the pan with the Marsala, then add the stock and boil as rapidly as you can until the sauce is reduced and syrupy. Whisk in the remaining butter, check for seasoning and add the veal for 1 more minute's cooking time to warm through and finish cooking. Serve with the potatoes and broccoli.