vegetarian wellington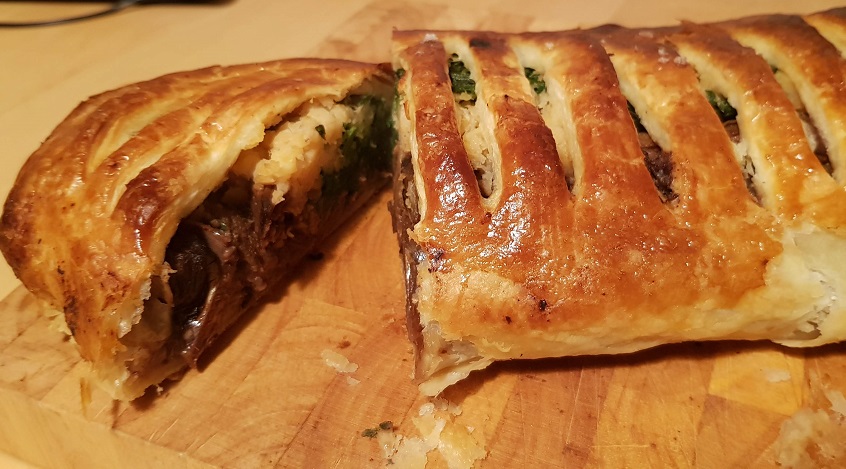 I've been trying to have less meat this year. Less meat of better quality, and generally two or three meatless dinners a week. I've discovered some great recipes that have been really enjoyable and helped me expand my vegetarian repertoire.
One thing I'd certainly never tried is a vegetarian wellington. Making a fillet steak version I would usually make a duxelle of mushroom and onion, deglaze with red wine and coat with Dijon mustard, so why not keep all those elements? I packed it with mushrooms, onion, lentils and spinach so it had a big, bold flavour. I was really happy with how it turned out.
The key to Wellingtons is to ensure ingredients are not too moist, not too hot when assembled to ensure the pastry gets a chance to crisp up and not get sodden with liquid.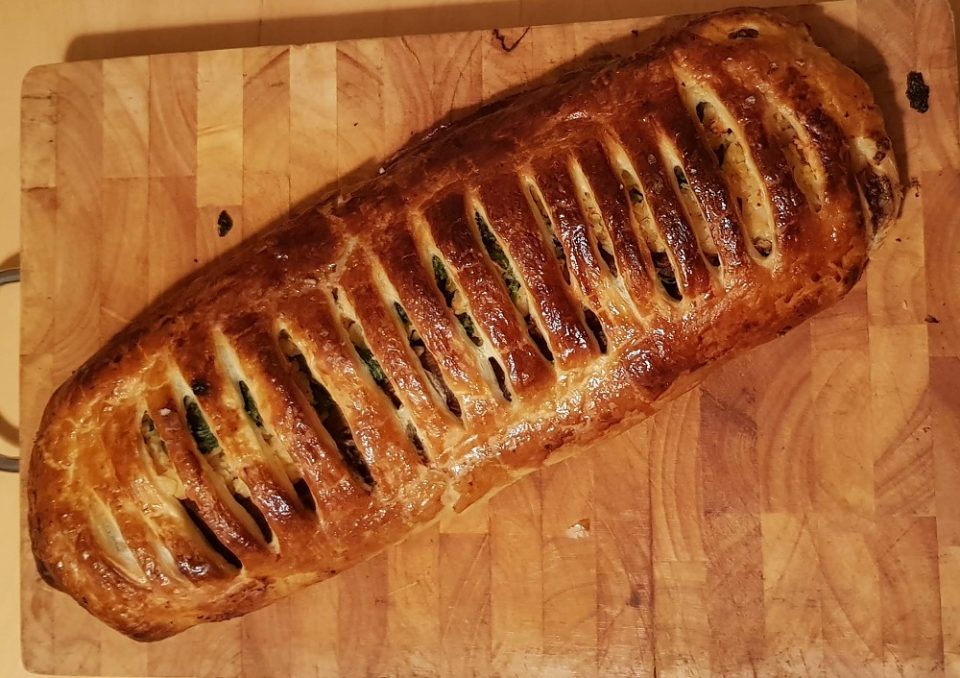 And it's timed perfectly. Cauldron Foods have polled for the festive vegetarian favourites. And vegetarian wellington came up on top!
Cauldron Foods have been championing vegetarian and vegan foods for years. I've been a fan of their falafel for years! To celebrate Christmas they've polled people to find out what alternatives are preferred at festive celebrations.
Read more about Cauldron's poll here. The link also has recipe inspiration, ways to make your Christmas party go with a bang, plus a great competition. You could be in with a chance of winning £500 gift voucher or a Belazu hamper so go to the link to find out more!
If you want to ring the changes this Christmas, why not try my vegetarian wellington recipe. You could make it vegan if you use a suitable puff pastry, and glaze with a little oil instead.
This post was sponsored by Cauldron Foods.

vegetarian wellington
Ingredients
1

roll

puff pastry (320g)

or make your own

200

g

red lentils

250

g

chestnut mushrooms

1

sprig

thyme

1

red onion

100

ml

red wine

40

g

dried mushrooms

125

g

spinach

1

tablespoon

Dijon mustard

1

egg

beaten
Instructions
Put your oven on 220C to heat up, and get a kettle full of water on to boil. Get your pastry out of the fridge. Put a frying pan over a medium heat.

Put the dried mushrooms in a mug or bowl and cover with boiling water. leave to steep while you do everything else. Finely chop the chestnut mushrooms, and peel and finely chop the red onion (or use a food processor).

Put the lentils in a pan of boiling water and simmer for fifteen minutes or until tender. Drain really well in a sieve, rinsing with cold water to get the temperature right down. Once cool, squish with your hands to squeeze out as much liquid as possible.

Add a little olive oil to the frying pan and add the mushrooms and onions. Pick the leaves off the thyme and add to the pan. Season with salt and pepper. Fry gently for four to five minutes until softened, then turn up the heat and add the wine to deglaze the pan. Fry off until all the moisture has gone, then tip on to a cold plate to cool as quickly as possible.

Wipe out the pan and add the spinach leaves. In a minute or two they will have wilted down. Transfer to a chopping board, roughly chop and mix the spinach through the lentils.

Roll out your pastry sheet on baking paper on a metal baking sheet. You should have it portrait style in front of you. You will only need to work with the top half, as the bottom half will roll over the filling to make the complete sausage shape. As you add filling in the next step, leave a 1cm gap above the mixture to seal.

Brush the top half with Dijon mustard. Spoon over your mushroom and onion duxelle and flatten with the back of a spoon. Drain your dried mushrooms and scatter over the duxelle. Now add your lentil mix, making a rough sausage shape.

Brush the spare 1cm you left with a little water to provide a seal. Gently pull the pastry over the filling and press together to seal. Using a sharp knife make several slits over the top, just piercing the pastry to allow steam to escape. Brush with beaten egg, sprinkle with sea salt and bake. Cook for 25 minutes or until the pastry is completely risen and golden brown. Cut in thick slices and serve with mashed potatoes and gravy (a gravy sweetened with redcurrant jelly works really well with this).