winter christmas pudding bombe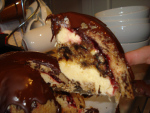 I really enjoyed Jamie Oliver's Family Christmas, a programme which dealt with making Christmas as easy and stress-free as possible. There was plenty to enjoy and loads of bits that I took from it, such as his roast potatoes. However I was drooling at the sight of his winter pudding bombe, and thought it looked absolutely fantastic. I had to make my own. It's a spin on Summer pudding, with panettone as the bread base, filled with ice cream and preserved fruit, then topped with melted chocolate.
I didn't fancy faffing with glacé fruits and went straight to a shortcut: leftover Christmas pudding. I used Sainsbury's Basics Christmas pudding, which sounds absolutely rotten but I've used them before and been completely happy with them. I wasn't disappointed. I also managed to find a chocolate chip panettone which was a really nice touch; chunky bits of choc punctuating the beautifully bland ice-cream. But to my surprise it's the jam that makes this. Such a vibrant flavour sings out loud when you're chewing through it, it's quite exciting. If you have any of these bits laying around, I really recommend you make one – takes no time at all and can be left quite happy in the freezer until required.
Winter Christmas pudding bombe:
5 – 6 slices panettone (I used a chocolate chip one)
500ml good vanilla ice cream
300 – 500g Christmas pudding (I used 4 x Sainsbury's Basics ones)
3 – 4 tablespoons fruity jam (I used raspberry)
Some good splashes of marsala wine
125g melted dark chocolate
Leave your ice cream out of the freezer for 30 mins beforehand to let it soften.
Lay some clingfilm in a bowl with plenty of overhang so you'll be able to cover it over the top afterwards. Layer the panettone in a mixing bowl, overlapping slightly but don't let it get too thick. (Make sure your bowl can fit in your fridge!)
Spread a thin layer of jam all around the bread.
Spoon in half the ice cream, then top with broken up Christmas pudding. Add the remaining ice cream.
Top with more panettone, then drizzle marsala all over the base and down the sides for a little Christmas cheer.
Wrap the cling film over the top, then cling film again. Take a plate and press down on it to squish it all together. Leave in the freezer until needed.
When serving, remove to the fridge for an hour to let the ice cream soften. melt some chocolate in a bain marie and pour over the top.