chicken and chorizo kebabs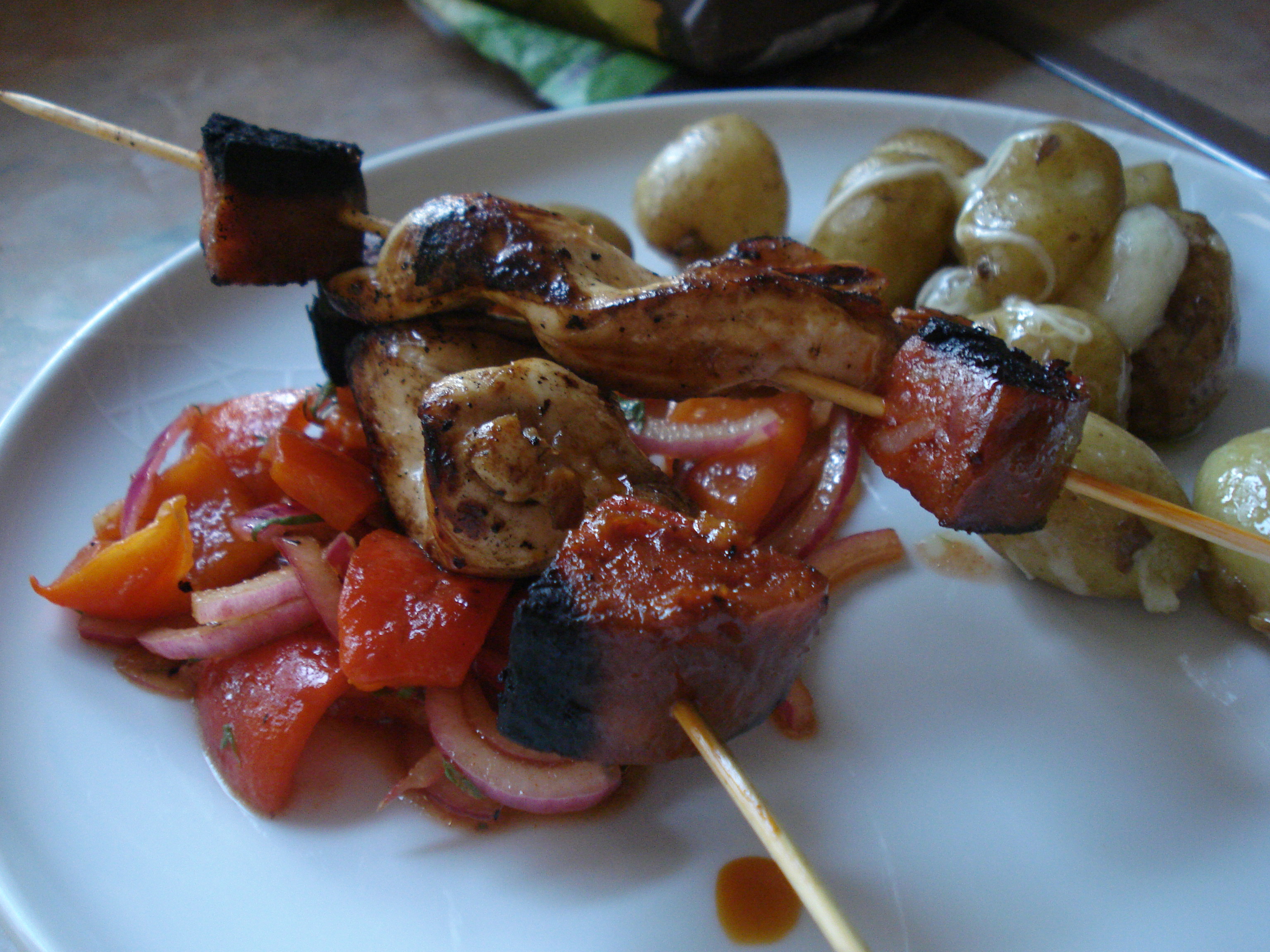 As England melted under the usual immediate and surprising burst of sun + heat, I retreated to the paddling pool. Lovely it was too. Dinner has to feature a BBQ though. What's in the fridge?
This is the result. A smoky and meaty BBQ skewered treat accompanied by a tangy and sweet pepper and onion salad. Marvellous. Make sure you really scorch the chorizo – the burn really accentuates the smoky flavour and encourages it to give up it's powerful juices.
And a piece of advice when using chicken breast on the BBQ: it's extremely likely all the juice will disappear from the breast meat before it's cooked all the way through due to the not-so-controllable heat of the grill. Always brine poultry before barbecuing to ensure tender, juicy meat, powerful flavours and consistent cooking.
Chicken and chorizo kebabs with red pepper and red onion salad:
For the kebabs:
2 chicken breasts, sliced into strips
10cm chorizo, coarsely diced
For the salad:
1 red onion, sliced
1 red pepper
5 tablespoons red wine vinegar
1/2 teaspoon paprika
1 tablespoon chopped mint
Make a 8% brine solution for the chicken. Add whatever aromatics you like to this, I used black peppercorns, a tablespoon of honey and a star anise. Leave the chicken to soak in this for at least a couple of hours and preferably more than 6.
Just before you make the kebabs, get the salad started. Mix the red wine vinegar with paprika and a pinch each of sugar and salt. Leave the onion in this to tenderize and mellow.
Leave the red pepper directly on the flames of the barbecue until charred all over. Seal in a freezer bag for ten minutes to steam and soften.
Skewer the chorizo and chicken on to sticks and barbecue over a medium-high-heat, turning occasionally.
Remove the pepper from the bag and scrape down with a spoon to remove the skin. Dice and add to the red onion and add a splash of extra virgin olive oil, and adjust the seasoning.
When the chicken is cooked all the way through, serve with the salad and drizzle over the rest of the dressing left in the bowl.