leon meatballs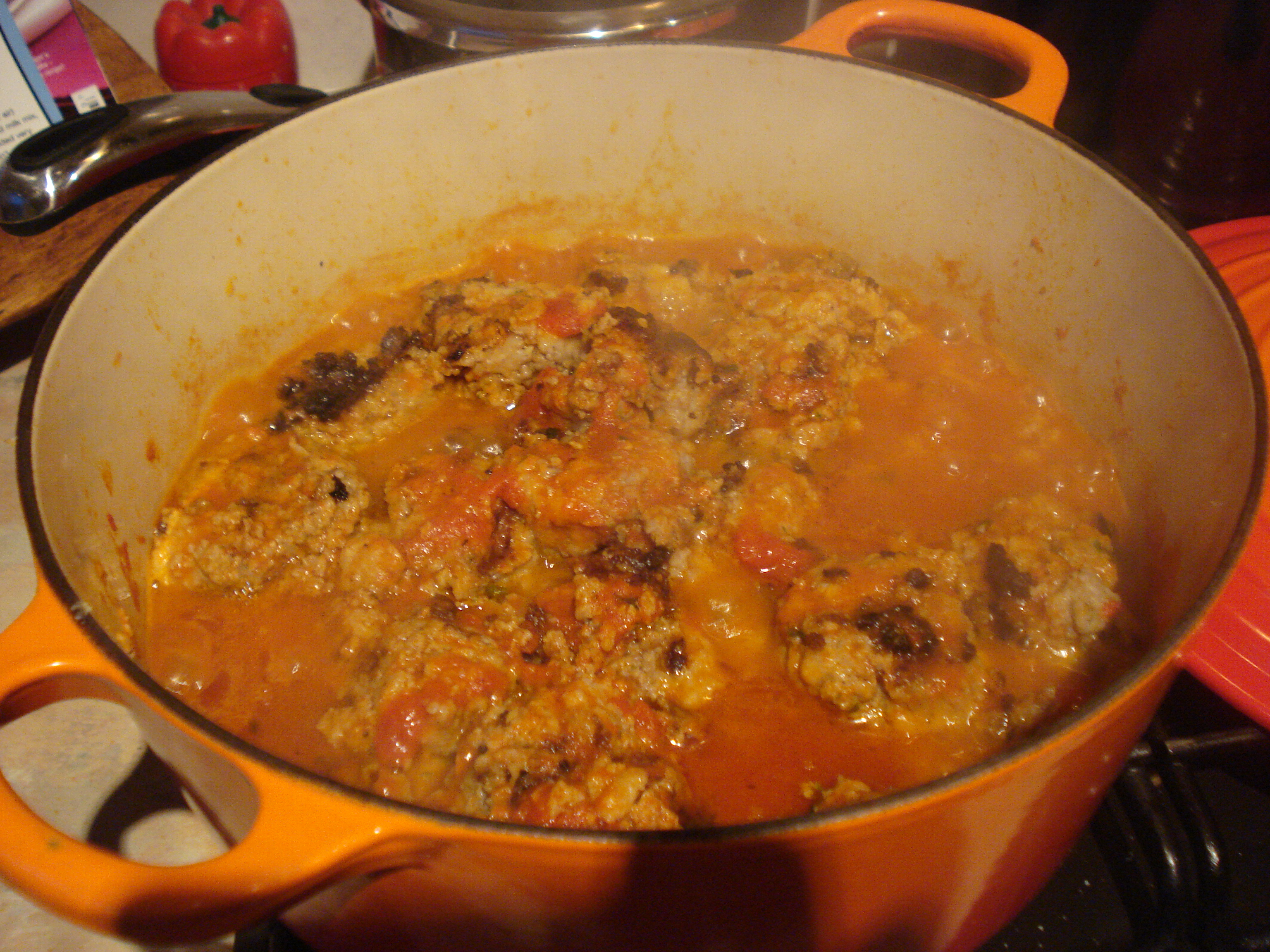 I was overjoyed to discover there was a Leon on my "doorstep" – Bluewater to be precise. Well it' s not in London, so that's a start. The family and I went there and tried out a bunch of things. It was little unconventional but healthy, hearty and good fun. The hands-down dish of the day was the meatballs, who have been praised by all sorts, including some Gordon Ramsay chap.
I was ecstatic to discover the recipe on the Guardian website. Trying it myself, it was a recipes of ups and downs. The sauce was a disaster, calling for 1½ tablespoons of harissa. Even taking it down to a teaspoon was still volcanic. Maybe I possess the hottest harissa on the planet, I don't know. The sauce was ruined though, burning hot. The meatballs themselves was lovely though – the clever bit is torn-up soggy pitta breads, giving a earthy, toasted flavour that'd be really hard to put your finger on if you didn't know what was in them.
So meatballs = yes, sauce = no.
(Incidentally, the leftovers made for a mean moussaka the following week topped with grilled aubergine and bechamel!)
Leon meatballs (makes loads and loads, serves about 6 – 8):
For the meatballs:
6 pitta breads
120ml milk
1kg minced lamb
A small bunch of parsley, finely chopped
A small handful of mint, finely chopped
1 tsp dried oregano
2 cloves of garlic, chopped
For the sauce:
30ml olive oil
3 cloves of garlic, crushed
2 x 800g tins of chopped tomatoes
1 teaspoon harissa
A handful of basil, chopped
A handful of parsley, chopped
Salt and pepper
Rip the flatbread into pieces and soak in the milk for 10 minutes. Then put the bread into a mixing bowl, add the mince and stir in the parsley, mint, oregano, garlic and some seasoning.
Mix well, then roll the mixture into walnut-sized balls.
On a griddle pan, brown the balls quickly – it's all about colouring them and not cooking them through … five minutes total cooking time with about three turns on the griddle.
To make the sauce, heat the olive oil in a heavy-bottomed pan and gently fry the crushed garlic. Tip in the chopped tomatoes and harissa and simmer for 25-30 minutes, until the sauce has reduced. Put in the meatballs and continue to simmer for a further 20 minutes with a lid on until the sauce looks about right.
Lastly, stir in the herbs and have a final seasoning check.