pea & leek tart with asparagus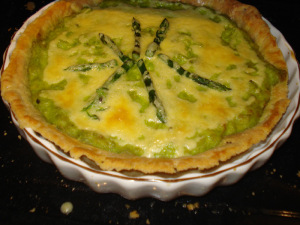 Some friends were coming over, and I wanted something a little elegant and classy as a starter. I was cooking for a vegetarian friend, so there are considerations there. This was a recipe from Jason Gillies, actually from a magazine she had bought me, so it had a serendipity to it.
It was a bloody long process – definitely worth it, but a long process. It started with fried leeks and peas simmered with cream until tender, egg yolks added for richness, then blitzed. This was then piled into a pastry case and topped with wilted asparagus, and a little parmesan. A short burst in the oven browns it off and just sets it. Creamy, rich, yet very elegant.
I don't have a picture but I made Pizzoccheri for main, a thoroughly filling dish apparently for skiers. It's named after the pasta that it's supposed to be made with, but as it's so impossible to find I used trimmed lasagne sheets instead. Made with fried onions, blanched cabbage, par-boiled potatoes, Emmental  and a bechamel sauce, it's then baked together in an enormous dish and fills you up like nobody's business.