albondigas with patatas bravas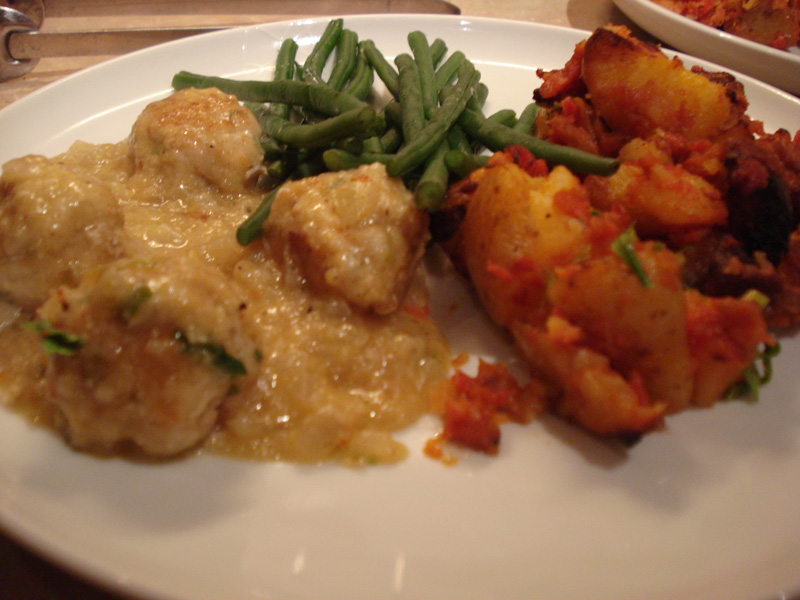 Tapas excites me. There, I said it. What other eating style allows you to order half a dozen dishes each and survey them like a greedy child? A dizzying array of little terracotta pots sit before you, deep with spice, wine and aroma.
I had a craving for this the other day so boshed together a couple of tapas style dishes, a meaty, sweet meatball dish and some pokey, chewy patatas bravas.
Albondigas in almond sauce:
500g pork mince
½ nutmeg, grated
Parsley, roughly chopped
½ teaspoon paprika
Lemon zest, grated
Flour
1 onion, diced
3 garlic cloves, minced
Chicken stock
2 tablespoons ground almonds
Combine the mince, nutmeg, paprika, lemon and half the parsley in a bowl. Wet your hands and form into small meatballs, about the size of a ping-pong ball. If you have time leave in the fridge for half an hour to firm up.
Roll the meatballs in a dusting of flour, and fry in butter until lightly browned all over and put to one side.
In the same pan fry the onion and garlic. When softened add the chicken stock and simmer briskly to reduce and thicken. Add the almonds and stir well.
Reduce the heat, add the meatballs back to the pan and continue to cook for a further ten minutes. Serve with parsley.
Patatas bravas:
1 large potato, diced
1 chorizo sausage, diced
1 tin tomatoes
Preheat the oven to 200°C. In a large baking tray add the chorizo and potato and cook for twenty minutes. At this point the chorizo will start to leak it's peppery juice, so toss everything together well to coat.
Add the tomatoes and continue to cook for another twenty minutes until the potatoes are tender. Check for seasoning and garnish with parsley.