budget friendly kitchen makeover

Being a daily cook, avid user of kitchen gadgets and all-round food fanatic, I have some very grand ideas for my kitchen. My current kitchen was built in 2000 and hasn't changed structurally since then. In my wildest dreams, a wall needs to come down over there, an appliance needs to move here… all big changes. Finance doesn't really allow me to fulfil these dreams at the moment, so I felt it was time to go halfway with a surface renovation that won't break the bank. Here's how I set about a budget friendly kitchen makeover.
Pretty much every surface got some attention. The worktop, the cabinets, the tiles… plus a few other cosmetic items were all looked at. I was determined not to spend too much, which eliminates things like swapping out kitchen carcasses. Even in a 3m by 4m kitchen that amount of cabinets adds up quickly. So I looked to paint, smooth and recover as much as I could. I did a lot of research into different techniques for the surfaces and have distilled what I learned here so I hope it helps you!
There were only two areas where I wasn't quite as frugal as I could've been. One was overhead, one was underfoot! I replaced a tired ceiling rose fixture with spotlights. The spotlights themselves were very cheap (10 for £35 on Amazon – make sure you get fire-rated ones to be kitchen-safe) but I brought my friendly electrician in to fit as it went beyond my skills. If you knew what you were doing you could save on this labour charge, but the final effect was worth it. I only installed 7 on his advice and the change in brightness is staggering (3 will come in handy for a bathroom project later in the year). The other unexpected expense was in the flooring, which due to being a difficult floor to lay on paid more for preparing and fitting than I'd planned for. Besides, the flooring itself was a (very welcome!) gift and not part of my budget. It was around £250 fitted.
Other than that, I was really happy with all my changes. I've listed them out project-by-project so you can read about the bit that interests you. Please also note the costs are separated by projected but I re-used things between projects, e.g. I used sugar soap across tiles and cabinets but have listed it twice. I also bought new sugar soap and branded paints but if you've got stuff in your DIY cupboard you can save there too. Note, I bought everything from Amazon so I could order it and have it at my house ready for the project to start. Again, you might be able to find these things cheaper elsewhere but I liked the convenience of everything arriving together. I've linked to the products on Amazon and I get a tiny kickback if you buy anything through those links, so thanks in advance. All prices are correct at time of writing.
My total spend for this project was under £250 without including the electrician labour costs and flooring. The flooring is regular vinyl flooring and was £200 by itself. Obviously you can shop around for flooring that suits you and fits your budget.
So here's my budget-friendly kitchen makeover, bit by bit!
Painting kitchen cabinets
My cabinets were boring run-of-the-mill numbers in a kinda-yellowy faux-wood colour. Plasticky melanine over chipboard, standard stuff. I wanted to look at painting the kitchen cabinets and I learned a lot from this article on the Guardian, as well as this Dulux one. Assembling all the info from these, here's the stages I went through. I was particularly pleased to get the advice that you can leave them in place and not have to remove them all. I followed this tip and found it perfectly doable, although I did leave them open the whole time to dry. The paint I used did say it was a two-in-one primer but I had the time and thought it was worth the priming stage just to be sure.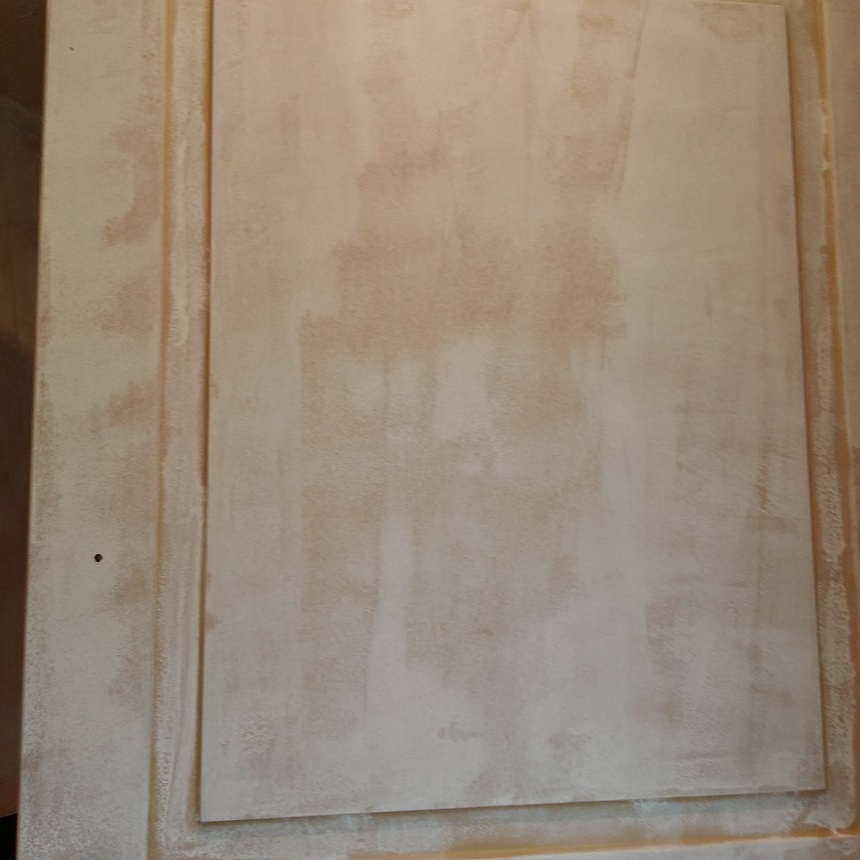 After removing the handles, I scrubbed down all the surfaces with a rough scourer and a sugar soap solution. Once dry I went over all the surfaces with primer.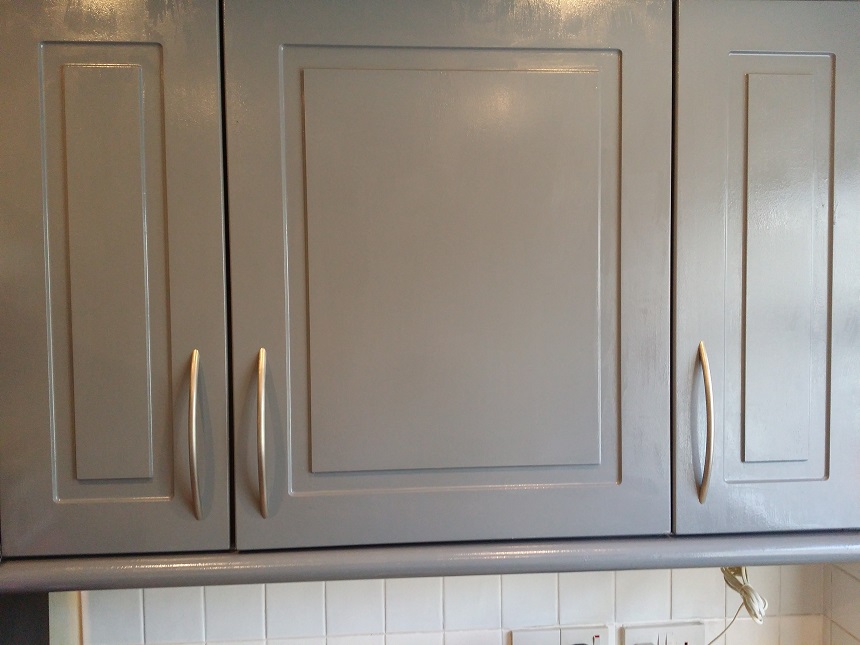 I fancied a moody grey. The paint was very 'sticky' and not very fluid, so it took a little longer to apply over all the surfaces than I expected with lengthy drying time.
I was enormously pleased with the results. I worried that painted cabinets would frankly look home made but if using a gloss roller to do most of the work gives a smooth and even finish.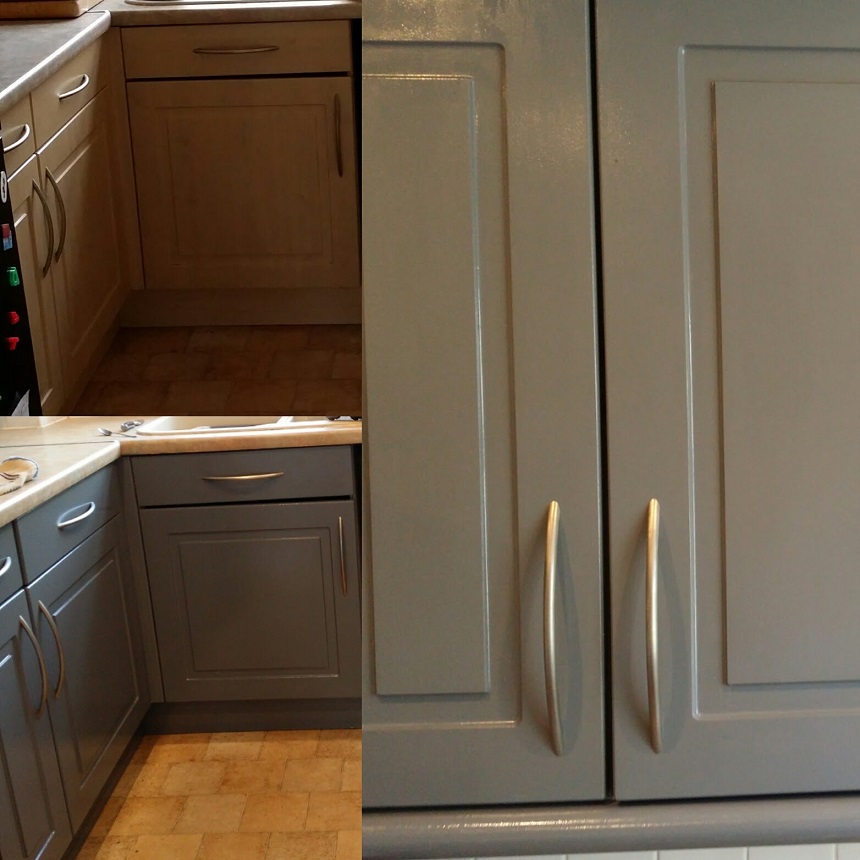 Painting kitchen tiles
I had these bland faded peach tiles that just bored me. I didn't do anything exotic here, just went for a white tile paint here.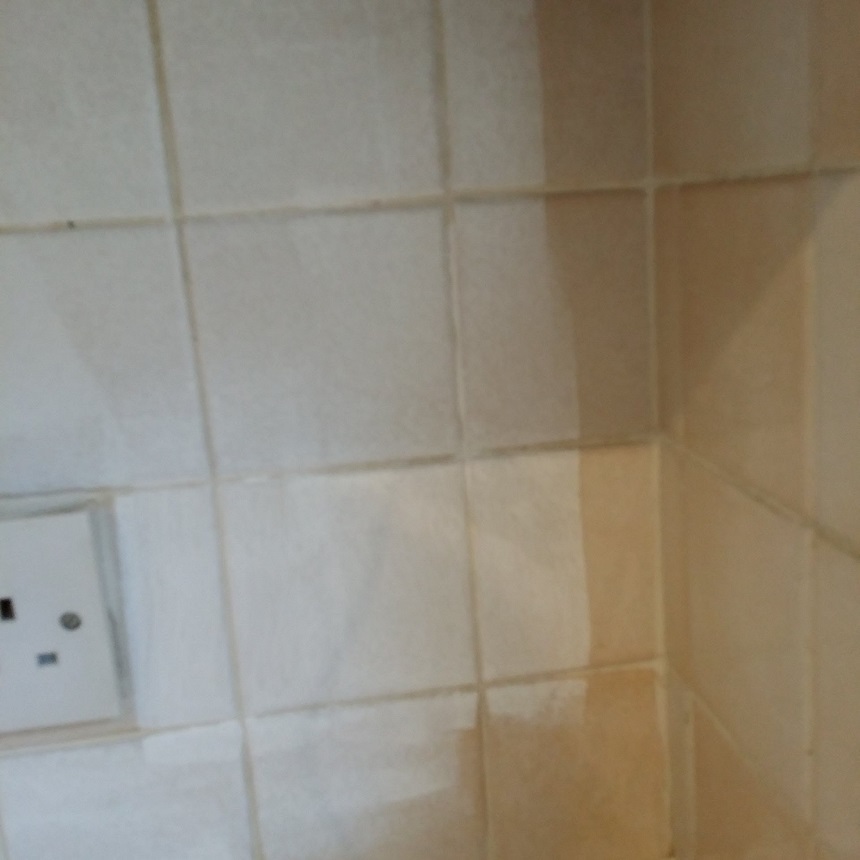 After a thorough scrub with sugar soap, I went over it with a wire scourer to scratch and key the surface ready to accept a new coating. I gave it a coat of primer, and once dried a coat of tile paint. I don't actually have a great deal of tile surface in my kitchen so it was an easy project and relatively quick once I factored in drying time.
Recovering the kitchen worktop
The next stage of this budget friendly kitchen makeover was to replace the work surface with brand new worktop. This was going to be around £200 – £300 by itself. While shopping I stumbled on using self-adhesive vinyl, or if you're of a certain age, sticky-back plastic. It comes on rolls of different widths. A company called d-c-fix on Amazon appear to offer it in approximately eight million colours, finishes and shades. I read loads of positive reviews and decided to chance it. At £11 a roll, if I didn't like the finish I figured it was worth a go. I also picked up an "application kit" which consisted of a squeegee and snap-off knife which wasn't essential but I wanted to give it as good a go as I could.
Before starting I used a knife to remove the silicone from where the worktop joins the wall. This way it could butt up to the wall and I could reapply more silicone over the top to clean up the line.
It's a slow process; you apply quite methodically, smoothing it down with the squeegee to eliminate bubbles as you go. If you make a mistake, don't worry about it, just lift and reapply. It takes at least an hour to set fast.
On rectangles of worktop, it was no problem. When you have to cut around objects, it gets a little more tricky. The back of the vinyl has a gridded backing so it's easy to measure out. Just take your time and measure round your obstacles (e.g. hobs, cupboards, sinks etc). Using the sharp knife from the kit I cut round and squeezed as I went.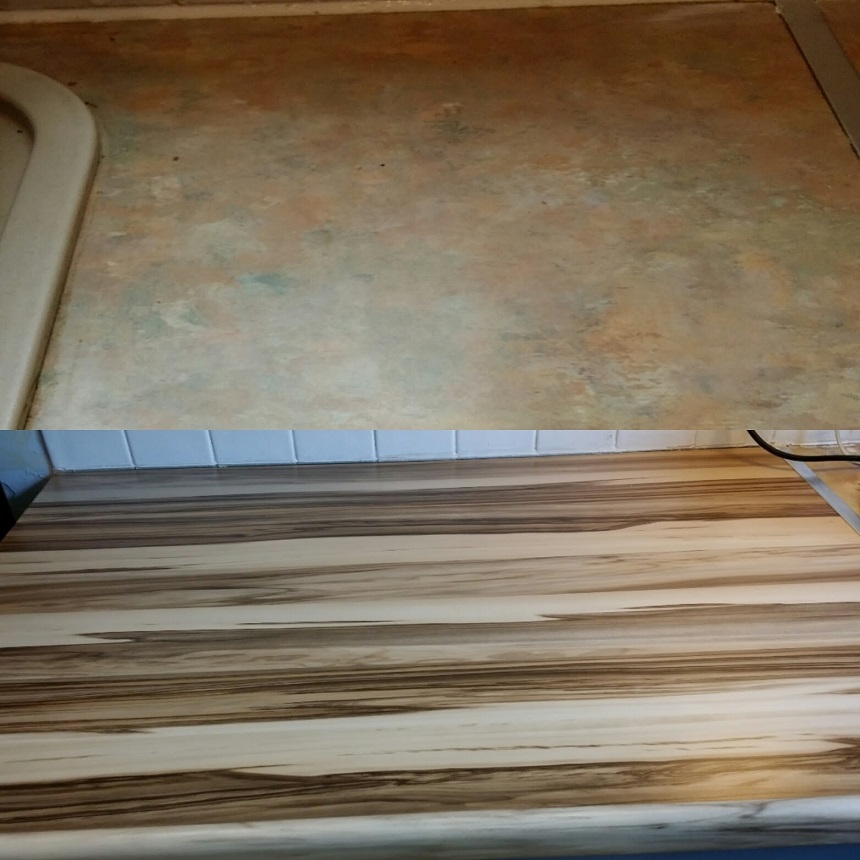 This can be a frustrating job, but I couldn't be happier with the result. Everyone that comes round to see it assumes it's a new worktop. There are a couple of dodgy lines but I'm the only person who knows where they are! The packaging also says that it can stand up to 75C so I'm using a trivet as much as possible to keep the surface free of marks. I'd definitely recommend this type of finish. I'm even contemplating swapping it for a new one once a year!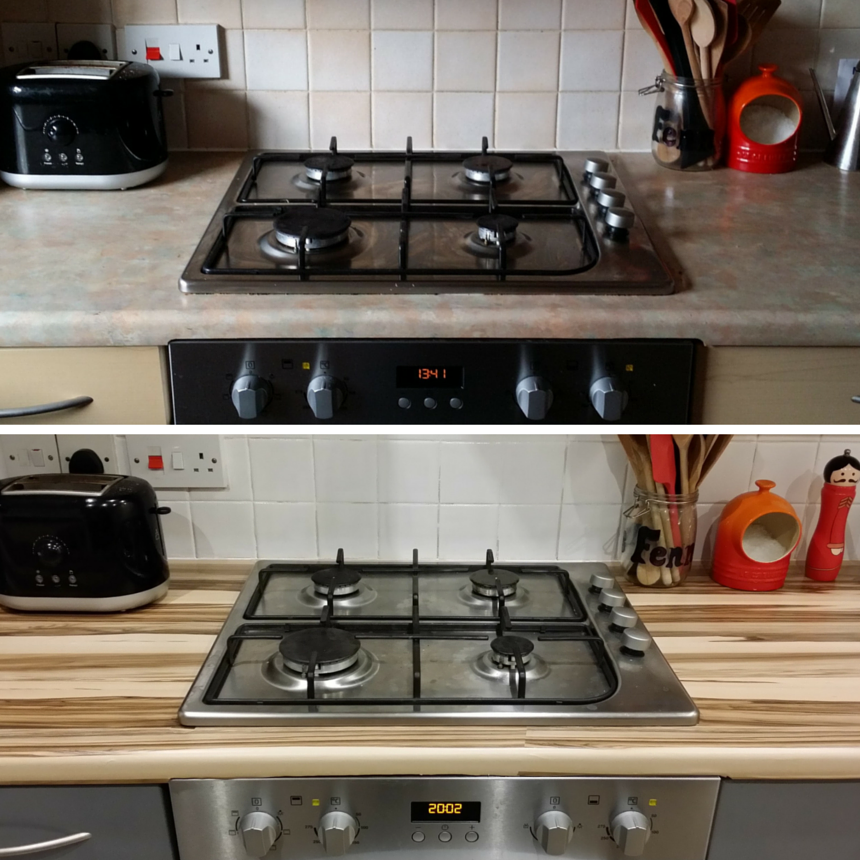 Replacing the kitchen sink and taps
My 16 year old plastic sink and tap set was on the way out, chipped and stained. I decided to replace with a fairly standard stainless steel number.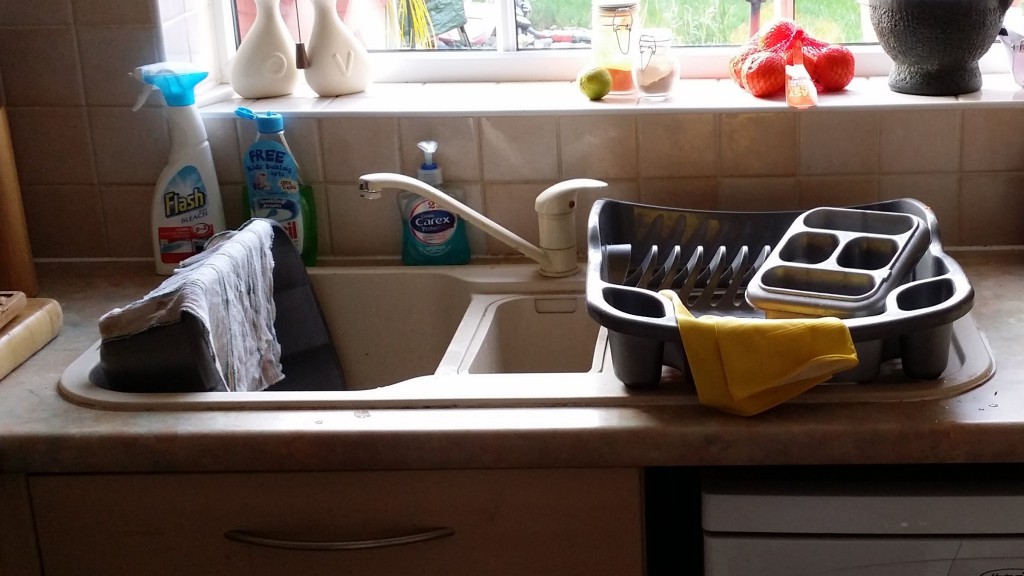 The difficulty for this depends on how easy you find connecting plumbing and lining stuff up.  I don't find it easy but did it anyway: children are banned from the room as there is usually lots of swearing and I go very "Essex". Luckily my sink cavity was the same size so no worries there, and access underneath is fairly good. For me it was not too awful, but you might want to get someone patient in to help here as it can be a pain.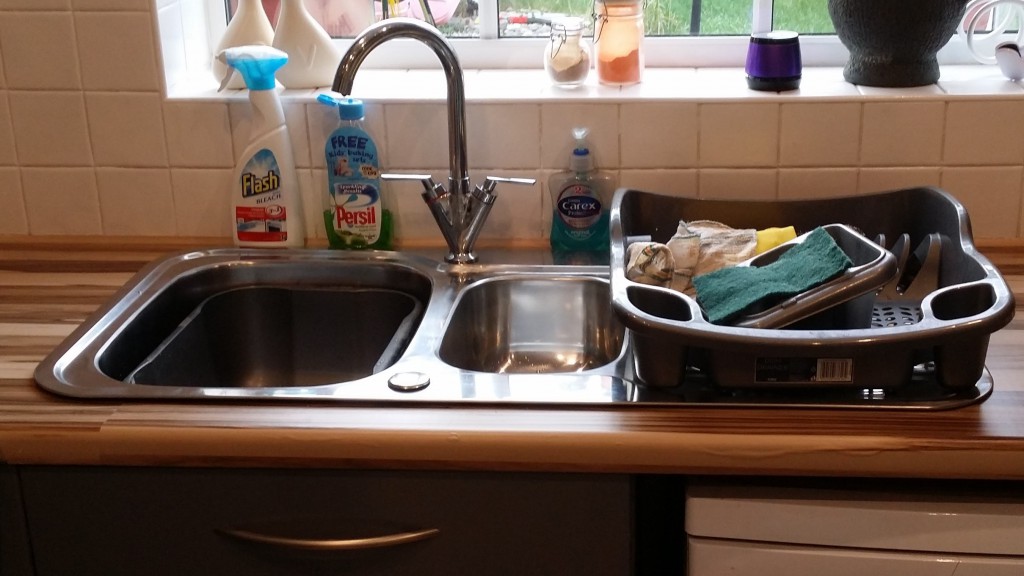 Budget-friendly finishing touches
I've had a wooden knife block for many years, I decided to clear some counter space and go for a magnetic knife rack instead. Why haven't I done this before, I love it! (magnetic knife rack, £2.95)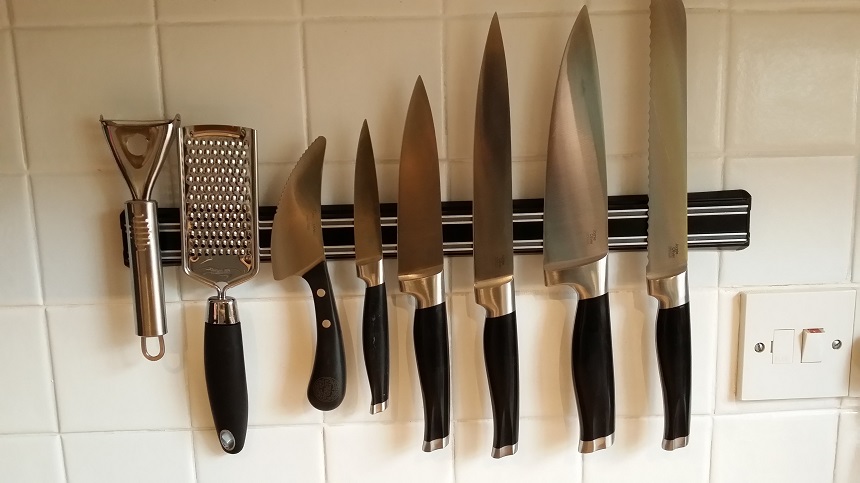 To keep track of shopping lists, notes and silly doodles, I bought some more vinyl roll in a chalkboard style. (chalkboard vinyl roll, £6.24)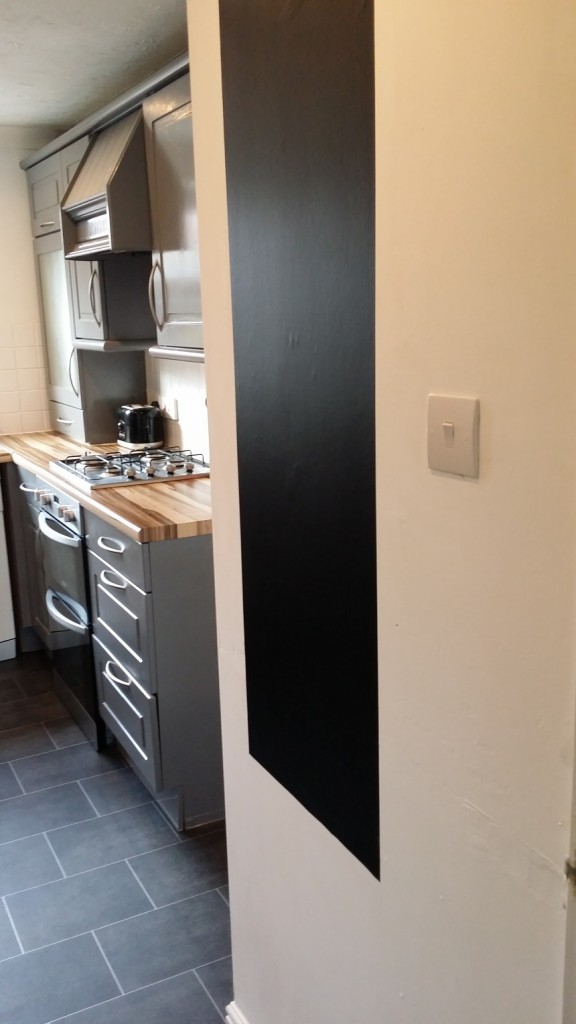 Finished kitchen before and after
I'm very happy with my new kitchen. It's not exactly my dream kitchen but everything is fresh and will certainly keep me going for another few years.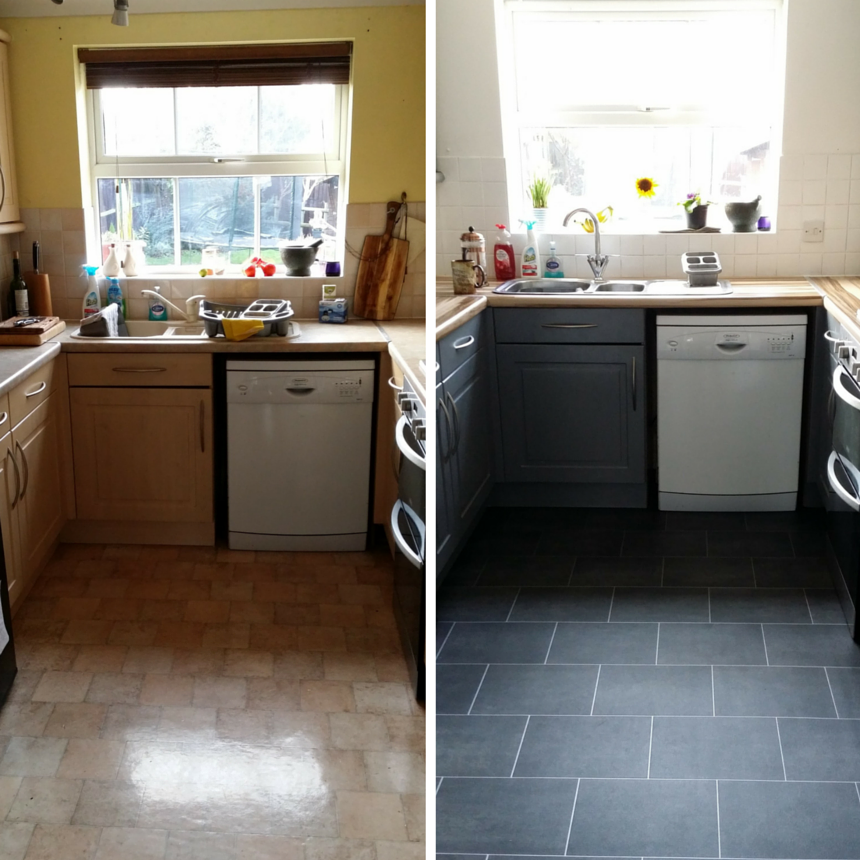 Kitchen renovation costs
Products used in the project
Further reading