chicken, leek, mushroom and port salut fricassee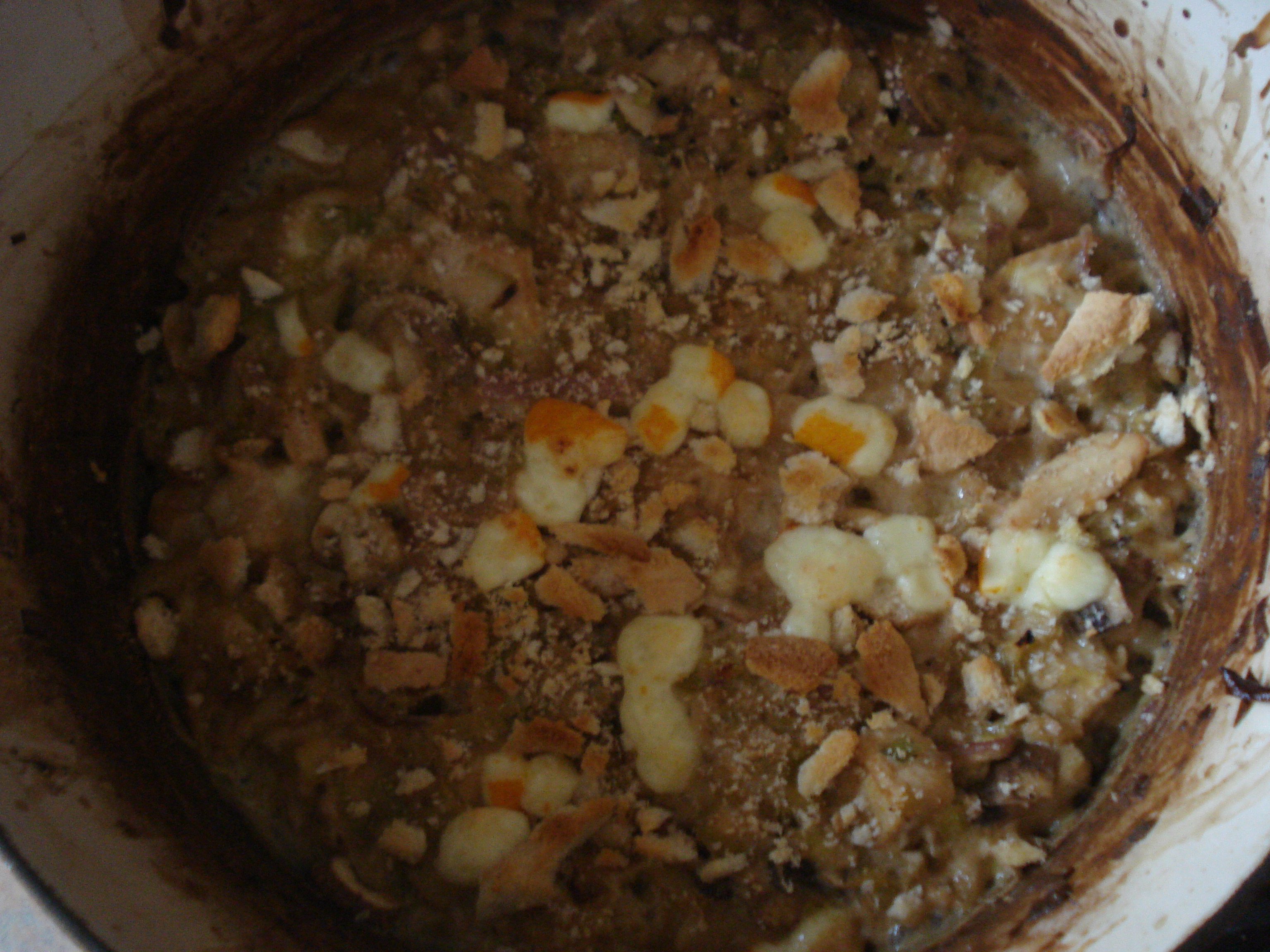 I've always wondered what fricassée meant (I had to google "wiki fricassee" to find that. Try saying it out loud, it's fun), and making this recipe meant I finally looked it up: poultry stew in gravy thickened with dairy. I've strayed a little from that definition in making this but I hope it'll do.
I came to this recipe via Port Salut. It's a cheese I'd almost forgotten about; until I was sent some to try along with some Jean Christophe Novelli recipes. I've had the pleasure of meeting Jean Christophe before and couldn't wait to try these out. Essentially chicken, leeks and mushrooms sweated down with cream and cheese – what's not to like? I substituted a few things based on my larder and came up with a wholesome and tasty one-pot dinner. The Port Salut was creamy and nutty, kinda like a Brie.
Personally speaking I'd put the breadcrumbs to one side and serve it with tagliatelle next time. I think it would be great all tangled up with some pasta.
Chicken, leek, mushroom and port salut fricassée (serves 2):
2  chicken breasts, diced
Pinch of paprika
10g butter
2 leeks, sliced
1 red onion, sliced
1 sprig of rosemary, leaves finely chopped
150g chestnut mushrooms, sliced
2 cloves garlic, minced
100ml white wine
200ml creme fraiche
100g Port Salut, thinly sliced
50g Port Salut, diced
50g wholemeal breadcrumbs
Preheat the oven to 180°C. Put a large casserole dish on a medium heat and a little oil.
Dust the chicken with paprika and season, then fry in the pan for a couple of minutes until coloured all over. Remove to one side.
Turn the heat down to low, melt the butter in the pan and add the leeks, rosemary and onion. Sweat gently for 5 – 10 minutes until softened. Add the mushrooms and garlic and continue to cook for a further 5 minutes, then crank up the heat.
Add the wine. After a minute of bubbling away stir in the creme fraiche, sliced Port Salut and put the chicken back in. When everything is melting together stir well and check for seasoning. Top with the breadcrumbs and diced cheese and bake in the oven for 15 minutes, or until everything is bubbling and brown.