chorizo and lentil soup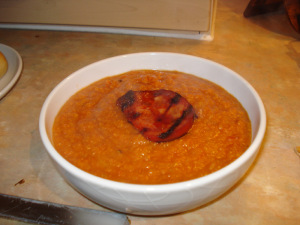 Hot diggity, I love chorizo. So meaty, spicy and god-darned irresistible. I hate those pre-packed sweaty little plastic things, so I always buy mine from the deli counter. Except there I have to plead with the assistant not to slice it into bits, it's always finger-thick slices or rough dice for me.
This wintry soup is a real cracker: fried leeks and chorizo, cooked until softened, joined by red lentils, paprika and stock, then allowed to simmer until everything's tender. Followed by the obligatory blitz. Just to finish it off I seared some reserved chorizo slices until blackened, then rested on top to allow its savoury blood-red juices to drip into the chunky soup.