chorizo hot pot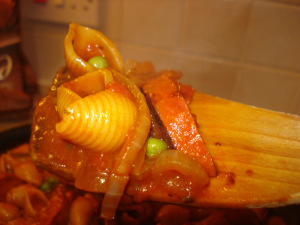 One of those "Feed Your Family For A Fiver" things from Sainsbury's. I can't help but embellish though.
Two onions (two onions? Insanity!) and my old friend, sliced chorizo are fried together til crispy. Then tinned tomatoes, veg stock and some conchiglie are added. This is where I chuck in oregano and paprika, cos it just sounds too bland. Twenty minutes later there's frozen peas in there, and once they're done, we're done.
To my surprise it didn't need any seasoning at all. Nice one J Sains.