duck breast with pomme purée and roast roots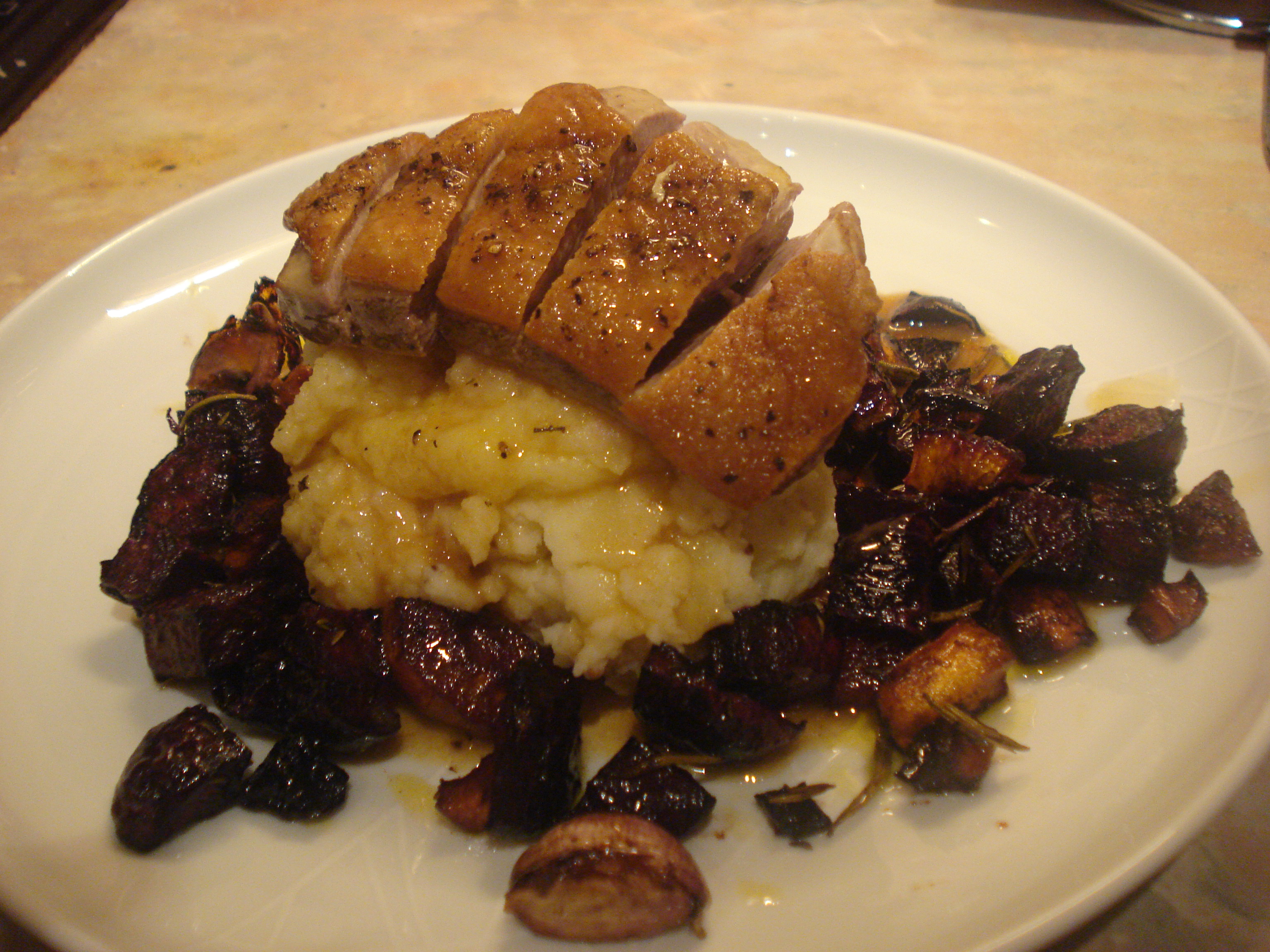 I fancied something a little special for our anniversary and it had been a long time since we'd had duck. We also fancied some beetroot so I put the two together, along with a variation on the mash I did for the fish pie recently to make a delicious dinner.
Duck breast with pomme purée and roast roots:
For the roast roots:
4 fist-sized beetroot, skinned and diced
2 carrots, diced the same size as the beetroots
4 cloves of garlic, unpeeled
Sprig of rosemary
Sprig of thyme
Balsamic vinegar
For the potatoes:
4 charlotte potatoes, peeled and cut into 1cm thick slices
25g butter
100ml milk
For the duck:
2 duck breasts, skin scored with a diamond pattern
2 rashers of bacon
6 juniper berries, squished a bit
1 teaspoon flour
400ml chicken stock
Pre-heat the oven to 180°C.
Pop the beetroot, carrot, garlic, thyme and rosemary in a baking tray and toss in olive oil. Put in the oven for 45 mins – 1 hour until the veg is tender. After 30 minutes add salt, pepper and a sprinkle of sugar, then douse generously with balsamic vinegar and toss well.
For the potatoes, rinse in cold water then plunge into salted boiling water for 20 minutes or until very tender. Drain and pass through a sieve onto butter. When you're ready to serve, get the milk to the boil in a pan and beat the potato into it.
For the duck, heat a dry frying pan to very, very hot. Season the duck generously on both sides and place skin-side down into the pan. When the skin has crisped (about 5 minutes), pop the bacon and juniper in the same pan and put the lot in the oven.
After 18 minutes remove the duck and allow to rest while you make a sauce. Take the pan on to a hob on a high heat and sprinkle over the flour. Stir in well then add the stock. Bubble furiously until it's thick and reduced. Serve everything together and eat while piping hot.