home made pork pie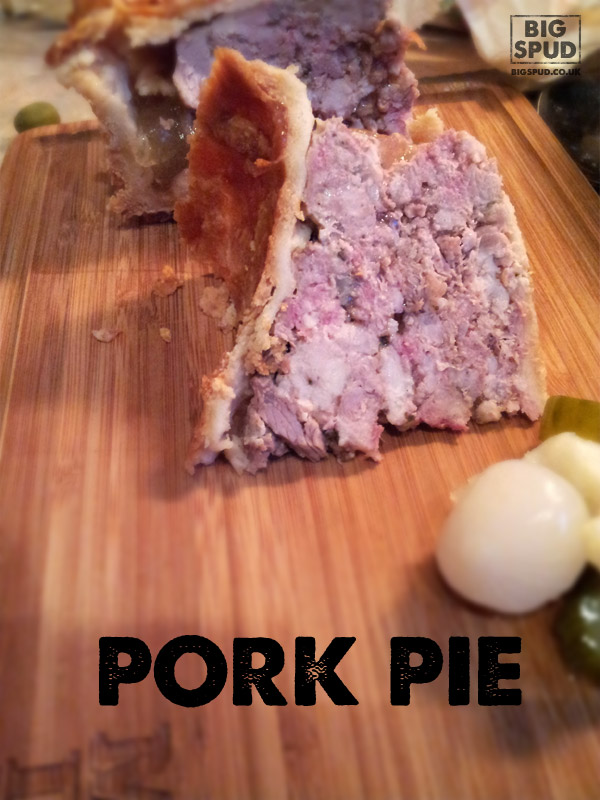 I've eaten pork pies hundreds of times but this was my first attempt at a home made pork pie. It's really worth the effort.
If you are English and reading this you will already know what I mean by the phrase "pork pie". It has a very definite meaning: a raised, crisp pastry, filled with coarse meat surrounded by a spiced jelly. It's a picnic mainstay and a lock for any buffet table.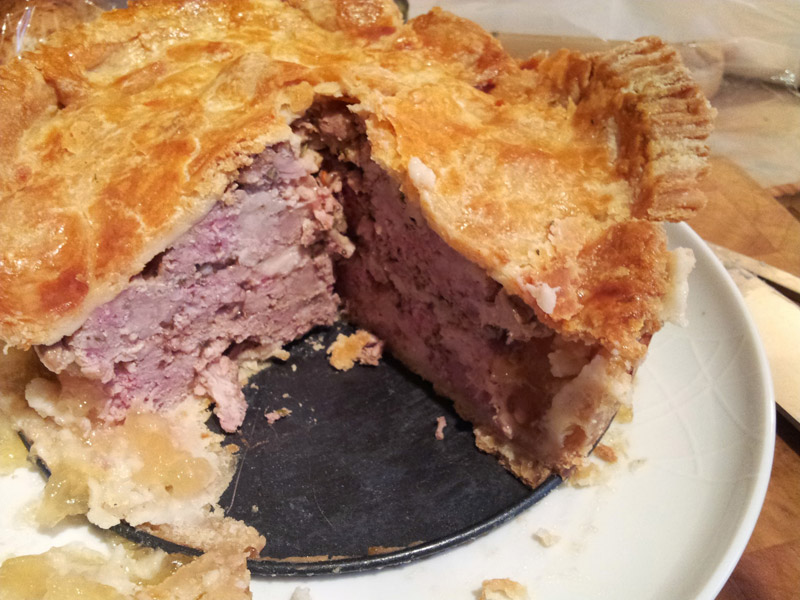 The pastry is specific. It is a hot water made with boiling lard, which crystallizes as it cools to give it a distinctive crunch. In centuries past the pastry was a container for the filling and was meant to be discarded, it is relatively recently that the pastry became edible.
As a further preserving agent, clarified butter was poured around the meat to keep it good. This has shifted over time to the divisive jelly. In my opinion the surrounding opaque jelly really makes it, but there are plenty of people who will tell you it's revolting.
The popularity of the pork pie centres around the town of Melton Mowbray in Leicestershire, which has held PDO appellation since 2008. The booming dairy industry of the 1700s led to a surplus of whey, which became pig fodder. All this meat needs to be kept somewhere hence, the pork pie rose up around these farms.
I chose to make one large home made pork pie instead of smaller ones. You combine various pork meats…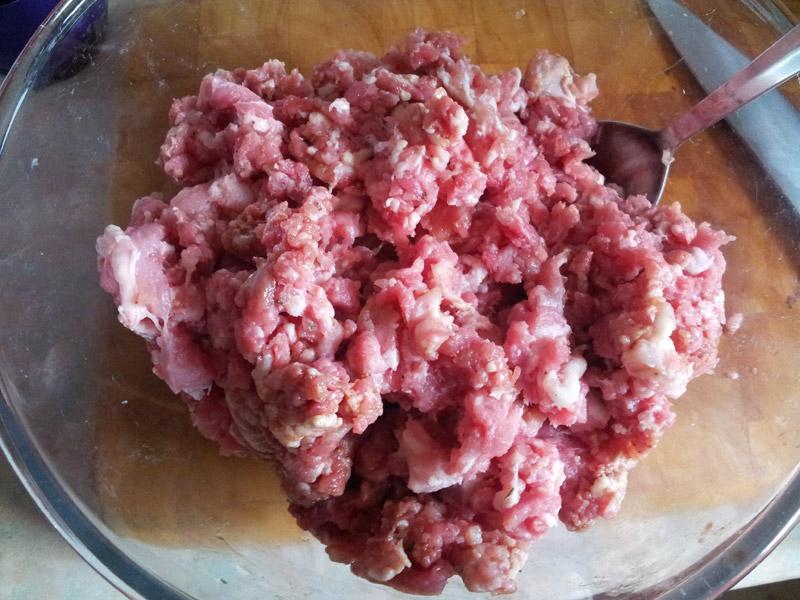 Mix up your pastry and line a tin…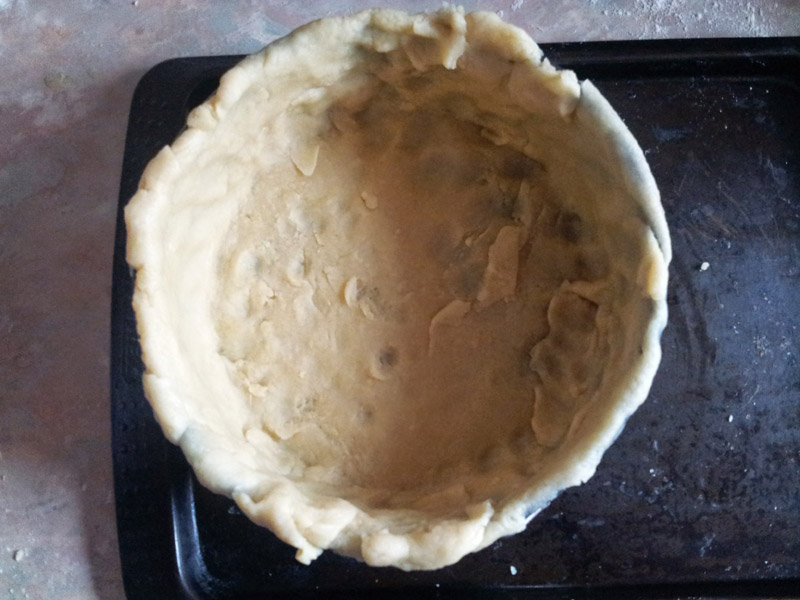 Fill with meat and bake. Later you pour in jelly from the top. It's a little shambolic round the edges but it's a lot of fun to make. I hadn't made hot water pastry before and it spits with volcanic fury so be careful, but it is quite manageable.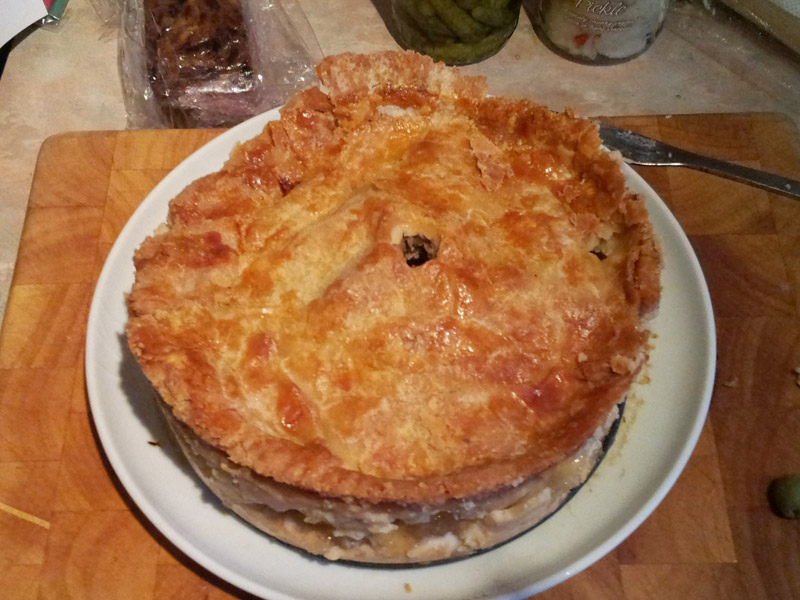 Obviously it makes quite a large pie to go around, but you may as well. I enjoyed mine at my office the following day.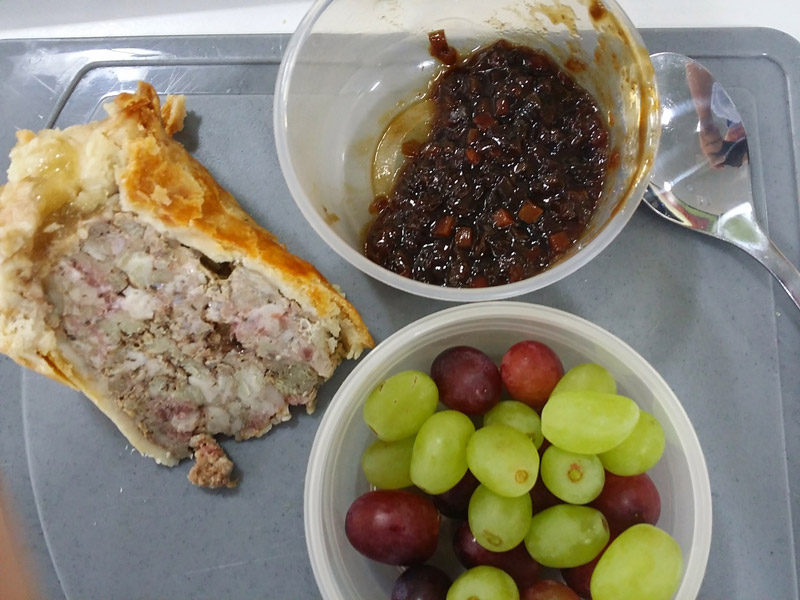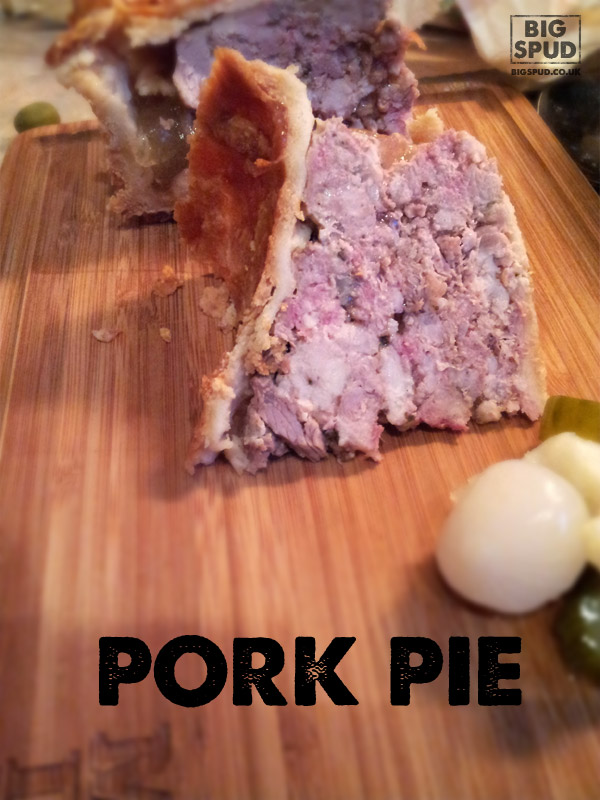 home made pork pie
Ingredients
For the pastry:
150

ml

water

150

ml

milk

175

g

lard

675

g

plain flour

1

teaspoon

salt

1

egg

beaten
For the filling:
700

g

pork belly

700

g

pork shoulder

6

rashers

smoked streaky bacon

2

onions

diced

1/2

nutmeg

grated

1/2

teaspoon

dried thyme

1/2

teaspoon

dried sage

1

teaspoon

mustard
For the jelly:
500

ml

chicken stock

250

ml

apple juice

2

sheets

leaf gelatine

snipped
Instructions
Fry the onions gently with the sage, thyme, nutmeg and mustard, then leave to cool.

Dice the porks and bacon together (I pulsed mine very gently in batches in a food processor). Combine with the onion mix and season generously with salt and pepper.

For the pastry bring the water, milk and lard to the boil in a saucepan. Sift in the flour and salt and beat with a wooden spoon to make a dough. Grease an 18cm springform baking tin and line with paper. When cool enough to handle roll the pastry to 5mm thick and use 3/4 of it to line your baking tin. Fill with the meat and then use the remaining pastry to make a lid. Use a fork to make a sealing pattern around the edge, then glaze with the egg. Poke a thumb-sized hole in the top with a knife to let the steam escape. Bake at 220C for 30 minutes, then turn down the oven to 190C for a further 1 hour. If it looks to be going brown a little prematurely cover with foil. You're looking for an internal temperature of 65C when probed.

While it cools, make the jelly stock. Soak the gelatine in cold water for twenty minutes. Bring the stock and juice combined to a simmer. Squeeze the gelatine of excess water and whisk into the stock until dissolved. Remember the hole you poked in the pie earlier? Force a funnel into it and trickle the stock into the pie. It'll take a little at a time as it seeps in, and keep topping it up until it cannae take no more. Leave in the fridge to set for at least 24 hours, and if you can wait a few more days it will taste even better. Serve with pickles and cheese.
Need more pies?
Try Elizabeth's leftover roast beef pie. I love the sound of this one!