kate & wills jamie oliver beef pie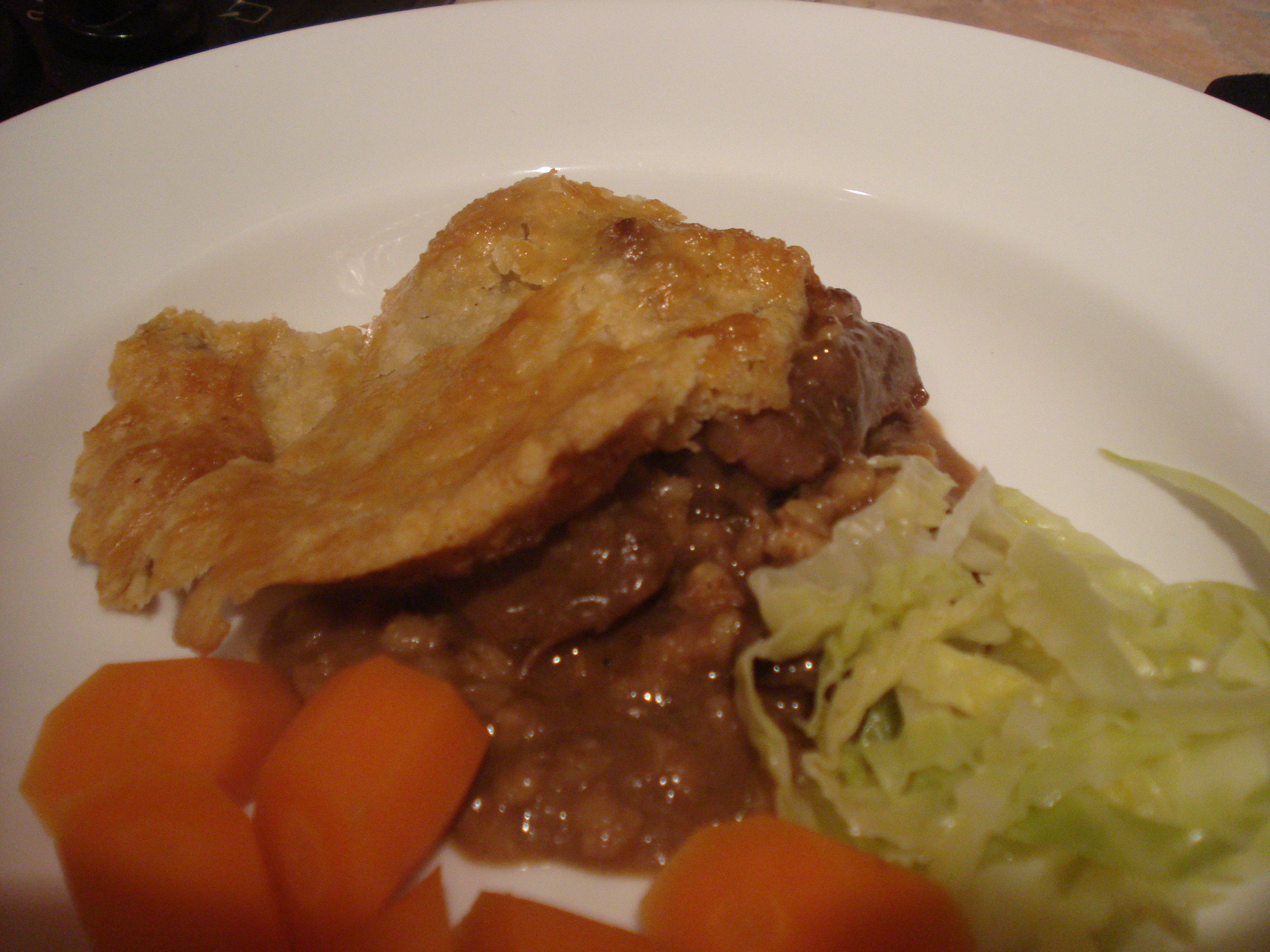 Y'know when Jamie's on his thing? Going for it like a nutter and saying this recipe is the best thing ever? Well I got caught up in his craziness and decided to make this, the kitchen sink of beef pies. I made a tiny change in substituting stout for red wine (can't abide beer / lager etc in pies – beer batter on fish is just vile) but other than that it's the same.
This recipe from Jamie's Great Britain
 is just OK – yes, a decent beef stew with a pastry lid but no more than that. I was quite disappointed all told, I was expecting fireworks but ended up with a perfectly OK pie.
Good, but not worth making again.
PS. A big shout out to Farmer's Choice for their excellent casserole beef though – meltingly tender and full of flavour.
Kate & Wills's Wedding Pie (serves 6):
2 sprigs rosemary, leaves picked
2 bay leaves
2 red onions, peeled and sliced
500g casserole beef, diced
1 tablespoon tomato puree
200ml red wine
1 tablespoon flour
750ml beef stock
70g pearl barley
1 teaspoon English mustard
2 tablespoons Worcestershire sauce
50g Cheddar cheese, grated
For the pastry:
150g plain flour
50g suet
50 balt
1 egg, beaten
Put a large casserole pan over a high heat and add some olive oil. Toss in the herbs, onions and meat with a little seasoning. Mix well and cook for 10 minutes.
Add the tomato puree, wine, flour and stock and bring to a simmer. Turn the heat down low, stuff the lid on and cook for an hour. Then add the pearl barley and leave for another hour. Remove the lid and simmer for another 30 minutes. Add the mustard, Worcestershire sauce and cheese and check the seasoning. Leave to cool while you make the pastry.
Rub the flour, suet and butter together until it resembles breadcrumbs. Stir in 60ml cold water and bring it together. Wrap in clingfilm and refrigerate for half an hour.
Preheat the oven to 180°C. Ladle the stew into a deep pie dish. Roll out the pastry to about 1cm thick and cover the pie dish. Brush over the egg wash and bake for about 45 minutes, or until the pastry is golden.