parmesan chicken with potato and sprout gratin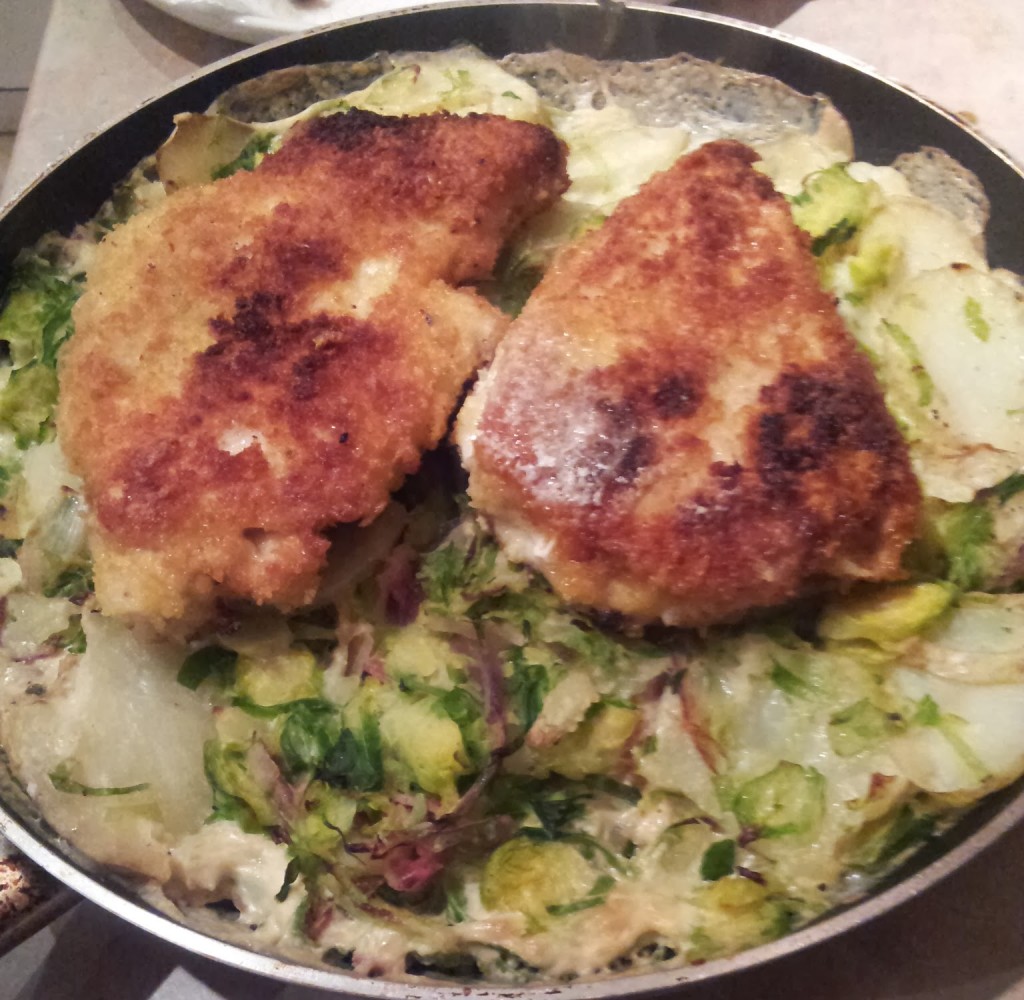 Yes! It's sprout season again. Please don't just boil them and leave them alone, there's so much more to the little farty ball. Like here, a Brussels Sprout gratin baked with potatoes and cream for a great side dish.
There's a video version of the gratin on my YouTube channel here:
I was chuffed with how everything turned out save for one flaw. To quote Michel Roux Jr "where's the sauce?!" It needed a meaty gravy just to lend a little more moisture. But beyond that, it was dead good. A sprout is for Winter, not just Christmas.
Want more Brussels Sprout recipes? My Christmas dinner isn't complete without sprouts and chestnuts, and you must check out my legendary sproutotto.
parmesan chicken with potato and sprout gratin
Ingredients
500

g

potatoes

250

g

Brussels Sprouts

1

chicken stock cube

1

red onion

4

rashers smoked streaky bacon

150

ml

single cream

teaspoon

wholegrain mustard

heaped

2

skinless chicken breasts

1

tablespoon

flour

1

egg

beaten

2

handfuls

panko breadcrumbs

1

handful

parmesan

finely grated
Instructions
Get a large pan of water on to boil and preheat the oven to 200C.

Use a food processor to thinly slice the potatoes, and add them to the water with the stock cube. After 5 minutes pass the Brussels through the processor too and add to the water.

Heat a casserole dish over a medium heat. Thinly slice the onion and bacon and fry in a little oil in the dish until starting to colour. After the sprouts and potatoes have had 3 or 4 more minutes drain and add to the casserole dish. Stir well, season, pour in the cream, stir in the mustard and then transfer to the oven to cook uncovered for 15 minutes, until golden on top.

Meanwhile heat a frying pan over a medium heat. Bash the chicken breasts with a rolling pin until thin and season. Dust lightly in flour, roll in beaten egg and then in the parmesan and breadcrumbs. Fry in shallow oil on both sides until golden. To be sure use a probe thermometer checking it reaches at least 65C inside. Serve on top of the gratin.