roast turkey with all the trimmings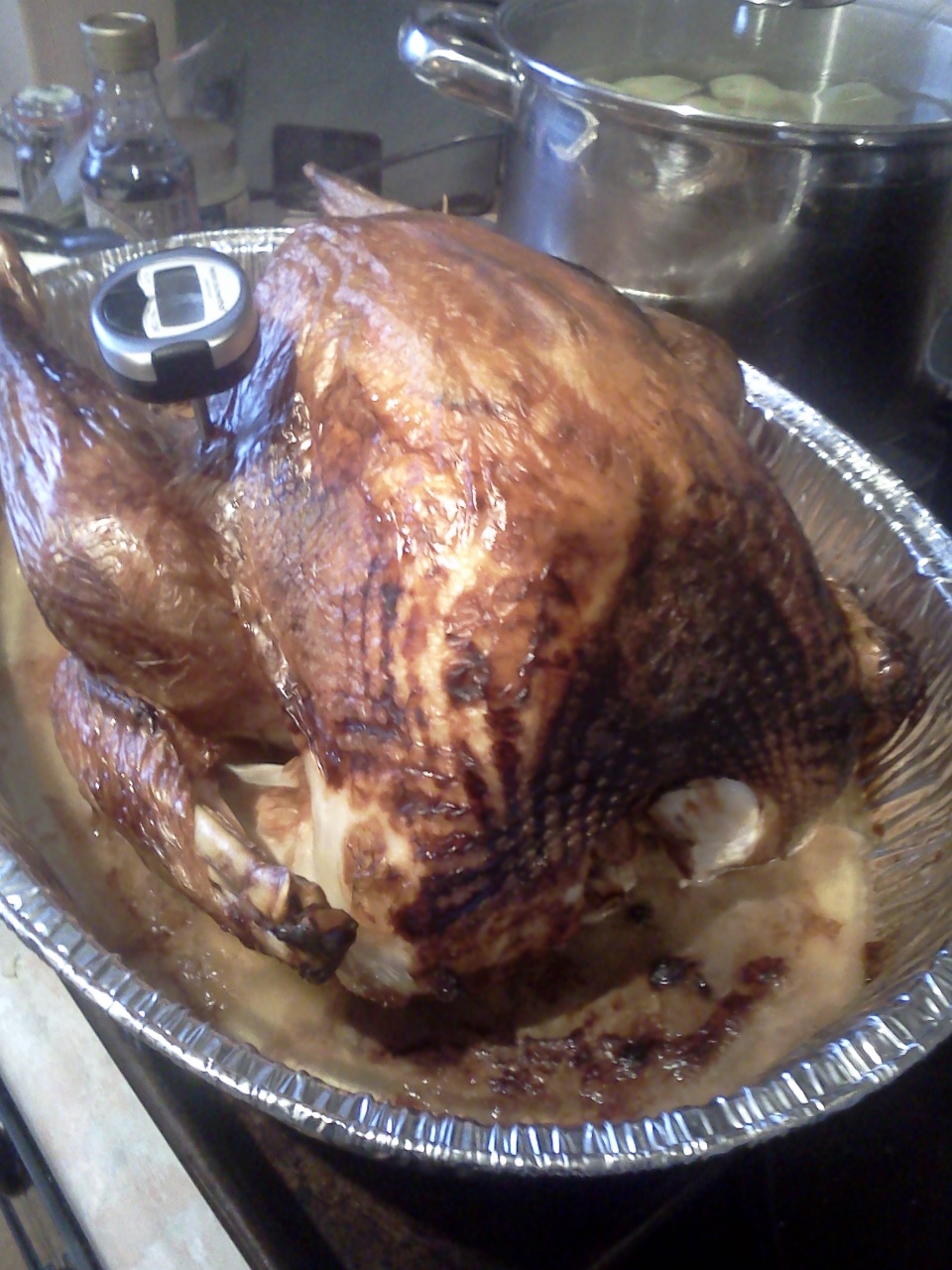 Sometimes, blog posts I write are to spread the news of some great recipe I found. Other times it's about crazy experiments. But the aim has always been to be a log of what I cooked, and that's what this Christmas Day feast is about: to remind myself what worked and what to fix for next time.
Perhaps surprisingly I'd never cooked a whole turkey before: on previous years when hosting someone else provided the turkey on another occasion I went for chicken. So on your maiden voyage into turkey cooking, what technique do you follow to ensure no-one is disappointed (least of all me!) ?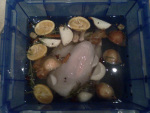 I was initially tempted by Matthew Fort's method for slow-roasting the bird, especially given my previous success with long roasting times. But I just couldn't take the risk and instead went for the technique of that doyenne of domesticity, Nigella. I grabbed a copy of Nigella Christmas
from the library and swotted up. She favours a brining followed by a hot, quick roasting. I'm a big fan of brining poultry and with trusty meat thermometer in hand I had to follow this one. And I'm so glad I did. It was no bother to prepare as it is done a couple of days beforehand, and by using a foil roasting tray I could chuck it on the recycling pile and not have to scrub the pan after cooking. I had a 5.5kg bird and anticipated a cooking time of 2½ hrs and bang on then it was done. In fact I probably could have removed it 15 minutes earlier as the very outer skin was a little tough and the internal temperature was in the mid 80s, well within the safe range. That aside the flavour was lovely and texture great, so I was very pleased with bowing down to Queen Nigella's recipe.
So that was the main event. The roast potatoes, well you might recognise that recipe. Sprouts were also cooked to a previous tradition in my house, while carrots were simply steamed – there's more than enough flavours going on to bother with tweaking these too much. There were also maple-roast parsnips, Jamie Oliver's "get-ahead" gravy which I've made before and is absolutely terrific (a friend of mine commented that it "tastes of everything you put into it"), and on this occasion raised its game with turkey roasting juices and a quick turkey stock.
Other people may raise an eyebrow at packet stuffing, but I grew up on the stuff and a roast poultry dinner just isn't the same without it. Yes, I know it is little more than a packet of dust mixed with water making it no more sophisticated than a Pot Noodle but I love it.
I can't remember ever having bread sauce before but read this recipe on Recipe Rifle which, reading between the lines must be a Josceline Dimbleby recipe and therefore failsafe. However after hours of cooking it was watery. The flavour was gorgeous but unfortunately just too wet. I suspect I used rubbish bread which wasn't in the mood to absorb liquid but I would definitely like to try it again.
Bread sauce apart, all in all a success. Very pleased with the results. Merry Christmas!
(I've presented it below as an itinerary as a reminder where I saved time for next year. I aimed for a 2.30pm dinner)
Roast turkey with all my trimmings  (serves 7 with leftovers):
For the gravy:
6 chicken pieces (wings, thighs etc)
3 onions, quartered
3 celery sticks, chopped
3 carrots, chopped
2 sprigs rosemary
2 tablespoons flour
1 pint boiling water
Turkey giblets
For the turkey & brine:
5.5kg turkey
10 pints water
125 grams table salt
3 tablespoons black peppercorns
1 cinnamon stick
4 cloves
2 tablespoons juniper berries
4 star anise
2 tablespoons mustard seeds
200g caster sugar
2 onions, quartered
1 piece ginger
4 tablespoons maple syrup
4 tablespoons clear honey
1 orange, quartered
For the bread sauce:
1 large onion, very finely diced
150g wholemeal bread, crusts on
6 cloves
4 cardamom pods
½ a nutmeg
75g butter
900ml milk
300ml double cream
For the yorkshire puddings:
4 eggs
4 heaped tablespoons flour
Milk
Vegetable oil
For the potatoes:
1kg potatoes
200ml goose fat
3 cloves garlic
Peel of 1 orange
1 sprig of rosemary
For the maple parsnips:
6 parsnips, peeled and quartered
2 tablespoons maple syrup
Red wine vinegar
For the brussels sprouts:
500g brussels sprouts
2 rashers bacon, diced
1 vac-pack of chestnuts
Etc:
6 carrots, peeled and sliced
1 packet stuffing
Sausages wrapped in bacon
3 days before: GRAVY – Preheat the oven to 180°C. Chuck the veg and herbs in a roasting dish and top with the chicken pieces. Roast for about an hour then transfer to a hob. Shake over the flour and stir all around until a thick paste forms, then pour over the water. Allow to bubble away for about 45 minutes and then sieve the solids off. The gravy can be frozen until needed.
2 days before: TURKEY – chuck the turkey with all the brine ingredients in a large lidded container and top with water until the bird is covered. Leave in a cold place (I kept mine in the garage).
1 day before: BREAD SAUCE – Preheat the oven to 130°C. Combine all the ingredients in a baking dish, cover with foil and bake for 2 hours. Refrigerate until needed.
1 day before: YORKSHIRE PUDDINGS – Whisk the eggs and flour together with a pinch each of salt and pepper in a measuring jug and add enough milk to make a thin custardy-textured batter. Cover and refrigerate until needed.
1 day before: ROAST POTATOES – peel the potatoes but keep the peelings. I boil the peelings with the potatoes to impart super-earthy flavour, by putting them inside my cheapest (clean) dishcloth tied at the top. Cut the potatoes into golf ball-size chunks. Get a pan of water on to a rolling boil with a hefty hand of salt and boil the potatoes + skins for about 15 mins, or until they are super-tender. Drain and return to the hot pan (off the heat) to steam dry. When cool cover with clingfilm and refrigerate until needed.
9am that day: TURKEY – remove the turkey from the brine, drain and pat with kitchen paper. Leave on a rack over the sink to continually drip-dry and come up to room temperature.
9.30am: GRAVY – put the giblets, neck, any turkey trimmings you have into a pan with a quartered onion and barely cover with water. Leave on a low simmer for a couple of hours.
10am: CARROTS & SPROUTS – put the carrots into a steamer, with the sprouts on the top tier. Halve the sprouts if they are on the large side. You are bonkers if you put crosses into the bases.
10.30am: PARSNIPS – toss the parsnips in a little oil along with the maple syrup, plus a dash of red wine vinegar. Pop them in a roasting dish until needed. Preheat the oven to 200°C.
11am: TURKEY – stick it in the oven. I recommend a disposable roasting dish to avoid dishwash insanity.
1.15pm – 1.30pm: TURKEY – you should be checking this to see whether the bird is done around this time. When ready bring it out and cover with foil and a tea towel. When it comes out, stick the goose fat in a large roasting dish and put in the oven for a couple of minute to get sizzly hot.
1.40pm: POTATOES – put the potatoes into the hot fat.
1.45pm: STUFFING – mix the stuffing mix with boiling water and leave to sit. Put the parsnips in.
2.00pm: LOTS – dot the stuffing with butter and put in the oven. Cover the bases of a yorkie tin with a layer of oil and get in the oven to heat up. Get the gravy and bread sauce into saucepans warming up. Tip the turkey stock into the gravy too. Depending on how salty they are, you might want to add some of the juices from the turkey roasting tray. Bung the sausages in bacon into the oven too. Give the potatoes a quick toss and add the garlic, orange and rosemary.
2.05pm: YORKSHIRES – carefully pour the batter into the sizzling yorkie tin.
2.10pm: VEG – Pop the steamer on for 20 mins.
2.20pm: SPROUTS – get a frying pan over a medium heat and fry off the bacon. When coloured tip in the sprouts and chestnuts, seasoning liberally. After 5 mins take off the heat and add a drizzle of maple syrup.
2.25pm: TURKEY – carve (or better still, get someone else to do it).
2.30pm: Serve and eat!