saltimbocca with courgette fries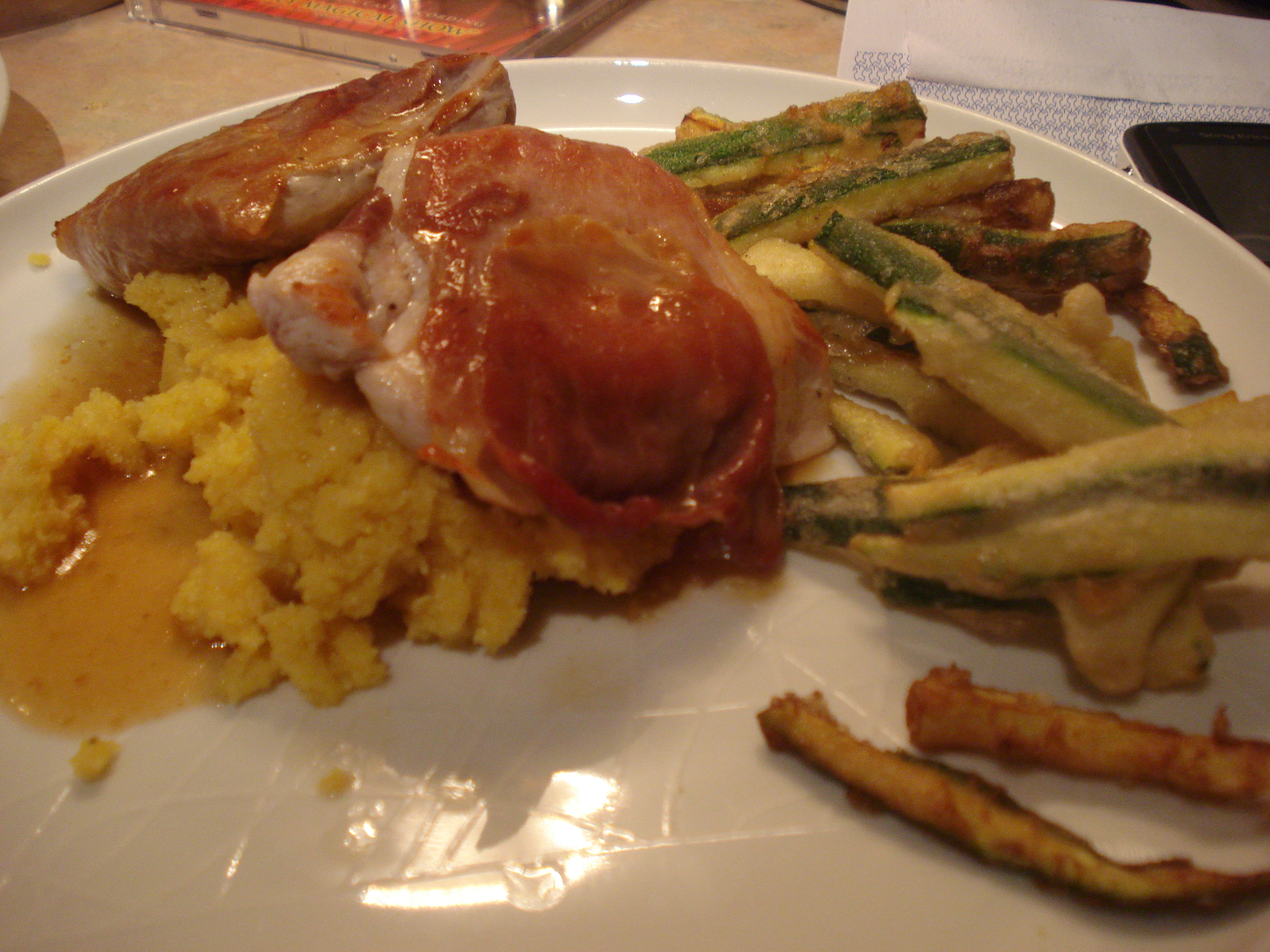 This post is dedicated to Laissez Fare.
Twitter friend and all-round good egg Laissez Fare was upping sticks and moving back to his homeland, USA. He was throwing a party but wouldn't you know it, it was during my only week's holiday of the year. So we managed to arrange a separate lunch where we could chat, eat and give him a little send-off. Using his wiles he'd booked us a table at the titchy-but-perfectly-formed Polpetto.
We had a lovely meal and sampled many dishes – including a £7.50 sandwich I couldn't ignore. Ironically the disappointment was the polpetti, which tasted only of the fennel marinade they were in. However lots of them were top drawer, such as the pigeon saltimbocca cooked to a perfect purple-pink with fragrant sage, and finely-sliced zucchini fries with a light tempura-style crunch. I enjoyed these so much I attempted to recreate them later that week at home.
I happened to have some turkey and veal hanging around the freezer so chose those over the pigeon version, and made one each of those. They were great, yet surprisingly the turkey version was more interesting than the veal. And the courgette fries were equally tasty. I had the oil a touch too hot at the start, but once it calmed down the fries were much more consistent. I was very pleased with the results.
If you're in the Leicester Square area, forego those touristy places and try to grab a seat at Polpetto – tasty food, kind and informal service and very reasonable prices. +1 for the non-matching crockery too.
Saltimbocca with courgette fries:
For the saltimbocca:
4 breasts of turkey or veal
4 slices of prosciutto
4 sage leaves
100ml beef stock
For the fries:
2 courgettes, diced to approx 4mm matchsticks
100g plain flour
½ teaspoon baking powder
1 tablespoon honey
200ml carbonated water
Vegetable oil (or similar) for deep-frying
First make the batter. Stir the flour, baking powder and honey together with a pinch of sugar and whisk in the water. Clingfilm and pop in the fridge for half an hour. (This will 'set' the batter and hold the bubbles in place).
Place the breasts between two pieces of clingfilm and pound until it's about half a centimetre thick. Discard the clingfilm, place a sage leaf on each breast, season and wrap in a slice of prosciutto.
Get a frying pan to a medium heat and add a little oil. Fry the saltimbocca for 7 – 8 minutes until cooked through, and put to one side to rest. Add the stock to the pan and boil hard to reduce and get the good stuff off the pan.
Bring enough oil to fill 2/3 of a pan to 190°C. Dip the courgette in the batter, shake off the excess and deep-fry in batches. They will only take 45 seconds – 1 minute to cook and turn light brown. Put to kitchen paper to drain and toss over some sea salt.
Serve the saltimbocca on soft polenta, pouring the pan juice / stock over.