spicy lamb steaks with garlic butter bean mash and roast carrots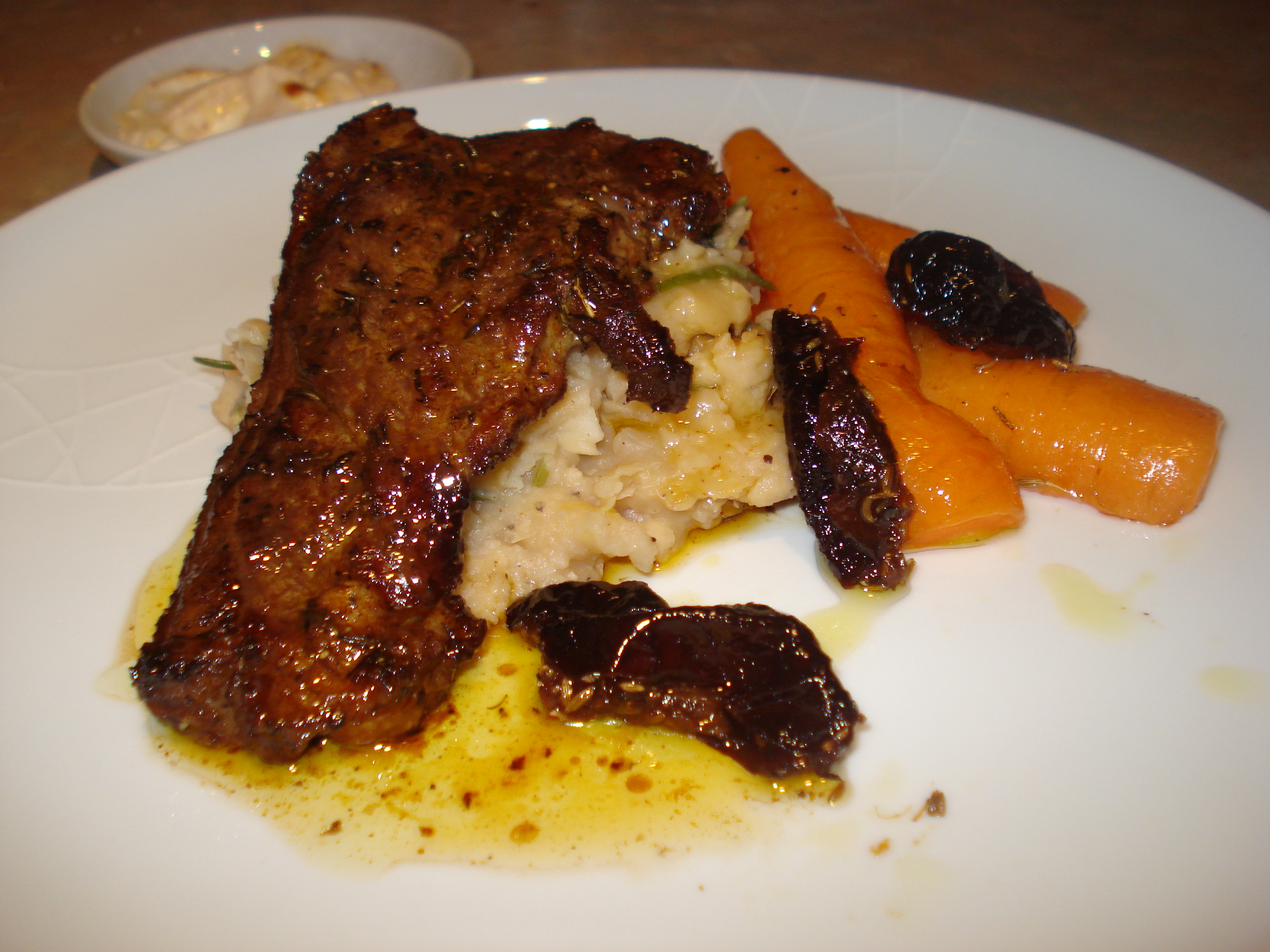 I was fortunate enough to be sent some lovely bits and bobs by the Welsh lamb board, and asked to write up a recipe. It was an easy 'yes' from me, as I am a massive fan of Welsh lamb, with it's rich meatiness and deep savoury grassy notes. And this lamb was truly delicious, some of the best tasting lamb I've ever had. I've served it here with some spice; the strong lamb flavour can stand up to some heat and bashing around.
For a change I matched it with some butter beans mashed with some garlic. The simmering takes the edge off the garlic's harshness – do give it a try.
For more Welsh lamb recipes, go have a snoop around Eat Welsh Lamb.
Spiced lamb steaks with mashed butter beans and roast carrots (serves 2):
For the lamb:
2 Welsh lamb leg steaks
1 teaspoon sweet smoked paprika
1 teaspoon dried thyme
½ a grated nutmeg
1 tablespoon olive oil
For the carrots:
5 carrots, halved
5 agen prunes, roughly torn
1 tablespoon cumin seeds
1 tablespoon olive oil
For the bean mash:
1 tin butter beans
4 cloves garlic
Large sprig of rosemary, leaves picked
Juice of half a lime
To serve:
1 tablespoon creme fraiche
¼ teaspoon harissa paste (or as much as you can take!)
Pre-heat the oven to 180°C.
Get some water on to boil and chuck the carrots in. Par-boil for about 6 minutes, or until just tender.
Meanwhile, get a frying pan over a very high heat (ideally, use a pan you can transfer to the oven). Season the lamb well on both sides and rub in the paprika, thyme and nutmeg. Smear in some oil and pop in the frying pan. Fry for about 2 minutes, or until golden brown on one side. Flip it over and put the pan in the oven. Depending on the size and thickness of your lamb these need to go in for about 12 – 15 minutes. Make sure you allow the lamb to rest out of the oven for about 5 minutes before serving.
When the carrots are tender, add them to a roasting dish with the prunes and cumin and toss in a little oil. Pop in the oven along with the lamb. These will take about 20 minutes, but do give them a stir half way through cooking to coat in the flavours.
While the lamb and carrots are in the oven, get on with the butter beans. Pop the whole tin, juice and all, in a saucepan and bring to the boil along with the garlic cloves and rosemary. When the beans are tender (about 5 – 6 minutes), turn off the heat and add the lime juice. Check for seasoning and mash it up a  little. Ideally you'll have some squished beans and some whole beans. Keep warm while you finish everything else.
To serve, stir the harissa into the creme fraiche and put on the side as a dip.