steak and pickled onion pie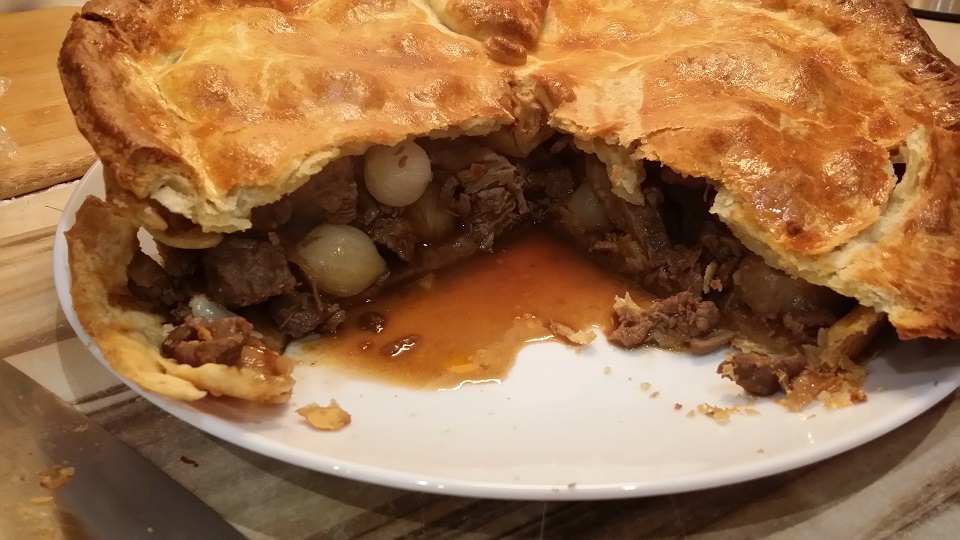 Winter time means pie time. That usually means something packed with meat, a lovely gravy and crisp pastry. I'm certainly not going to get involved in the "should it have pastry all round the sides" debate. You enjoy your pie however you like it.
In one of Jamie's recent "5 ingredient" meals, he stewed lamb with pickled onions from the jar and it was a cracking little feast. It struck me how good a pie filling it would make. Turns out, coupled with cheese pastry, it was! That tang of vinegar with rich beef is a great combo.
And if you don't fancy making your own pastry, just buy it. No one will mind. But if you have a few minutes to spare, you'll find it really satisfying. Plus you get to add cheese 🙂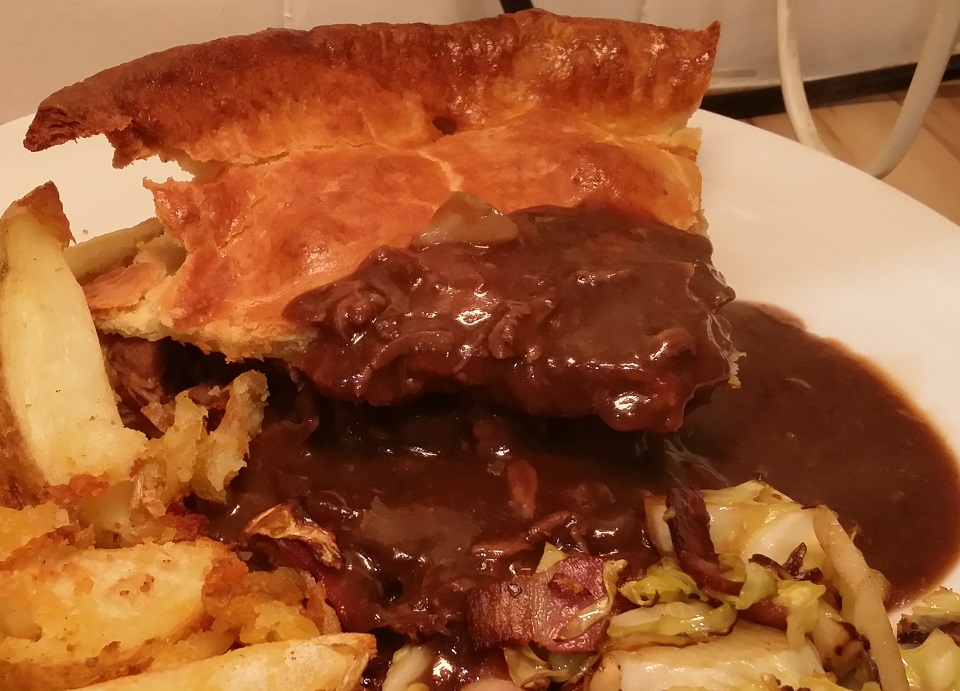 steak and pickled onion pie
Ingredients
For the filling
180

g

jar of pickled onions

drained

500

g

stewing beef

diced

1

glass

red wine

1

litre

beef stock

1/2

teaspoon

tomato puree

1

tablespoon

plain flour
For the pastry
500

g

plain flour

50

g

cheddar

grated

250

g

butter

2

eggs
To finish the gravy
1

teaspoon

English mustard

1

teaspoon

cornflour
Instructions
Preheat the oven to 160C. Get a large casserole pan over a medium heat. Dice the beef and toss in the flour along with salt and pepper.

Add a splash of oil to the pan and fry the beef for a couple of minutes until it is browned on each side. Add the red wine and let it bubble until reduced a bit, then add the tomato puree, pickled onions and stock. Bring to the boil, cover and then transfer to the oven. Cook for 90 minutes or until the beef is tender to the touch. Drain the meat in a sieve over a bowl and keep the liquid. Allow to cool.

To make the pastry rub the butter and flour together, then mix in the cheese and 1 egg with a pinch of salt (save an egg for glazing). Add a splash of milk if needed to bind. (If you want, this can be done very quickly by whizzing everything together in a food processor). Wrap in clingfilm and put in the fridge to rest for 30 mins.

Preheat the oven to 200C. Cut a large circle of pastry and lay it in a pie dish, leaving plenty overhanging the edges. Pile in the cold beef and onion mix, then cover with another disc of pastry. Smoosh up the edges to look nice using a fork, and poke a hole in the centre to let the steam out. Brush with a beaten egg and bake for 25 minutes or until the pastry is golden.

While the pie cooks, put the reserved liquid in a saucepan and bring to the boil. Mix a teaspoon each of mustard powder and cornflour with a little water to make a paste, and stir through the gravy. Serve with chips and greens.