tagliatelle bolognese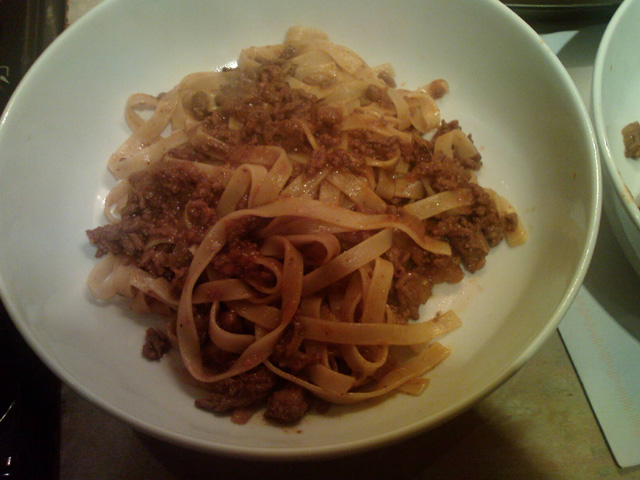 This was another test for the slow cooker – a sturdy bolognese recipe. This one is lifted from this month's Delicious magazine. It's much more complicated than my personal favourite recipe but they both have merit. The results were very good – it was missing something, perhaps a little acidity – but very satisfying for something left alone for 7 hours.
I made enough for ten here, so I have two future dinners perfectly preserved 🙂
Bolognese:
1kg beef mince
1 onion, finely diced
2 celery stalks, finely diced
3 garlic cloves, finely sliced
1 tin tomatoes
100ml whole milk
300ml beef stock
200ml red wine
1 teaspoon dried oregano
2 teaspoons tomato puree
Brown the mince in a hot pan to develop a lovely brown crust.
Put the mince along with all the other ingredients in a slow cooker on high for 6 – 7 hours.
Check for seasoning and serve with the pasta of your choice – I'm a sucker for the wide, flat chewiness of tagliatelle. Top with parmesan.