tartiflette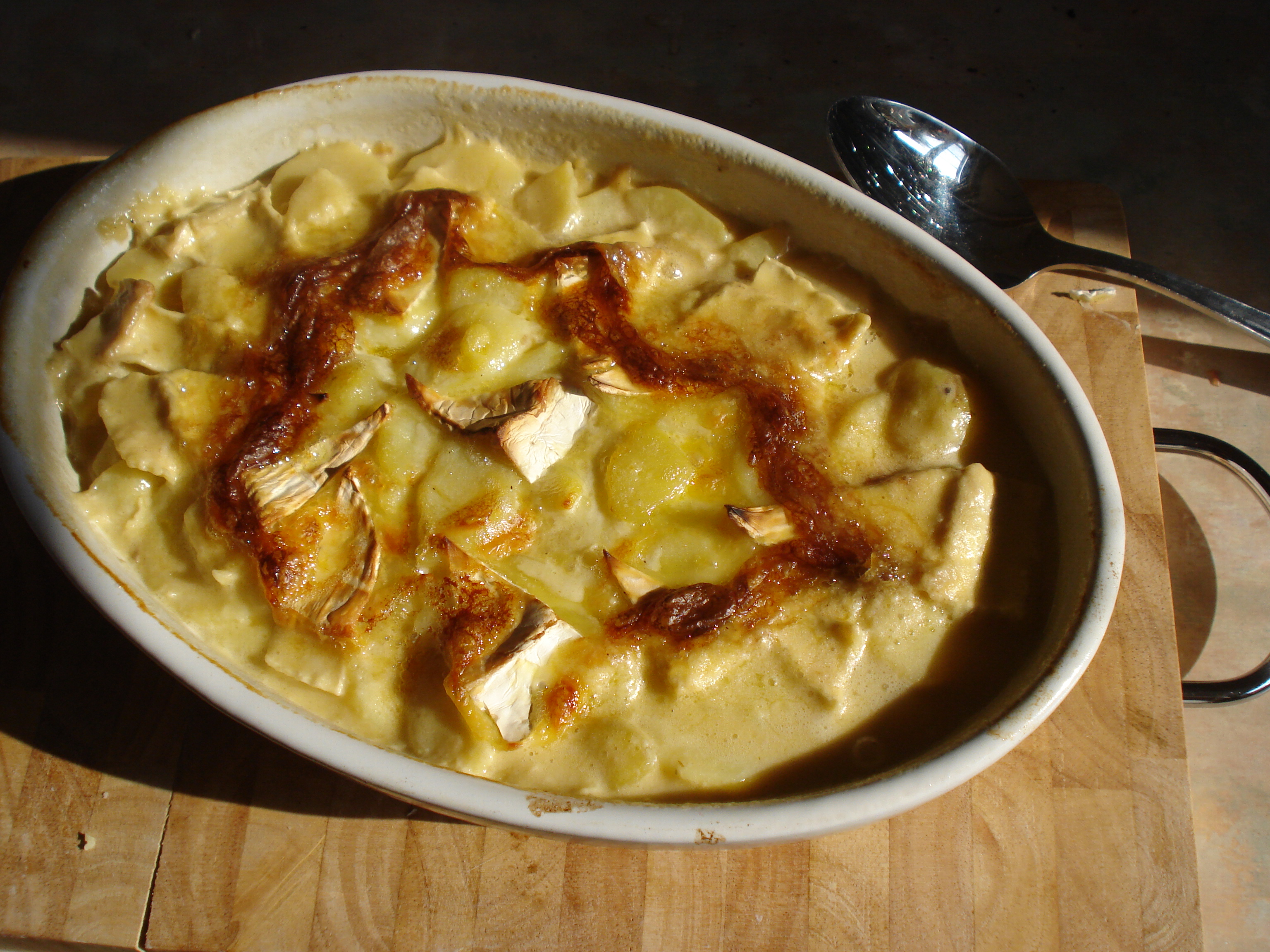 What do you cook on one of the hottest days of the year? Why, food designed for high-carb high-energy skiiing of course. Such is the life of weekly meal planning; what seems fine on a rainy Tuesday feels bonkers on a melting Thursday. But there it is.
Seasonality aside, this was inspired by Alex Mackay's version from his book Everybody, Everyday
. It's taken me nearly a month to read the whole thing, despite cooking about 10 things from it so far. I keep stopping, dash off to cook the gorgeous recipe on that page, then come back to the book later. It's looking like a dead cert for my cookbook of 2012 unless something amazing pops up in the second half of the year.
As for the tartiflette itself? Comforting yumminess. I've deviated from Alex's recipe slightly to skip one of the simmering stages but I think we end up in a similar place. There's also call for pre-prepared sticky onions which I didn't have time for so improvised. If I had one criticism it is that the Camembert left a slightly bitter edge, perhaps something creamier would be nice next time. But a great dish which I will enjoy bringing out when it snows. Probably during the Olympics.
Tartiflette (serves 4 with a green salad):
1½ onions, peeled and sliced
600g waxy potatoes, peeled and thinly sliced
4 rashers of bacon, diced
150ml chicken stock
200ml whipping cream
125g Camembert
Preheat the oven to 200°C. Heat a little oil in a wide frying pan and add the onions along with salt, pepper and a pinch of sugar. Cover with a lid and fry for about 10 minutes until softening. Stir if required to stop them sticking.
While the onions cook bring the stock and cream combined in a saucepan to a simmer and add the potatoes. While it warms taste for seasoning and add salt, pepper and nutmeg as required.
Back at the onions, take the lid off and turn the heat up. Continue to cook for another 10 minutes until brown and sticky, adding a splash more oil if everything is getting stuck. When cooked remove to one side and use the same pan to fry the bacon until crisp.
When the potatoes are just starting to turn tender, turn off the heat and transfer half the potatoes to a baking dish. Add the bacon and onions as a layer, then top with the remaining potatoes and cream mix. Break up the Camembert and dot over the surface, then bake the lot for 20-30 minutes until the top is golden and potatoes cooked through.