whole barbecue chicken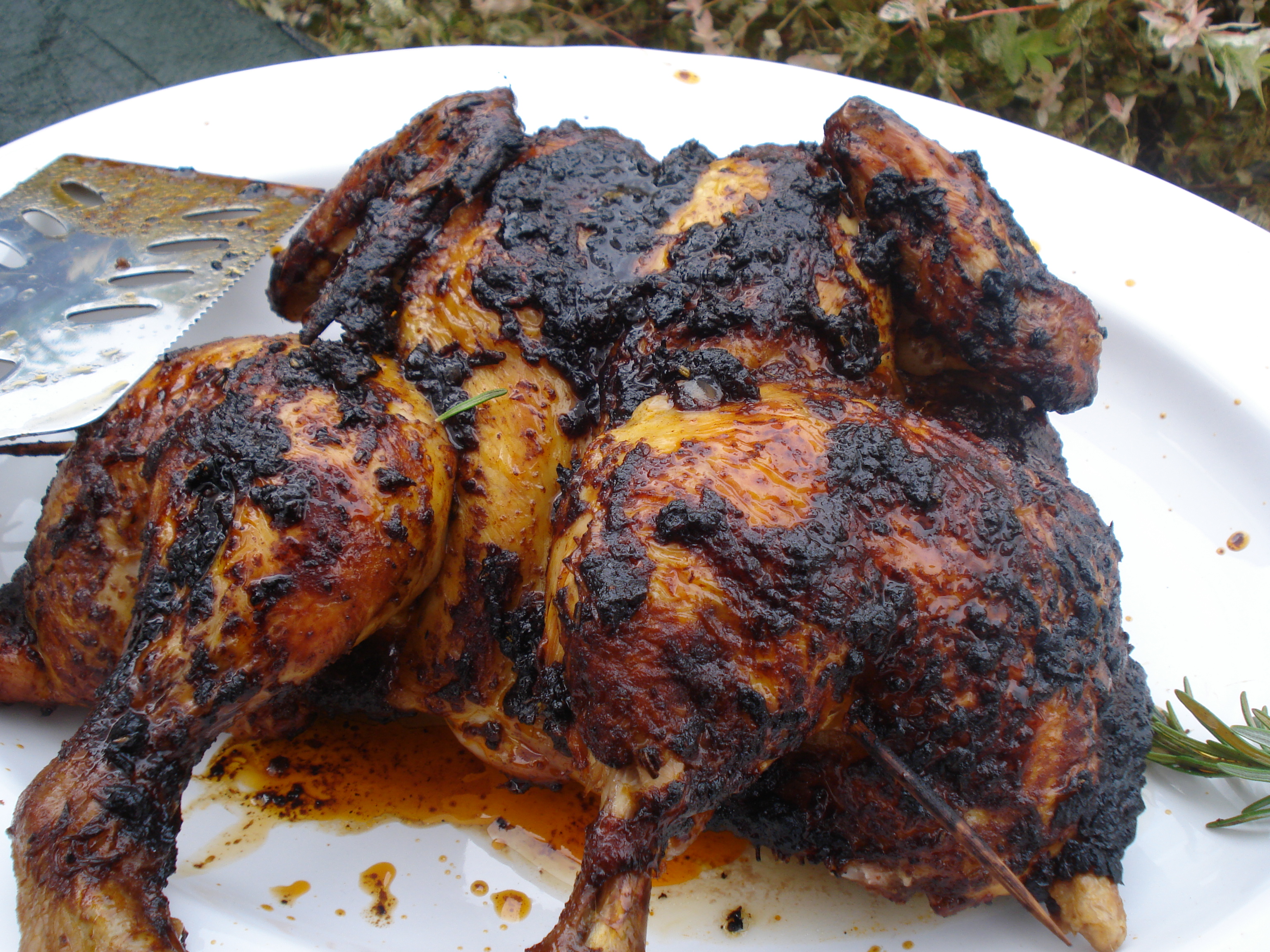 I love being invited to barbecues, especially for the social aspect. But I do experience a twinge of disappointment when it's just sausages and burgers from Iceland on offer. All food does taste better outside it's true, but it's nice to have something a bit different. How about a whole lamb? How about a whole chicken?
I've used Jamie Oliver's recipe for barbecue sauce from Jamie at Home
here, and it's an absolute cracker. The kicker is the orange juice, it really makes it. Do give it a whirl, it's amazing. I decided to brine the chicken as I'm bit obssessed with it lately, but you can skip this if you want. You get the tenderest meat from it though.
Whole barbecued chicken (serves 8):
2kg chicken, the best you can afford
1 heaped tablespoon cumin seeds
1 heaped tablespoon fennel seeds
5 cloves
A bunch of thyme, leaves picked
A bunch of rosemary, leaves picked (keep a sprig back for later)
Zest and juice of 1 orange
1 bulb of garlic, broken into cloves and peeled
4 heaped teaspoons paprika
6 tablespoons balsamic vinegar
150ml tomato ketchup
8 tablespoons olive oil
10 bay leaves
Prepare an 8% brine solution. Dunk the chicken in it and soak for at least 6 hours.
After this time, remove the chicken from the water and spatchcock it. To do this, cut down the backbone with kitchen scissors and wipe the innards down. Place it right way up and apply a little pressure to the breast, cracking it slightly. It should open like a book. Spear it in place with two skewers crossing over. The spatchcocking will cook it quicker and the skewers keep its shape while it cooks. If you have time dry the chicken out uncovered in the fridge overnight.
Preheat the oven to 180°C. To make the marinade grind together all the spices with some salt and pepper. Chop the herbs and orange finely and mix that in. Add the rest of the ingredients and mix thoroughly. Smother the chicken all over with the marinade and bung on a baking tray in the oven. After it's been in the oven for 30 minutes, light the barbecue.
Cook the chicken for an hour or until the internal temperature reaches 74°C. (For best results, use a meat thermometer).
Transfer the whole chicken to the barbecue and sear it well one side. As it cooks use a rosemary sprig to baste it with leftover sauce from your tray. Flip it over and when done, leave to rest on a plate. While it rests, pop the baking tray on the barbecue and let the heat sizzle the leftover marinade and get stickier. Pour this into a jug and serve with the chicken. I recommend plonking on the table and letting everyone have at it like vultures!