churro lamb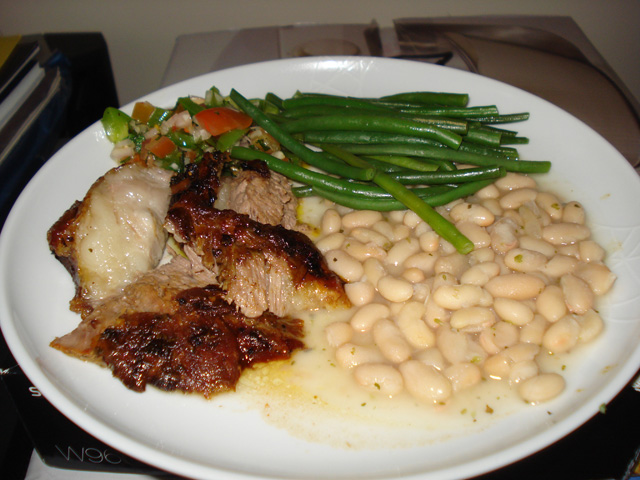 Yet another taste of Jamie's America
, and yet another Navajo treat: churro lamb. This obviously isn't actually churro lamb but I hope Jamie Oliver will consider tasty Essex lamb good enough!
The secret to this roast lamb is in the pre-roast baste, which is a really unusual but tasty mix: juniper berries, mint and garlic with plenty of salt and pepper. Mixed with oil I rub this all over a shoulder of lamb, which is then roasted in a hot oven for about 1hr 20 mins, until tender and juicy. I make sure the lamb rests well, if you don't you get tough and tasteless meat. Let it relax! While it's resting, I can't resist picking at the tasty blackened bits sticking to the top of the joint!
While that rests I prepared a salsa and white beans. For the beans I warmed cannelini beans with white wine vinegar and oregano. The salsa was a mix of shallot, parsley, tomato, pepper and chilli in white wine vinegar and olive oil.
Served together it was a pleasing contrast to the usual Sunday roast: rich and interesting lamb yes, but with creamy and filling beans, topped with a spiky and refreshing salsa. If I'm honest the chilli was a step too far, but the combination was very exciting.