pesto pinwheels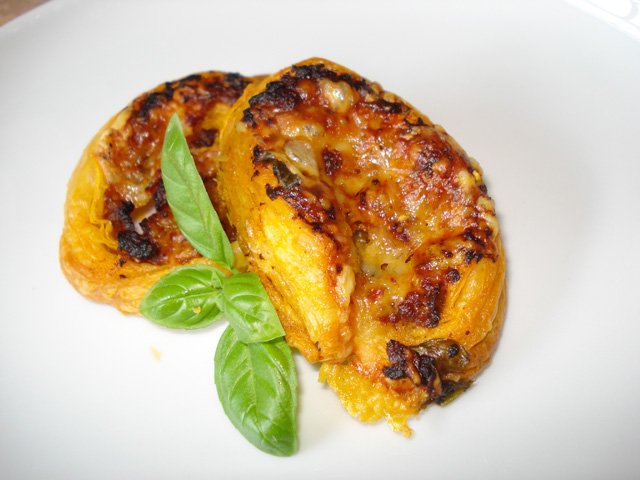 Great fun these, and tremendously easy to rustle up for a weekend lunch snack. It's essentially puff pastry (ready made for convenience) wrapping pesto and other contents of your choice. Same with the cheese, use what you have to hand. I had cheddar spare so that went in; mozzarella and parmesan would be good too. I just added a little basil and cheese here, and once baked into the oven tore into them and gobbled them down. Irresistible.
(Quick tip: when you take them out of the oven, leave them for a couple of minutes before removing them frm the baking tray. The insides will have set a little, allowing it to be removed intact.)
Pesto pinwheels (makes 10):
100g puff pastry
2 tablespoons pesto (I used red in this one)
Grated cheese
Basil leaves
Preheat the oven to 200C.
Roll the pastry out into a thin rectangle.
Spread the pesto evenly over the pastry, covering as much as possible.
Sprinkle cheese over the top and scatter the basil over.
Roll up into a sausage shape and cut into 1cm widths. Place cut side down on a baking tray.
Serve when browned and risen.