barbecue beef feijoada with spicy sweetcorn

As World Cup fever threatens to take over the globe, people like me think about one thing: what food can I use to celebrate and keep people happy. Things in bowls where people help themselves are always going to work. Aldi asked me for my best ideas, looking to the Brazil v Switzerland game for inspiration. And the former host nation from 2014 Brazil has plenty of ideas, and are also most likely to win according to FiveThirtyEight. Here's a way of feeding a crowd and keeping with the Latin American theme: barbecue beef feijoada, made with brisket.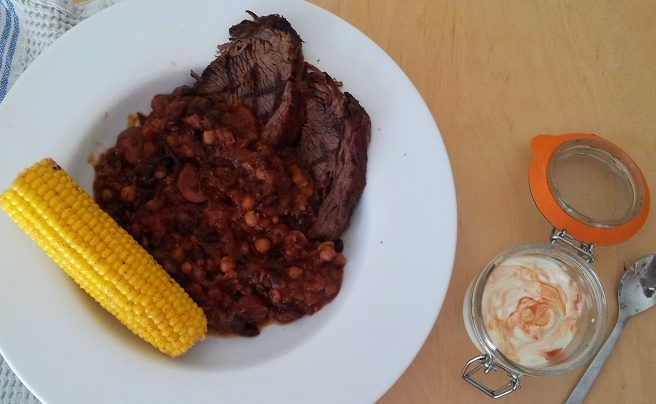 South American food is on the rise so couldn't be more trendy. I've eaten feijoada (it's pronounced "fezz-wah-dah", by the way) a few times and always enjoyed it. But what's in it? I consulted a Brazilian friend of mine in order to get a few ideas but like many 'national' favourites, everyone has a different view on what it should contain. Like shepherd's pie, chilli con carne or lasagne al forno everybody has their own take in their house that defines the dish. A few patterns emerge: definitely pork, possibly beef, certainly black beans… other than that it's fair game. Tomatoes or not? Paprika?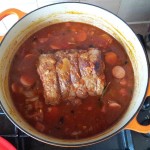 I went down a route I've trodden often, based on Jewish comfort food cholent. I started with a brisket, rubbed with herbs and spices, then stewed for several hours. The meat is sliced and finished on the barbecue for a charred and smoky flavour. It's a bold plate of food, and I can see it going down really well at a party where people can spoon it into corn tortillas with pickled vegetables, or served in little pots with a dollop of sour cream. Make sure everyone can tuck in and help themselves, and serve up refreshing, cooling drinks.
I'm not sure how authentic this is – I say that about a lot of my cooking – but it got my São Paulo-based friend excited! Try my barbecue beef feijoada, and let me know what you think!
If you want to stock up for this recipe, check the great value of Aldi's range, the variety on offer in store and remember Aldi has great value deals on Meats and fruit & veg every week as part of their Super 6 deals.
For further reading I recommend Hot and Chilli's post on bite-sized feijoada – brilliant!
I was sent some lovely ingredients and shopping vouchers by Aldi to get inspired to make this.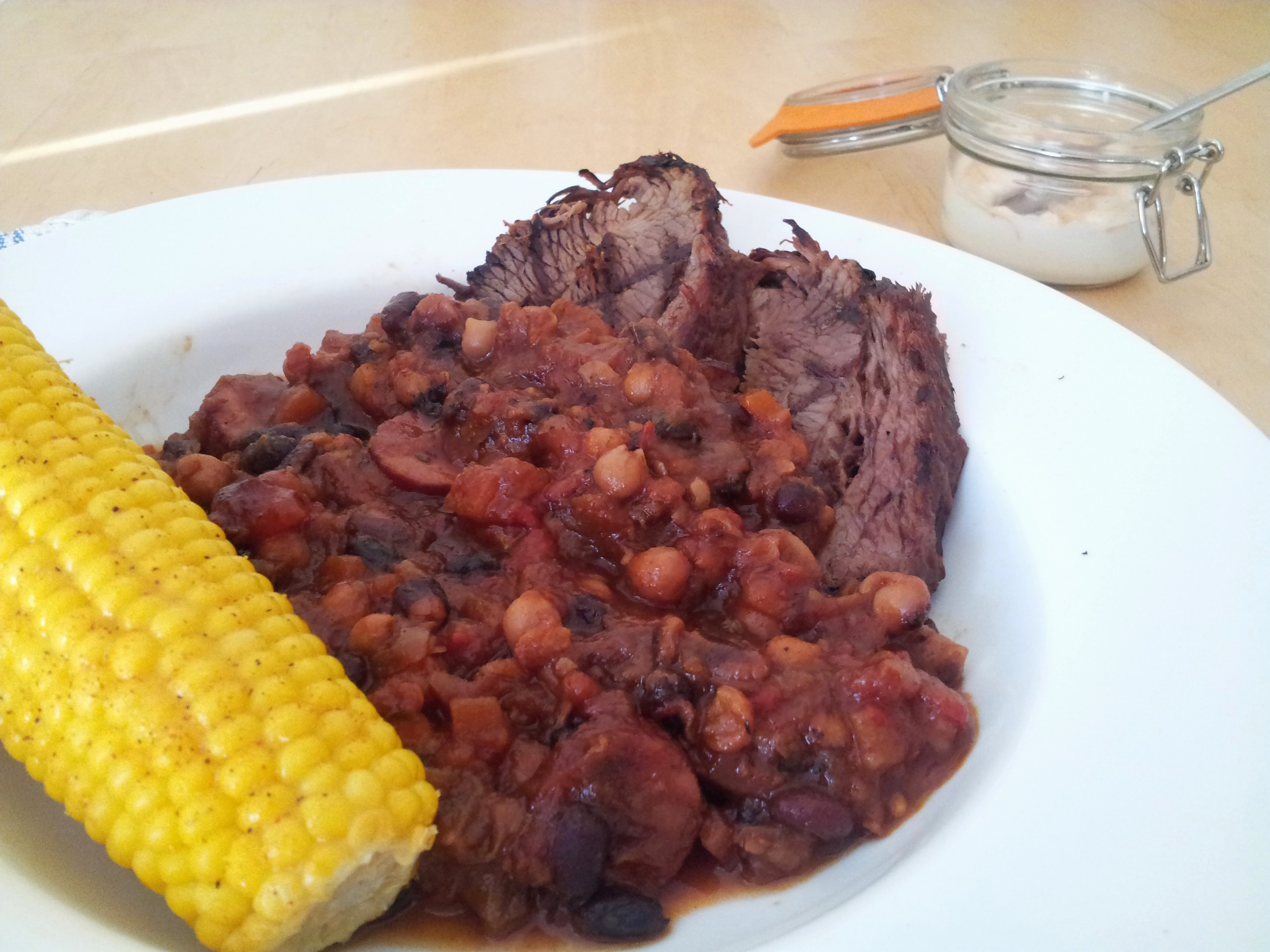 barbecue beef feijoada with spicy sweetcorn
Classic Brazilian beef stew. Perfect for parties and gatherings!
Ingredients
For the beef:
1

kg

beef brisket

rolled and tied

5

g

Maldon sea salt

1

tablespoon

smoked paprika

1/2

tablespoon

dried oregano

1/2

tablespoon

dried thyme

1/2

tablespoon

garlic powder

1/2

tablespoon

brown sugar

1

teaspoon

cumin seeds
To serve:
200

ml

creme fraiche

Hot sauce

I like Frank's

Lime wedges
For the stew:
2

onions

peeled and sliced

3

carrots

diced

2

red peppers

1

tin

tomatoes

1

litre

beef stock

I used Knorr beef stock pots

250

g

smoked pork sausage

sliced

140

g

dried black turtle beans

soaked overnight (any dried pulses you like here would work)
For the sweetcorn:
1

cob

sweetcorn

per person

Large knob of butter

Pinch

salt

Pinch

cayenne pepper

1/2

teaspoon

smoked paprika
Instructions
Make sure you've soaked your dried beans overnight before getting started.

Get a frying on a very high heat with a dash of oil. In a pestle and mortar bash the rub ingredients together until you have a fiery terracotta dust. Rub this all over the beef, as thoroughly as you can.

Sear the beef on all sides, building up a lovely colour. Put to one side when done.

In a large casserole dish, gently dry the onions, peppers and carrots in a little oil until softened, then add the remaining stew ingredients and stir until combined. Add the beef and add water as required until just a little of the brisket is peeping out. Cover loosely and simmer for 5 - 6 hours until the brisket is tender - when you put a fork into it it should slide back out easily. Leave covered for 30 minutes to rest. You can light your barbecue and prepare your corn in this time.

Parboil your corn in simmering water for 5 or so minutes. At the barbecue, take a small pan, your brisket and the nearly cooked sweetcorn. Slice your brisket in 1cm slices and place on the barbecue to char on both sides.

Melt the butter in the small pan and add the salt, paprika, and cayenne. Pop the sweetcorn on the grill and turn occasionally, brushing on the spiced butter. Cook until you have lovely black bits.

Swirl your creme fraiche with hot sauce. Serve the stew, beef and sweetcorn with some lime wedges on the side. Maybe serve with tortillas or tacos if you like. Most importantly, start eating!