black garlic and coconut chicken curry

Have you ever cooked with black garlic? It's a sweeter, richer version of it's whiter cousin. Sainsbury's sent me some to try.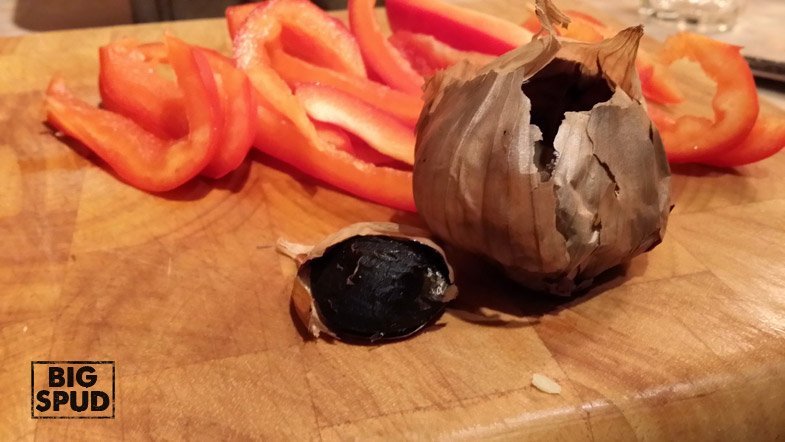 There's no getting around it, it looks wrong. The flavour is very similar to regular garlic, but a bit like when you roast garlic cloves black garlic is a little sweeter and more intense. Wikipedia says it has balsamic vinegar-type flavours, and I can see that. The packet recommends eating it like a snack, but I'm not quite that antisocial. I did however get an idea to put it into a curry.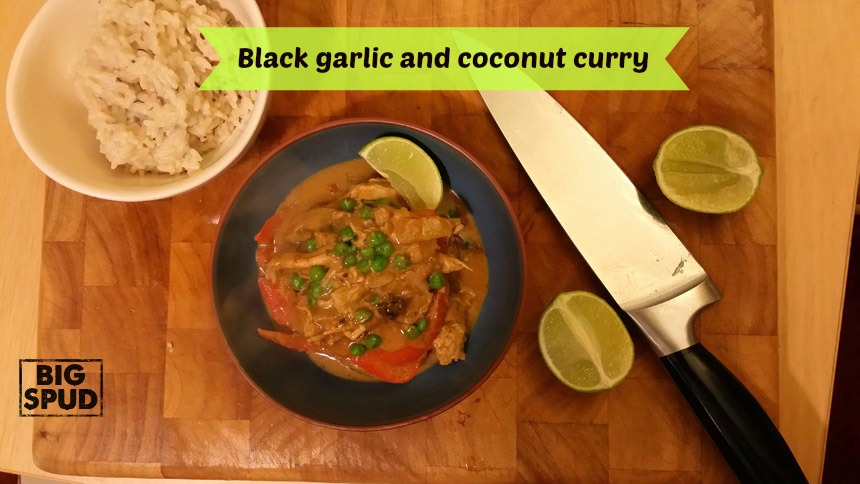 My black garlic and coconut curry uses leftover chicken from a roast as the main protein, but you could cook chicken separately and add to the pan, or use any leftover meat you like. It'd also be really good with some crispy tofu.
The garlic flavours are sweet and savoury at the same time, and coconut has similar properties so they're really good together. You could use tinned coconut milk but I'm a big fan of powdered coconut milk as you can make up as much as you like, as rich as you like.
Thanks to Sainsbury's sending some black garlic for me to try.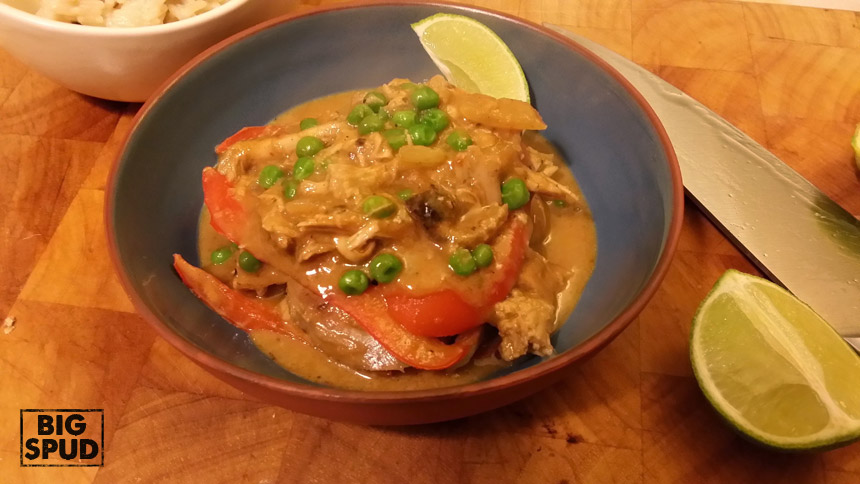 black garlic and coconut chicken curry
Ingredients
400

g

cooked chicken

shredded

2

tablespoons

kecap manis

1

inch

ginger

shredded

3

cloves

black garlic

1

tablespoon

rice wine vinegar

1

onion

sliced

1

red pepper

sliced

400

ml

coconut milk

300

ml

chicken stock

Handful of frozen peas
Instructions
In a bowl mash the black garlic with a fork and mix with the kecap manis, ginger and vinegar. Add the chicken and toss to coat thoroughly. Allow to mingle while you get on with the curry.

In a large frying pan heat a little oil over a high heat. Add the onions and peppers and stir fry until starting to soften. Add the chicken, coconut milk and chicken stock and bring to the boil. Add the peas and continue to cook until thickened. Adjust seasoning as required. Serve with rice and lime wedges.
Not enough curries for you?
Or Nazima's crab and coconut curry
Mabintu's garlic and chickpea curry
More black garlic recipes
Black garlic and blue cheese bake