brisket beef sous vide

It's not very fashionable in posh restaurants, but BBQ and American restaurants know it: brisket beef is a brilliant and tasty cut. And for perfect results every time, cook brisket beef sous vide.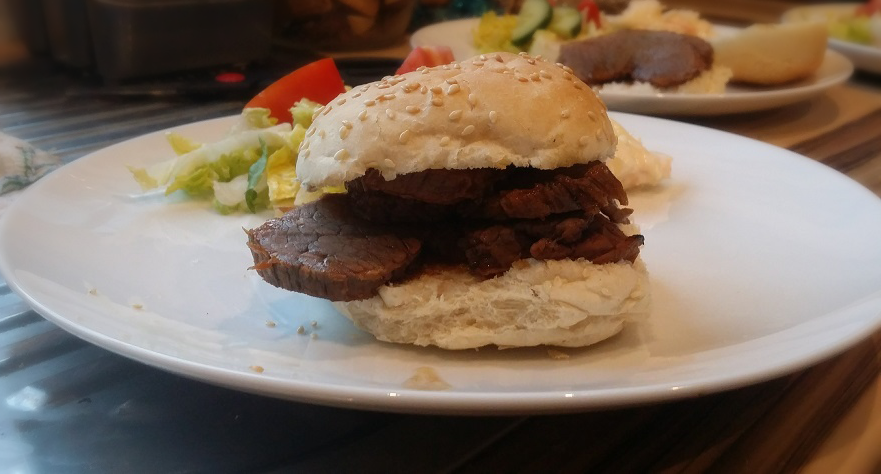 I'm a big fan of brisket, just click the link to find more recipes I've already raved about. I love its loose texture but distinct flavour, the excellent gelatinous taste of the fat. So when Great British Chefs offered the opportunity to ask a question of professor of culinary arts and executive chef of Simpsons Luke Tipping specifically on meat, I had to ask about lovely brisket.
It seems the question was popular, CookSister and Karen Burns Booth asked similar things! Here's what chef Luke had to say:
.@cooksisterblog @KarenBurnsBooth @BigSpud all asked about brisket @LukeTipping1 #AskLukeTipping via @IrishBeef_UK pic.twitter.com/Ajg05RaIa3

— Great British Chefs (@gbchefs) May 18, 2017
It sounded great. Frankly it would be rude not to give it a try. So in summary: brine for 5 days, sous vide for 1 day.
I didn't have any liquid smoke to hand so I improvised a bit, but if you had that I'm sure it would be fantastic.
I was a little concerned when the meat came out of the water bath. It'd lost a lot of mass and was perhaps three quarters its original size. I needn't have worried; it was succulent, tender and packed with meaty flavour. I planned to do exciting things with it, but the beef was so good all I did was reduce some of the juices and served it in a bun.
Oh, I also torched it up to try out my new fancy blowtorch.
A fantastic way to cook brisket and I'll be doing it again. For more information on cooking beef brisket sous vide, I have to recommend the Serious Eats guide which is comprehensive as always, and lets you know which temperatures are suitable for shredded beef as opposed to beef that holds its shape.
Definitely keep this recipe on standby to feed a lot of people. You'll be very popular.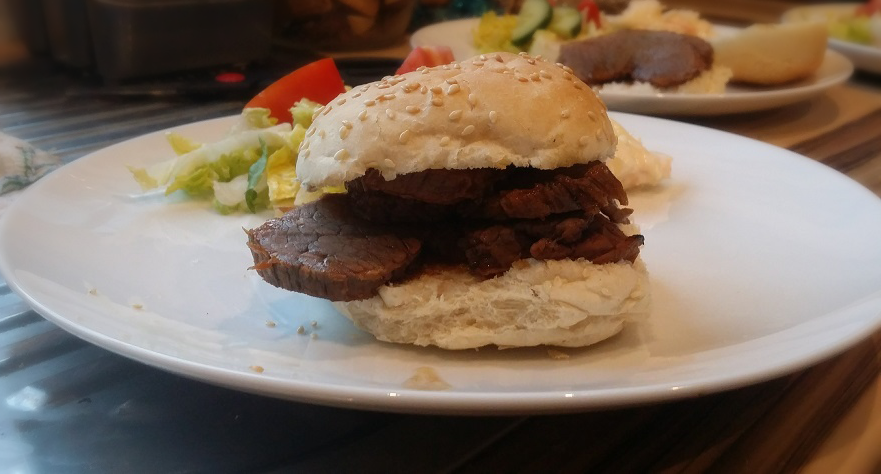 sous vide brisket beef
Ingredients
500

g

brisket

table salt

for brine

1

tablespoon

smoked paprika

1

tablespoon

brown sugar

1

teaspoon

mustard powder

BBQ sauce
Instructions
First brine the beef. Make up a 3% brine solution. The easiest way to do this is to put your beef in a container (I use a large lunchbox), cover with water and remove the beef again. Pop on the scales and weigh the container + water. Work out 3% of this (the weight multiplied by 0.03) and add that much salt. Stir well, pop the beef back in and cover. Leave for five days.

After five days, remove from the brine and pat dry. Preheat a water bath to 68C. Mix the sugar, paprika and mustard and rub all over the beef. Seal in a vacuum bag and cook sous vide for 24 hours.

After 24 hours remove the beef from the bag but reserve the liquid. Pop this liquid into a pan, pop on a high heat and reduce by half. Stir in a tablespoon of your favourite BBQ sauce (I'm digging the Tesco Louisiana at the moment)

Meanwhile, blowtorch the outside of your brisket to give a smoky char. Slice thickly and dunk into the sauce, before serving in a toasted bun with pickled gherkins and salad, with extra sauce on the side.
Notes
If you don't have access to a sous cide machine, you could do this in a low slow cooker for 12 hours. If you don't have a blowtorch, finish on the BBQ or in a hot pan.