chimichurri chicken with patatas bravas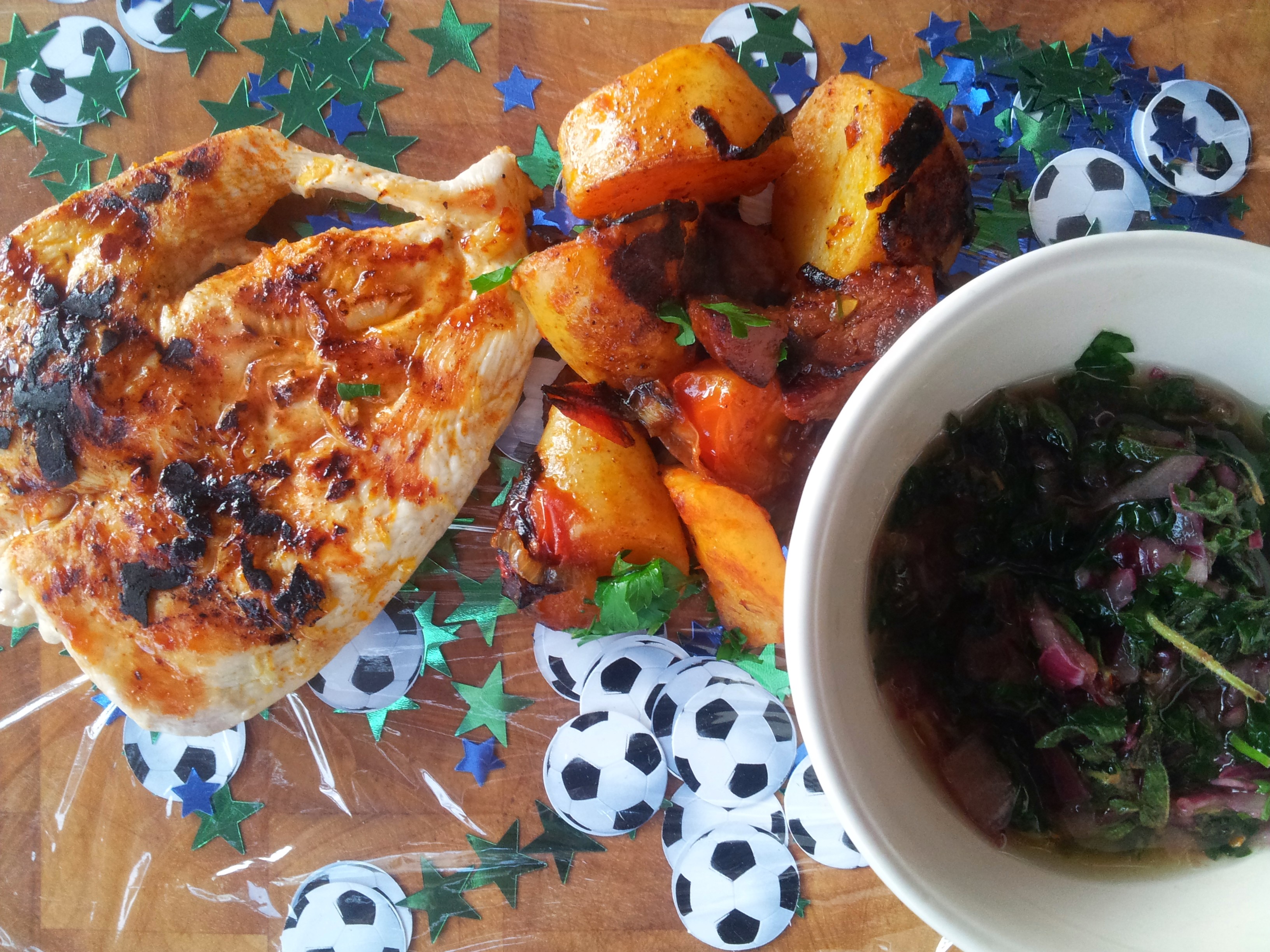 England may be out of the World Cup, but there's still lots of excuses to throw a football party. For people who enjoy a cooking challenge, it presents opportunities to burrow through the regional cookbooks and get inspired. Will you serve the Nigerian jollof rice? German Bratwurst? Australian shrimp? Ghanaian fufu?
Here's a pair of great Latin-flavoured dishes in celebration of Argentina and Spain. First up is a butterflied chicken breast bursting with vibrant lemon and garlic, partnered with a herby, sharp chimichurri sauce. And as a foil for for that, some fiery patatas bravas made with Britain's best Jersey Royals.
These dishes scale up really well for a party, football-flavoured or otherwise: the chicken is a breast per person, and I make mine on a George Foreman grill so there's always a couple on the go. You can make miles of the chimichurri sauce and leave it out for people to help themselves. And you can make a big vat of patatas bravas which is perfectly good at room temperature.
The brining stage for the chicken isn't essential; but it does help keep the chicken marvellously moist and is another stage at which you can add layers of flavour.
Want more football-themed party food ideas? Check out Waitrose's page here. My recipes are inspired by theirs: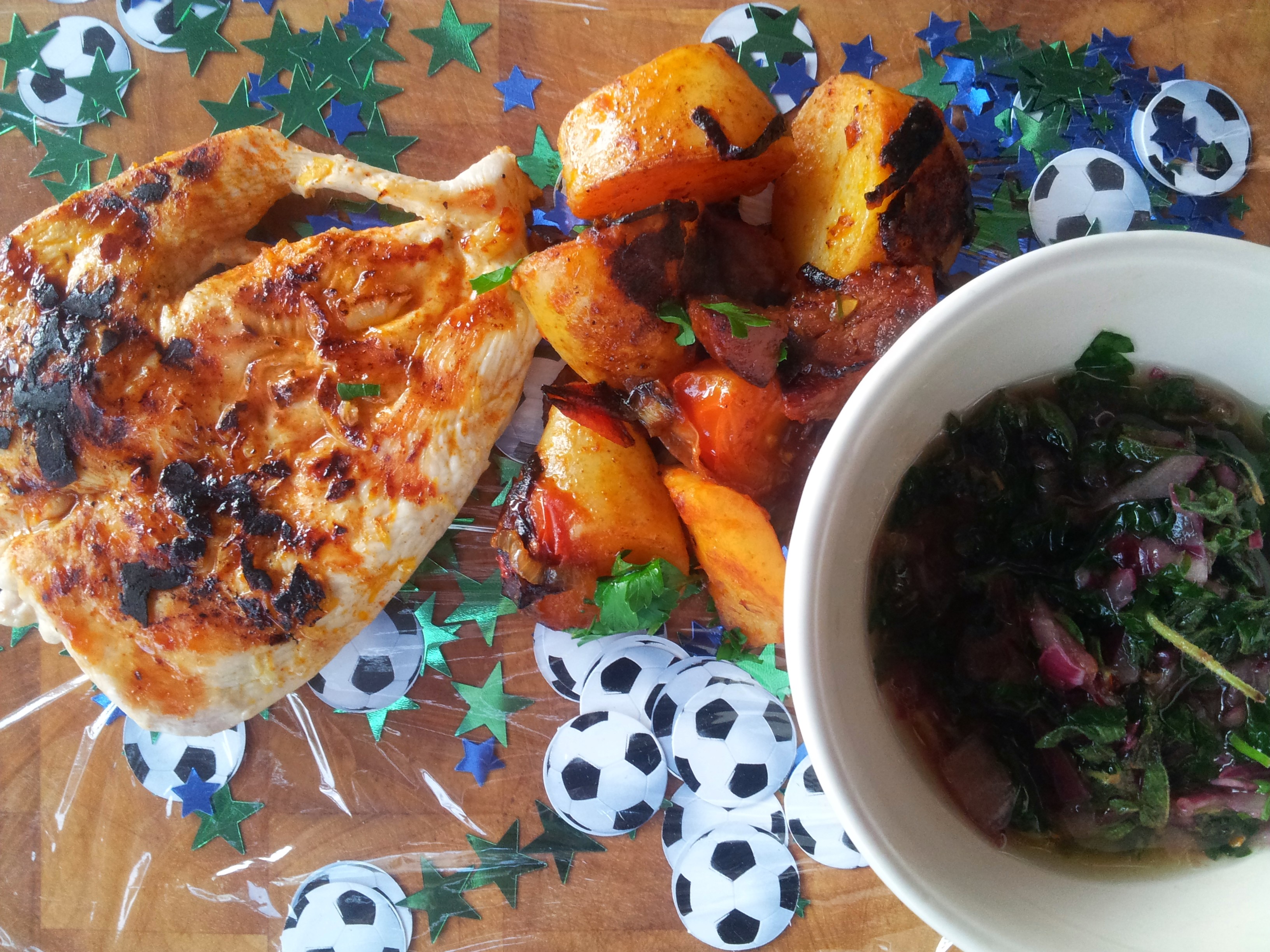 chimichurri chicken with patatas bravas
Ingredients
For the brine:
Water mixed with 8% salt

2

tablespoons

golden syrup

10

black peppercorns

1

star anise

4

skinless chicken breast fillets
For the chicken:
4

cloves

garlic

roughly chopped

2

teaspoons

smoked paprika

Grated zest of 1 lemon

1

red onion

roughly chopped

2

tablespoons

red wine vinegar
For the chimichurri Sauce:
Pinch

chilli flakes

25

g

flat leaf parsley

roughly chopped

15

g

oregano

roughly chopped

750

g

Jersey Royal Potatoes

halved

1

onion

thinly sliced

190

g

chorizo

diced

6

tomatoes

roughly chopped
For the patatas bravas:
1

teaspoon

smoked paprika

Squeeze of lemon juice

25

g

flat-leaf parsley

roughly chopped
Instructions
Combine the brine ingredients and leave the chicken brining for 6 hours. Drain and pat dry when ready.

For the chimichurri sauce, bash all the ingredients together in a pestle and mortar. Set aside, seasoning with a little salt and a good grinding of black pepper, adding a little olive oil to bring together.

Cook the potatoes in a large pan of boiling water for 15 minutes until tender. Meanwhile, in a large frying pan, heat the oil and cook the onion and chorizo together for 10 minutes. Drain the potatoes and add to the pan with the chorizo and cook for a further 10 minutes.

Place the chicken on clingfilm over a chopping board and slice through each fillet horizontally, making sure not to cut all the way through, then open out. Add another layer of clingfilm and bash lightly with a rolling pin to flatten further. Scatter over the garlic, paprika, lemon zest then rub in with a little olive oil and salt & pepper.

Grill, barbecue or fry your chicken until thoroughly cooked through. Back at your potatoes, add the tomatoes, chilli and paprika and cook for a further 5 minutes. Squeeze over lemon juice and scatter over parsley.
Waitrose compensated me for this post and gave me some party stuff to play with.