cholent

I seem to be rather drawn to Jewish dishes. I don't know what it is about them but all the flavours I crave are right there and exactly what I'm after. This is one such dish, a hands off dish of beef and beans called cholent.
I found this casserole in the pages of Leon 2
, and it was my wife who twigged it was authored by Giles Coren. I'll admit I'm a fan, heck the whole Coren clan is dead gifted. Victoria's an amazing and intelligent presenter, and Alan Coren reminded me of my dear old Granddad. The only thing that stumped me about the dish was how to pronounce it, so I sought advice and have it on good authority that it's pronounced 'chollunt'.
I did mine in a slow cooker, so it bubbled away unbothered and had a jolly old time to itself. It was utterly delicious, with beef shredding to pieces, and a lovely rich liquor to boot. Comforting stuff, and something I'll be bringing out again over the colder months.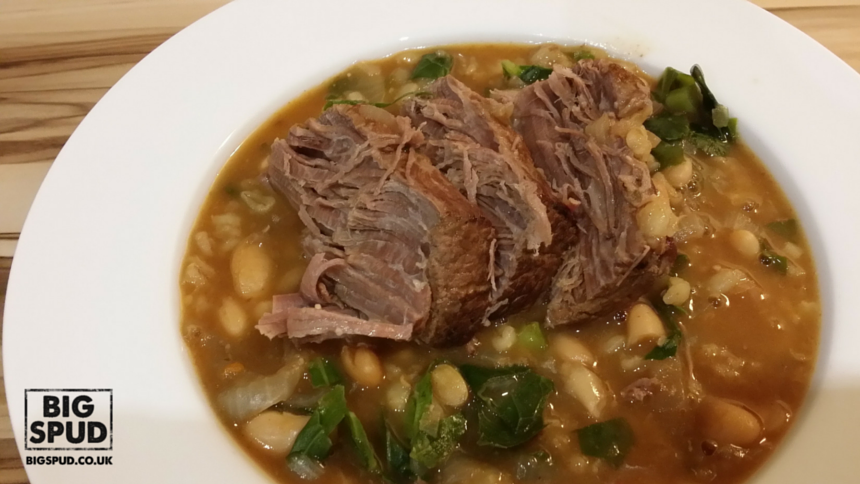 Cholent:
500g beef brisket
2 onions, sliced
6 cloves garlic, peeled
1 tablespoon smoked paprika
1 litre beef stock
150g pearl barley
2 tins haricot beans
Get the slow cooker warming while you prep everything else.
Brown the brisket in an oiled pan on all sides, then put to one side. In the same pan, get the onions and garlic softened slightly, before adding the paprika and stock. Once it's at a bubble, pop everything including the beef in the slow cooker, and cook for at least 10 hours.
Stir in some greens for the last ten minutes of cooking. Shred the beef and serve with a generous helping of the bean stew.