chorizo calzone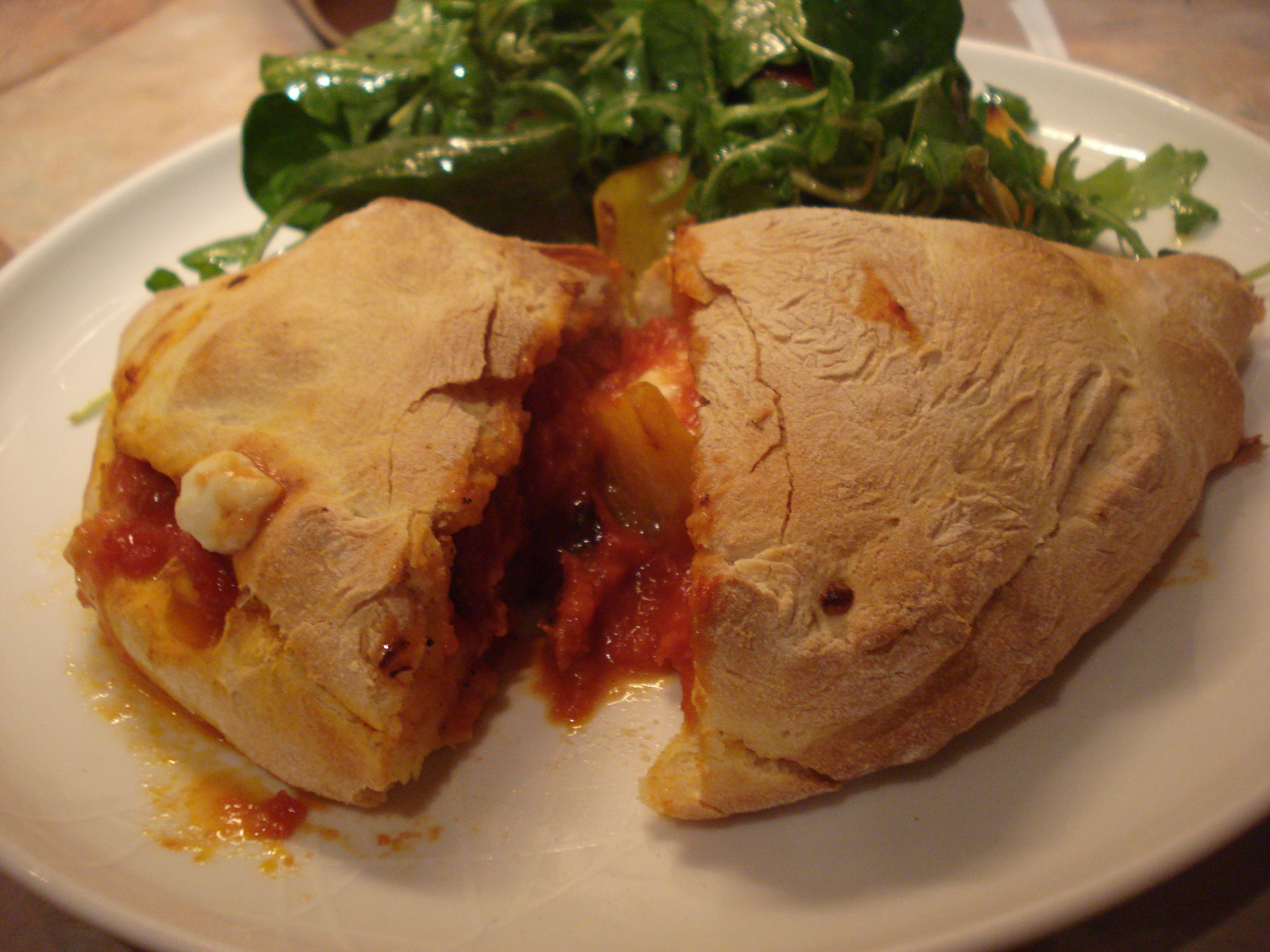 I had half the dough left over from pesto pizza, and it occurred to me that I'd never made one of my favourite Italian foods: calzone. That lovely folded pizza, like a Cornish pasty spending a gap year travelling.
I was bowled over by how tasty it was. It really was great, especially when paired with a zingy mustardy salad.
Chorizo calzone:
For the dough (makes 2 x 30cm pizzas; I used half for two calzones):
500g strong bread flour
100g fine polenta
1 teaspoon sugar
1 teaspoon salt
7g dry yeast
4 tablespoons olive oil
300ml lukewarm water
Filling:
100g chorizo, cut into chunks
1 yellow pepper, diced
1 tin tomatoes (a good brand will help you a lot here)
6 pieces baby mozzarella
A few thyme leaves
In a jug mix the yeast, oil, water and sugar together and leave for a few minutes while you get on with the other dry ingredients.
For the pizza base, bring the flour, polenta and salt together in a bowl. I use a food mixer which makes the next stage dead easy.
Pour the wet mix into the dry and let a dough hook do its work for about 5-6 minutes. If you're doing it by hand push and knead it together until smooth and elastic. Cover the dough with a damp teatowel and leave somewhere warm for an hour – it should double in size.
When the dough has risen, pre-heat the oven as high as it will go. If you have a pizza stone, get it in now. Otherwise a cheap but conductive metal tray will work.
Fry the chorizo in a hot dry pan until one side colours. Add the peppers and continue to cook until the peppers have softened slightly. Remove the ingredients to one side with a slotted spoon, leaving the oils behind. Add the tomatoes and thyme to this pan, keeping the heat very high. Let it bubble down and reduce until thick then remove from the heat.
Push the dough into a thin, round shape on a floured surface. Go as thin as you can. Spread some tomato puree over half the calzone, dot with mozzarella and add half the chorizo/pepper mix. Spoon over a little more tomato sauce, then fold the calzone over, crimping the edges.
When it's ready take it to the oven. The pizza will bake for anywhere between 10 – 15 minutes, depending on the thickness of your base and the temperature of your oven. (Quicker is better). Serve with a green salad.