not quite carbonara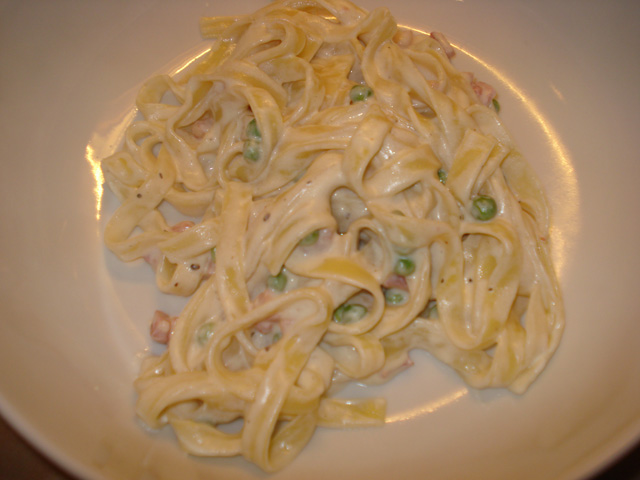 I apologise for that photo, it makes it look really rough. It wasn't though, honest!
I was driving home on Sunday and was hit by a sudden wave of pasta-longing: I wanted carbonara. I haven't had any in ages. So that was Monday's dinner sorted. One small catch though; with my wife about 8 months pregnant barely-cooked egg didn't seem like the smartest of moves therefore some invention was required. As Dad-Baker pointed out, "If you can make a pasta sauce Look like a Carbonara, Taste like a Carbonara and Smell like a Carbonara, then surely it Must be a Carbonara – even if there are no eggs in it. " How to change it then?
After some research it seemed like cream cheese was the way to go, not only was it skipping eggs but came with the bonus of avoiding mega fattening cream too. Also added peas as a passing nod to a rounded meal. Mushrooms would also be welcome here for a more alfredo style. The result was very satisfying, definitely ticking all the right carbonara boxes: creamy, cheesy, silky. Ready in no time at all to boot.
Not quite carbonara (serves 2):
5 tagliatelle nests
1 tablespoon garlic oil*
75g pancetta
175g light cream cheese
Grated parmesan, to taste
handful frozen peas
Cook the tagliatelle according to packet instructions. (Give them plenty of space to expand!)
Meanwhile, fry the pancetta in the garlic oil until browned all over.
Add your cream cheese, mashing it up a bit to break it down.
It probably won't have formed a sauce so ladle out a tablespoonful at a time of your pasta water to thin it until it's a smooth creamy consistency. Add grated parmesan and season until you're happy with it.
Add the peas, simmer for a minute more, then toss with the cooked pasta to combine.
*I have a bottle in my cupboard of garlic oil I've made – just a few cloves of garlic left in a bottle of fairly-good olive oil. Well worth it – I used up a Christmas gift of oil for this purpose!