patchwork pie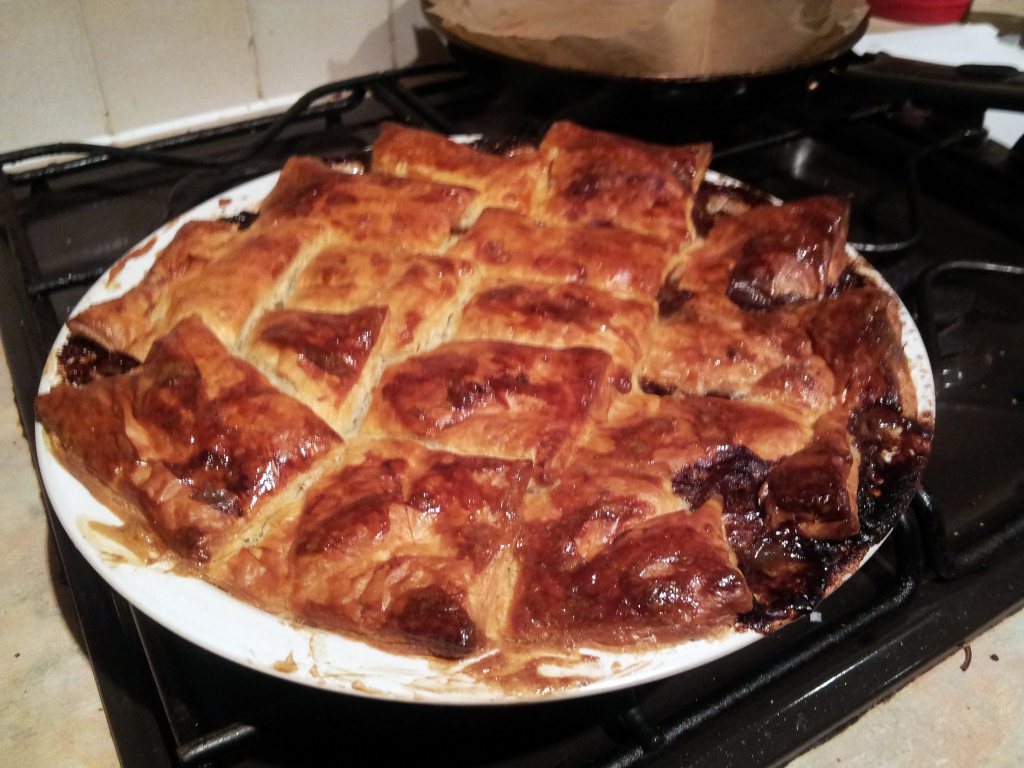 I was coming home on the train and decided it would be pie or nothing for dinner. Luckily all the ingredients were on hand. Patchwork for two reasons: I had some squares of puff pastry to use because I'd absent-mindedly cut loads more than I need when making sausage rolls; and ended up using a hodge-podge of all odds and ends things I like.
Patchwork pie (serves 4 – 5):
500g beef mince
100g mushrooms, sliced
1 sprig rosemary, leaves picked
1 clove garlic, minced
50ml red wine
1 pack of ready-cooked chestnuts
300ml beef stock
1 teaspoon cornflour
1 sheet puff pastry, cut into squares
1 egg, beaten
1 teaspoon English mustard
Get your oven on to 180°C, and two frying pans over high heat with a dash of olive oil in each.
In one of the pans get the mince in and stir often until browned and starting to crisp up. In the other pan fry the mushrooms and rosemary together. After 5 mins add the garlic.
When the mince has browned add the red wine to deglaze the pan a bit, then add the stock, chestnuts and the contents of the mushroom pan. Mix the cornflour with a splash of water to make a paste, then stir this in thoroughly.
Bubble away for a couple more minutes until thickened, then pour into a baking dish. Layer the squares as neatly as you like over the filling. Mix the mustard into the egg and brush over the pastry. Sprinkle with some coarse sea salt and bake for 30 minutes until golden and puffy (well, it is puff pastry after all). Serve with carrots braised in butter and dusted with nutmeg.