perfect onion gravy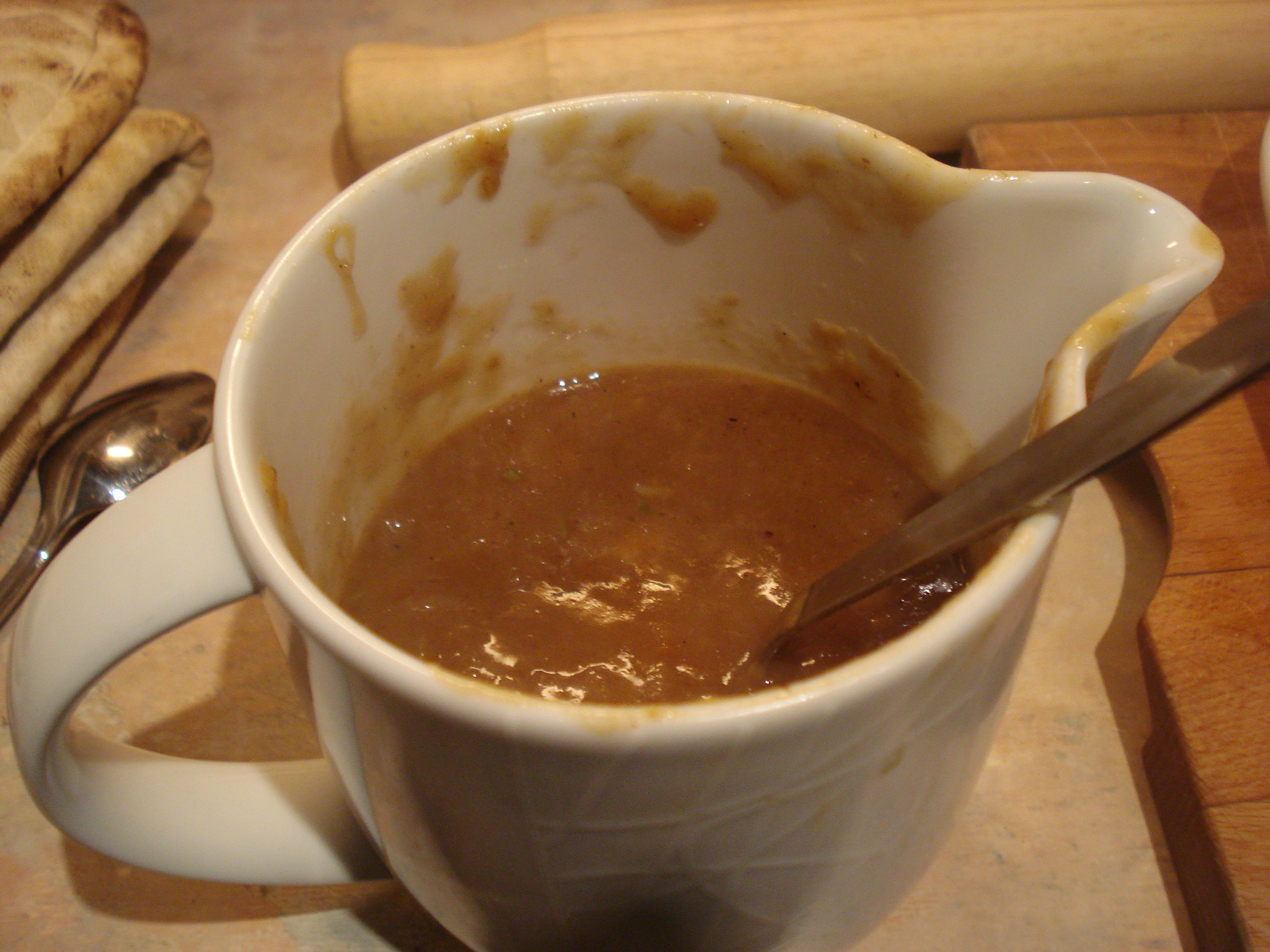 I was asked to devise the 'perfect onion gravy recipe' and that's a challenge I don't take lightly.
So what should it be? For me rich and nourishing, with sweet and complex flavours. The onions are obviously key, but the stock makes a massive impact. Above all the gravy should positively drip umami. Lots of full, rounded savouriness.
I used a couple of resources to nail the perfect solution. I had to look at how the star of the dish, the onion, was treated. First, which onions? You can get good gravy out of red onions but not for the longish cooking time that I was after. No, it has to be the medium British brown onion. Perfectly round with appealing ivory skin, with a balanced sweet/sharp flavour, it has to be British onions, supporting British farmers. As for the cooking, I stumbled over this fascinating article at Serious Eats which really picked apart caramelizing onions. I gave it a try and I definitely had to incorporate elements of it in the final dish. It allows for delicious, sweet onions with perfect colouring.
I looked to my old pal Heston Blumenthal and his chicken gravy technique, involving roasting off a chicken carcass, separately frying off mushrooms and onions and combining in a pressure cooker with white wine. Personally I wanted a beefier, herbier background so that gave me ideas to use beef bones in the stock. This provides the structure of the dish. Chat up your butcher for some beef bones – if you can't I find may supermarkets with an instore butcher will sell them for a nominal fee, 20p or so. You don't need to make the stock yourself necessarily (it's a bit of a time-hog) but if you have the time it's amazing.
There's also an alcoholic backnote I wanted to include: red wine is fairly typical, as is a stout, or my old chum marsala. But I recalled a great onion soup recipe from Giorgio Locatelli where cider was included And it's perfect because it's tangy and boozy with fruity hints. It's the final element that crowns the gravy.
It's rich, it's sweet, it's irresistible. I served mine with a steak and it sure didn't last long.
Perfect onion gravy (makes about 1 ½ pints):
For the stock:
4 or 5 beef bones
Tablespoon of tomato puree
4 or 5 chestnut mushrooms
1 stick of celery, chopped
1 carrot, chopped
3 onions, halved
Sprig each of thyme and rosemary
Preheat the oven to 170°C. Put the veg in a heavy baking tray and lay the bones on top. Smear the bones all over with tomato puree, then tuck the herbs round and about. Roast the lot in the oven for 30 minutes to give a rich intensity to the stock.
Transfer the lot to a deep pot and cover with water. Bring to the boil and simmer for 1 ½ to 2 hours with a loose fitting lid. Remove the lid and boil hard for half an hour to reduce it down. Transfer to a large bowl or jug and chill until needed.
For the gravy:
1 teaspoon sugar
3 British onions, halved and sliced into half-moons (I recommend using a food processor with medium slicing attachment for uniformity)
1 tablespoon butter
1 star anise
¼ teaspoon baking powder (rarely for me, I advise you to be careful with this measurement as if you overdo this it will be bitter and chemical-tasting)
1 sprig rosemary, finely chopped
300ml Aspall's organic cider
1 teaspoon English mustard
1 tablespoon flour
Beef stock as above (or 1 ½ pints of your favourite organic beef stock)
In a wide frying pan heat the sugar over a gentle heat until it turns to liquid, and quickly before it burns add the onions, baking powder and butter. Turn the heat up to medium and stir well to coat the onions in sugar and butter. After a minute add the star anise and rosemary. Cook for a further 8 minutes or so until the onions start to turn a lovely shade of brown. Keep stirring to ensure they don't burn.
Start to deglaze the sticky stuff from the pan with the cider a splash at a time. Don't add too much as it will reduce the heat in the pan each time. Once the liquid goes add the next splash until it's all gone. The onions will now be glazed with a gorgeous appley shine.
Add the mustard and flour and stir well to incorporate for a minute. Once all the white bits of flour have gone add the stock and bring to a simmer. Cook for at least another 5 minutes and then reduce until it is the desired consistency, then check the seasoning. Salt and pepper here are crucial, and perhaps a splash of red wine vinegar to balance the tartness. Remove the star anise before serving.