sous vide pork osso buco with crispy polenta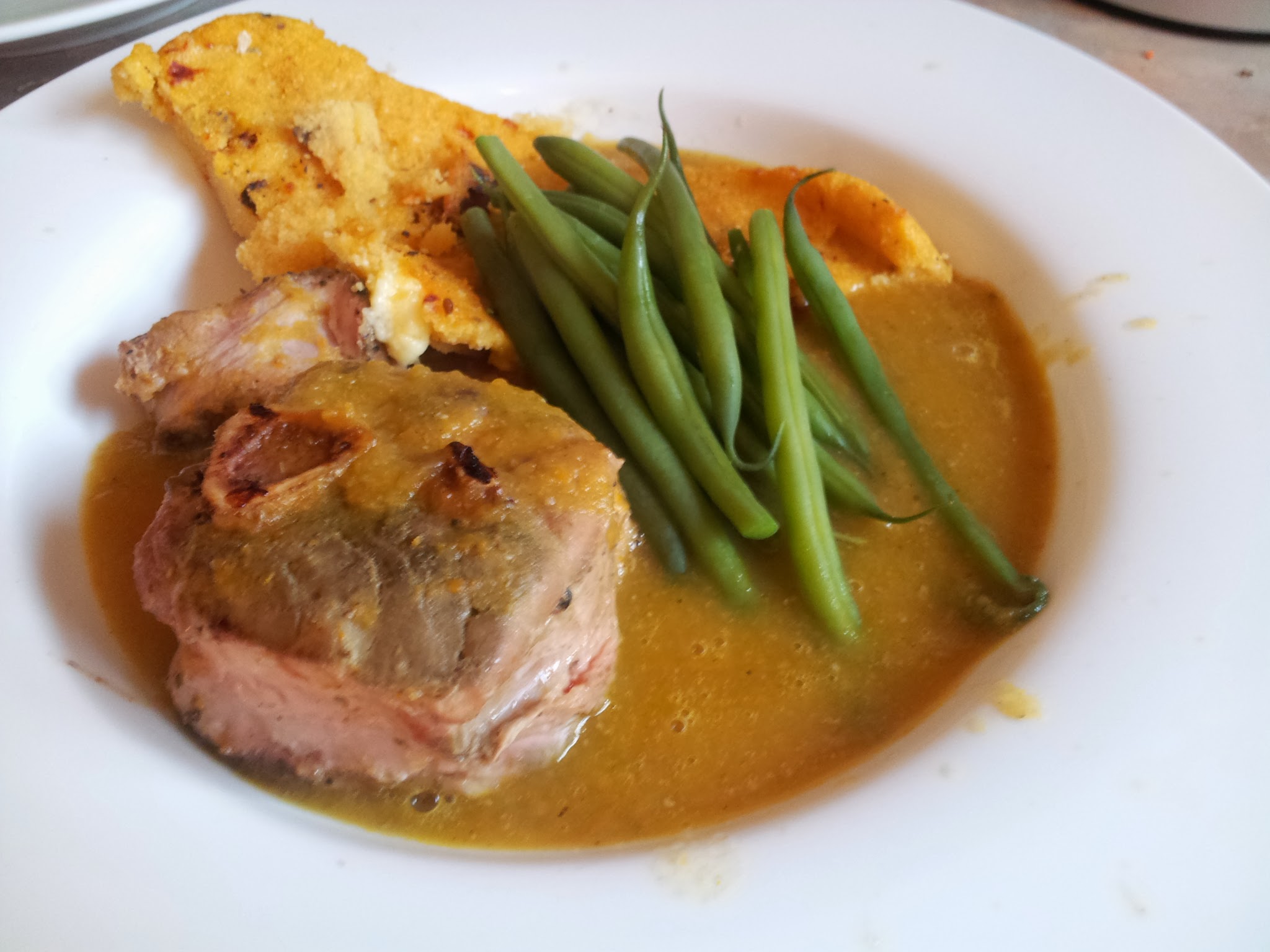 I've been mucking about almost constantly with my Sous Vide Supreme since unpacking it the other week. Pretty much every day the old silver box has been silently ticking away, gently cooking dinner. I'm starting to get the hang of it.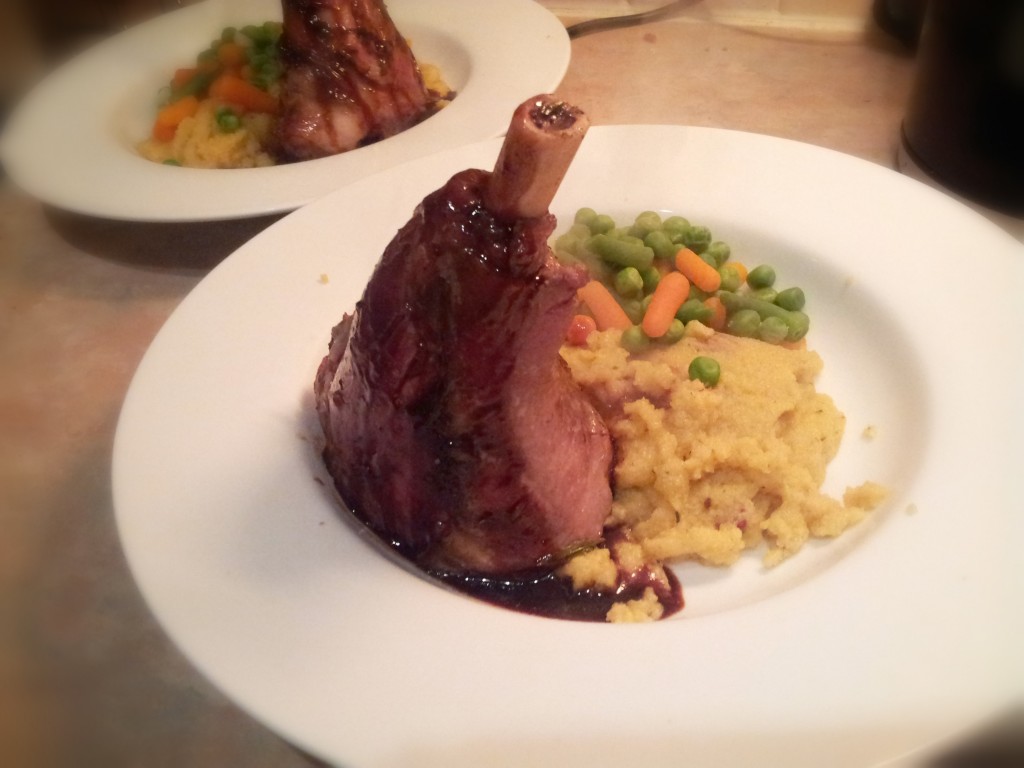 Following on from steak and gammon, I read just about every post by J. Kenji Lopez-Alt on sous vide and attacked a battery of different recipes. First up were some lamb shanks, courtesy of Donald Russell. I cooked them at 60°C for 48 hours, then briefly browned in a searing hot pan. I have to say I didn't particularly enjoy them. The texture was a chalky, with a strong offal flavour.  However the sauce was dynamite, the cooking juices reduced down with a little port made for a spoon-licking jus.
On with pork chops. After a much briefer 1 hour bath followed by quick sear (you get used to this pattern) I tucked into them. They were perfect…  But not substantially better than pan fried. And on the downside you don't get crispy, wobbly fat to bite into, just hard rind. I was losing faith a bit.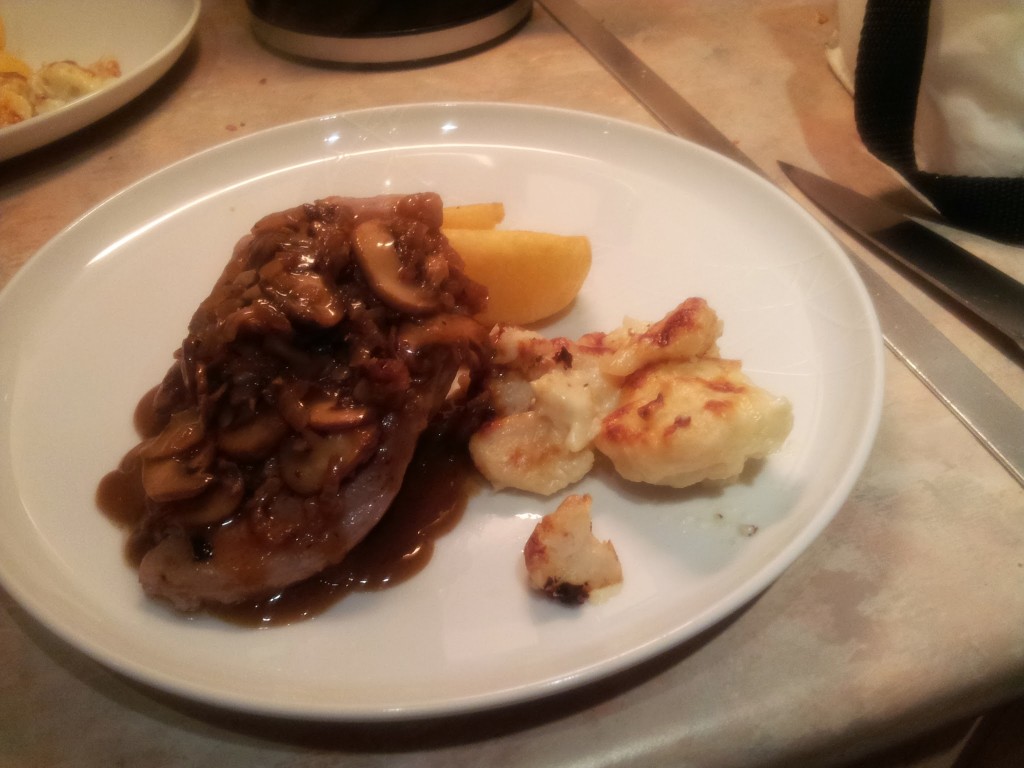 Lamb leg steaks marinated with rosemary for 90 minutes @ 57°C, well now we're getting somewhere. Plump and tender with a deep lamby flavour. Helped along by a sauce of white wine reduction and mushrooms this really hit the spot.
I'm starting to find a groove with sous vide. For me what works is thick, traditionally quick-cook meats. You get a fuller, deeper meat flavour and it's really satisfying. I'm trying chicken breast later this week and I think It's going to be a winner. I'm also seeing a lot of flavour imparted from dried herbs – the humidity seems to favour those often dried grassy bits and engorge them with taste. But working the slower casserole-style cuts? I'm not yet convinced. 
This recipe was my most successful long soak. Meaty pork osso buco, giving off plenty of luscious meat juices for gravy. Unlike it's beefy cousin, the pork osso buco has a lighter, cleaner taste and a chicken-like texture. To offset this I added some crispy polenta spiked with chunks of cheese and tomato. Adding a veg-packed sauce to be mopped up meant clean plates all round.
I was given a Sous Vide Supreme to try, along with meat from Donald Russell. There's a competition a-coming in a few days, more details here.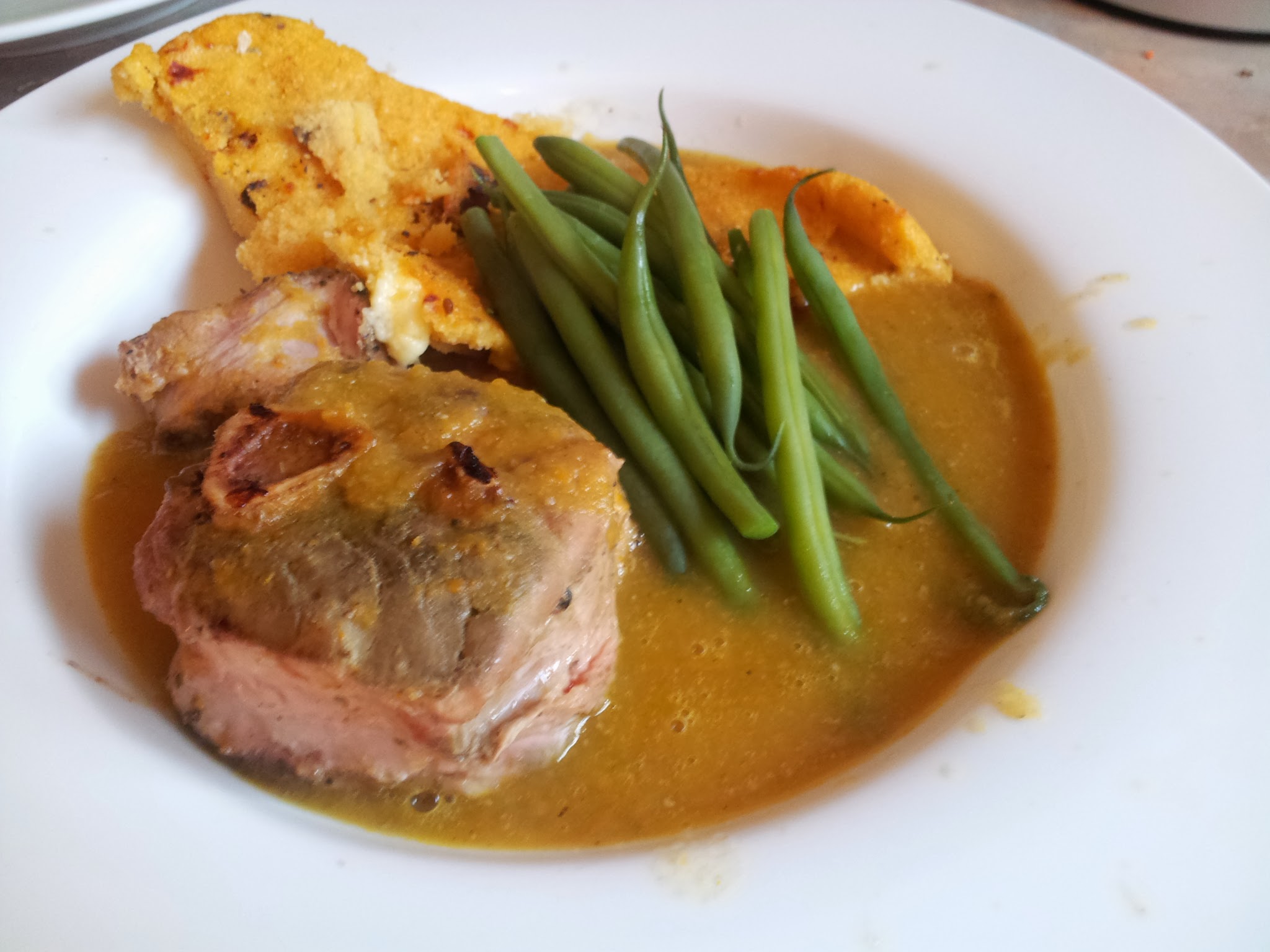 pork osso buco with crispy polenta
Ingredients
4

pork osso buco steaks

Pinch

dried oregano

1

carrot

peeled and finely diced

1

onion

peeled and finely diced

1/2

leek

diced

1

garlic clove

crushed

1

bouquet garni

400

ml

chicken stock

140

g

dry polenta

50

g

cheddar

diced

5

sun dried tomatoes

sliced
Instructions
Sprinkle the oregano over the steaks, along with a little seasoning. Vacuum seal and cook at 60C for 48 hours.

An hour before the osso buco is ready, get 125ml water in a saucepan and get boiling. Whisk in the polenta, pouring in a smooth stream. Add a pinch of salt and cook for another minute until thick. Stir in the cheese and tomato, then pour into an oiled baking dish. Put aside for a moment.

Over a gentle heat in a little butter fry the mirepoix. Add the stock and bouquet garni and simmer for 30 minutes. Remove the herbs and blitz with a hand blender, and keep warm whilst everything else finishes.

Get the grill on high and a pan on a high heat. Grill the polenta for around 10 minutes until crisp on top. Remove the osso buco and pour the cooking juices into the sauce. Pan fry the osso buco quickly on all sides until browned. Serve with slices of crisp polenta and some green beans.