pork primavera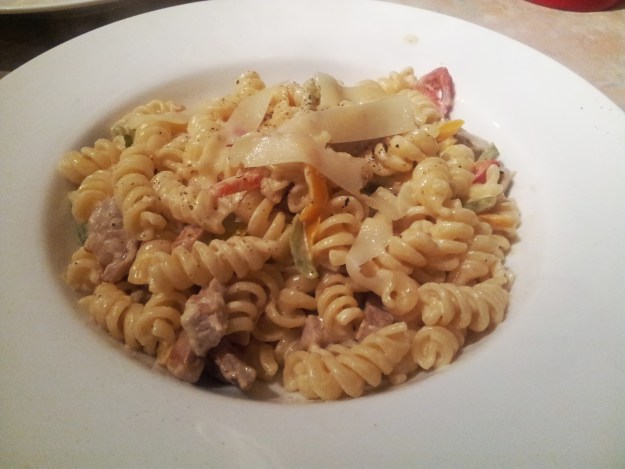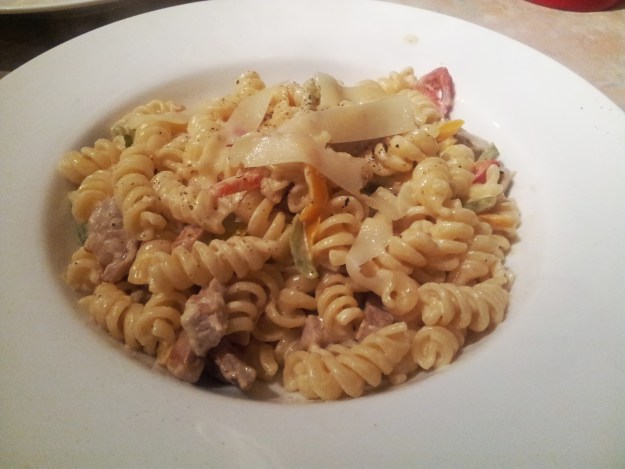 Sometimes, dinner gets later and later. It was just one of those evenings of putting children to bed, getting haircuts and other chores. I didn't get started on this until 8.30pm, but we were eating by 8.45pm. You gotta love dinners like this, but it all starts from the storecupboard. If the basics aren't there, you're on to a loser.
This one massively favours substitution: swap pork for any other meat, the peppers for any firm veg, and Comté cheese is not essential. As luck would have it the Comté people got in touch and sent me some samples so I was more than happy to include it here. Heston's a big fan of Comté, so is Raymond Blanc (he comes from that region) so it's in good company.
Pork primavera (serves 2):
2 frozen pork loin steaks
150g frozen peppers
2 tablespoons Marsala wine
300ml creme fraiche
70g comte cheese, shaved
Get a large pan of salted water on to boil, and a frying pan over a high heat. Add the pasta to the water and cook according to the packet instructions.
Season the pork on both sides with salt and pepper and fry in the pan until browned on one side. Flip and cook for another minute and then remove to one side. Add the peppers to the pan and fry briskly, then add the Marsala wine. Allow to bubble for a minute.
Slice the pork into thin strips, then add back to the pan with the peppers. When cooked on all sides turn the heat down low and add the creme fraiche. Stir thoroughly to combine and season with salt and pepper as required.
Scoop out a little pasta water to a mug. If your resulting source is a little thick, you can let it down with this water. By this time the pasta should be done, so drain and add to the pork 'n' pepper pan. Turn off the heat, add most of the cheese and toss really well to combine. Serve and garnish with the remaining cheese.