seriously good pasta bake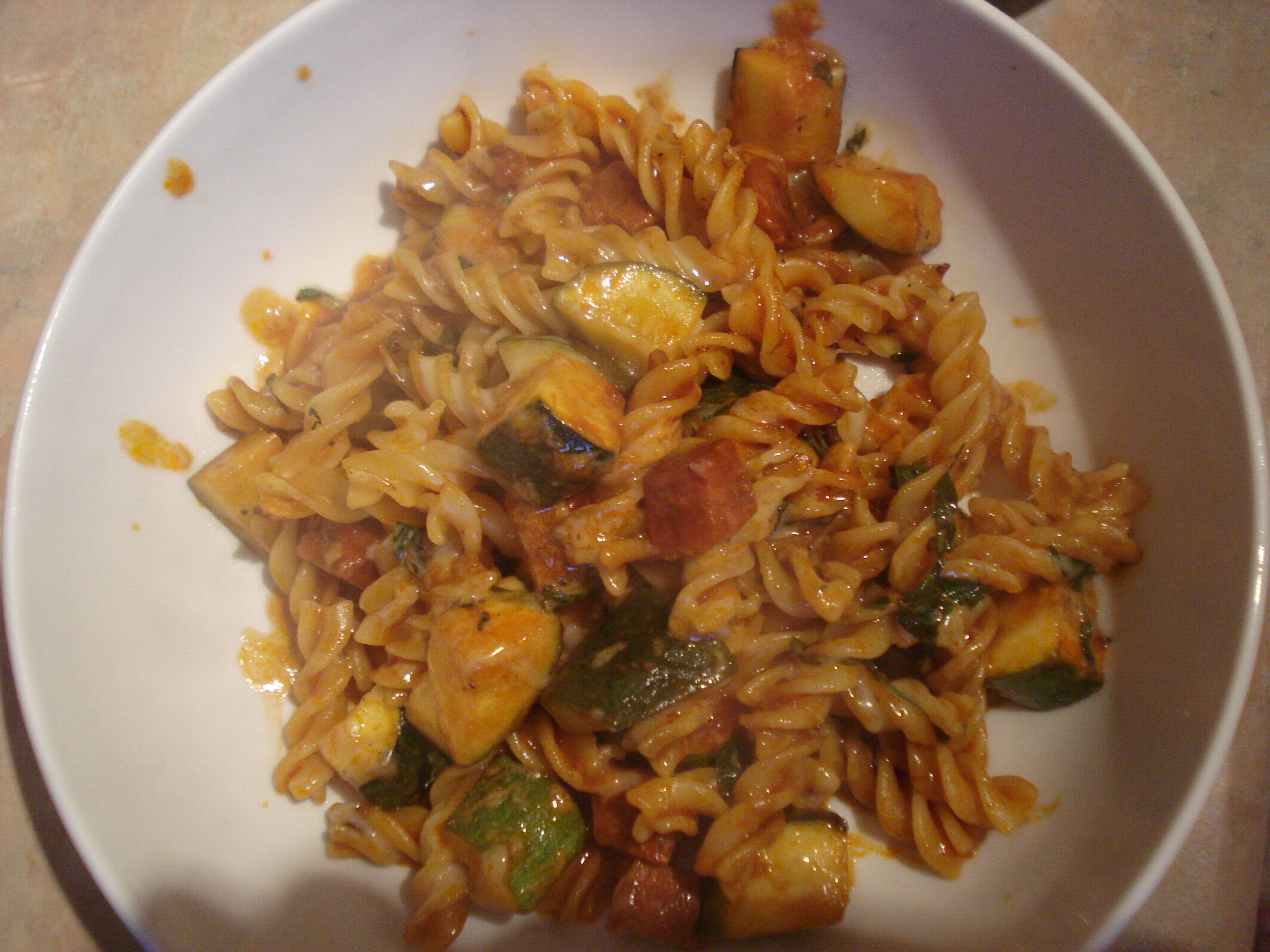 If you're a regular reader of this blog you might notice I do a lot of things "from scratch" (I really hate that phrase, like a badge of snobbish one-upmanship), because I enjoy it and I like knowing what goes into my dinner. In my time of course I've used pasta sauces and the like, and they range from OK to pretty good to truly vomit-inducing (usually ones that involve mascarpone).

I wouldn't usually blog about such a jar but I happened to use a Seriously Good pasta sauce. These are Gordon Ramsay-devised with a 10p donation to Comic Relief for each jar sold. And no, Gordon doesn't get a penny. There's a bunch of flavours, and the one I used happened to be cherry tomato & balsamic. Peering over the ingredients list on the label is very surprising: you can pronounce everything. And I can buy all of them in any supermarket. That's very reassuring.
I chucked it in a pasta bake with some chorizo and courgette, and it was lovely. Well worth a try – certainly if you find it on promotion, as it was in my local Sainsbury's. At least bask in the glow of making a small donation to a good cause 🙂
Seriously good pasta bake (serves 4):
400g fusilli
100g chorizo, roughly diced
2 large courgettes
1 jar Seriously Good cherry tomato and balsamic sauce
Cheddar cheese
Some basil leaves, shredded
Splash of balsamic vinegar
Preheat the oven to 180°C.
Get a pan of salted water on to boil and cook the pasta according to the packet instructions. Get on with the rest of the recipe and when ready, drain until needed.
In a large oven-proof pan, heat a little oil and add the chorizo. Cook briefly until it starts to colour on all sides, then add the courgette.
Continue to fry for 3-4 minutes, tossing frequently so the courgette gets coated in the rich chorizo juices and is starting to turn tender.
Add the sauce, then refill the jar half-full with water. Sloosh it around to gather up the dregs of the sauce and pour into the pan. Bring up to the boil and then add the drained pasta. Make sure everything is well-mixed and pop into an oven for ten minutes, or until the tops of the pasta sticking out are starting to turn dark-brown.
Scatter the basil over the top, grate some cheddar over and sprinkle with balsamic. Grind a little black pepper on top and a swirl of your best extra virgin olive oil, then return to the oven for a further minute or two, until the cheese has melted. Serve piping hot.