slow cooked pork and lamb ragu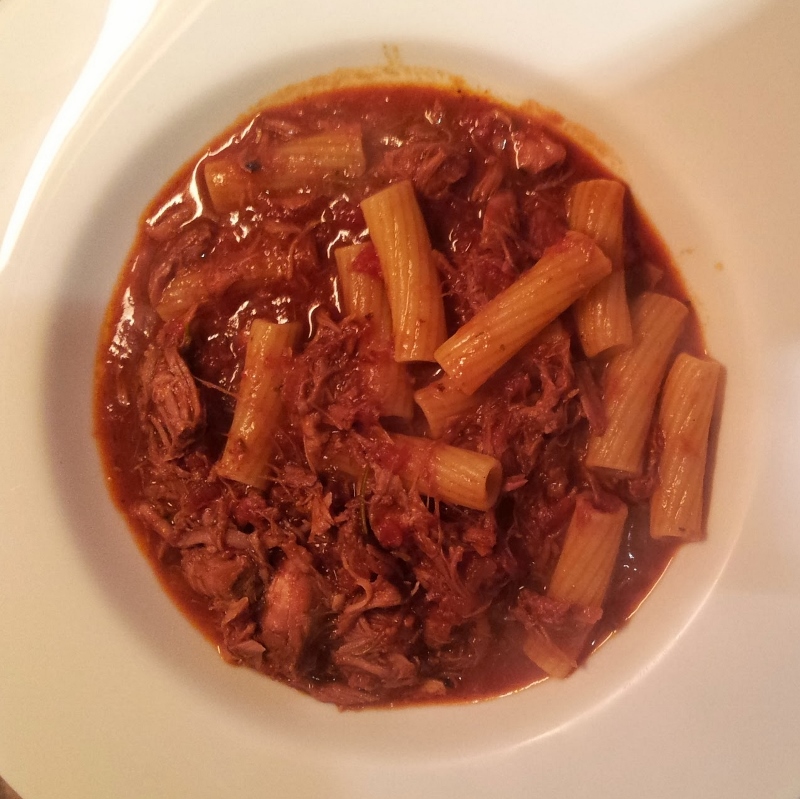 I had a great big clear out of the freezer and unearthed heaps of lamb and pork. Great big lamb shanks and chunks of pork all solid as rock and crying to be used up. I couldn't resist the opportunity to make a slow cooked pork and lamb ragu. Kinda traditional style, but I used a few Knorr flavour pots to kick things along. If you don't have stock pots, add about 6 cloves of crushed garlic and a tablespoon of dried Italian herbs such as oregano, basil, or parsley. I didn't even have an onion in the house so I didn't bother.
After a brief sear I pretty much chucked everything in a pot and left it to cook on a low oven for 14 hours. I would've used my slow cooker but it wasn't big enough! Step forward my largest Le Creuset casserole dish to house the meat mound.
The rich meaty smell filled the house, the kind of smell that drives everyone mad with hunger, the kind of smell that brings people in off the street to investigate.
Happily there was some cheese and broccoli bake in the freezer too to make a mean topping. A bit like a shapeless lasagne al forno.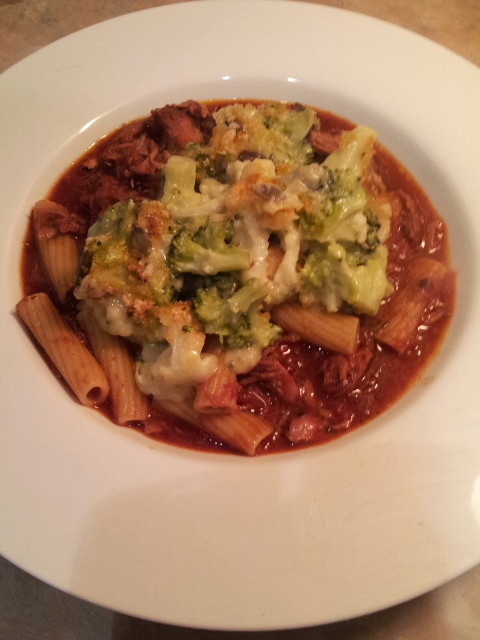 I could eat this sort of stew all day. Thankfully it made buckets of the stuff so much of it returned to the freezer for another day! You don't have to make the absurd quantities I have. Scale it down to sensible proportions as required and you'll have all the pork and lamb ragu you need. Make sure that pasta's al dente and you add back to the sauce to combine for the last minute or so.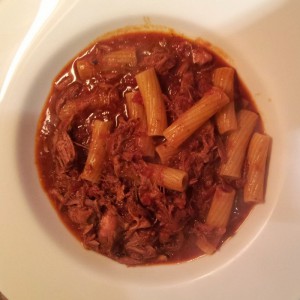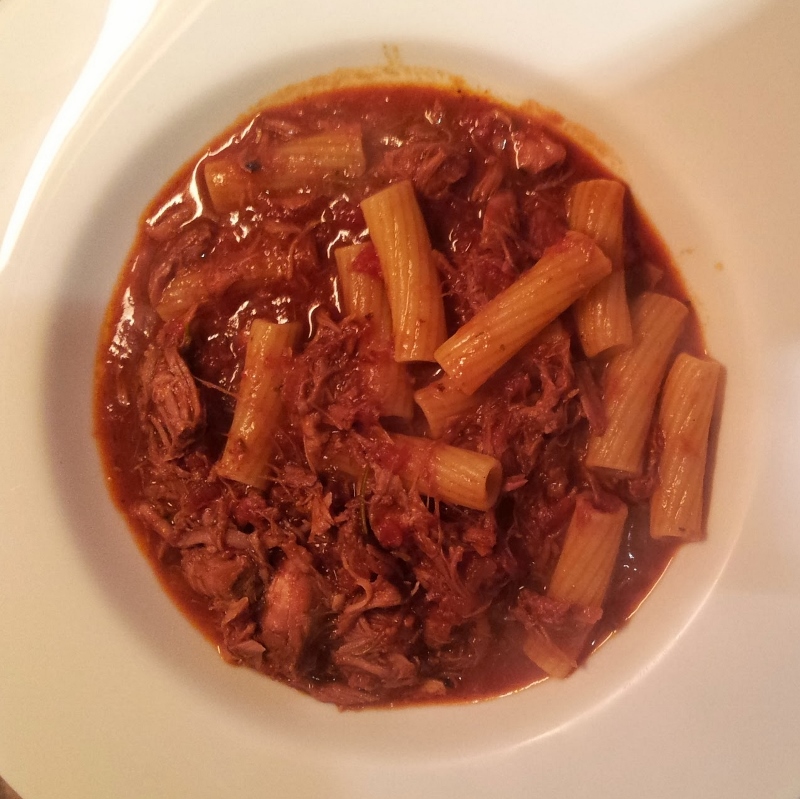 slow cooked pork and lamb ragu
Ingredients
4

lamb shanks

8

pork osso buco

1

sprig

rosemary

1

sprig

thyme

4

tins

tomatoes

1

litre

beef stock

1

Knorr garlic flavour pot

1

Knorr mixed herbs flavour pot

2

tablespoons

good quality balsamic vinegar
Instructions
Set the oven to 100C. Get a (very) large casserole dish over a high heat. Season the meat on all sides and brown in batches, removing to one side. When all the meat has been seared, return the meat to the pan with all the other ingredients. Bring to the boil and then transfer to the oven. Cook for 14 hours, or until the meats can be pushed apart with a spoon. Shred the meat and serve with pasta.
Want more slow-cooked lamb? Check out Nazima's pulled lamb. Mouthwatering!
Or maybe Jeanne's oxtail ragu. Immense!
Perhaps Helen's more traditional beef ragu is up your street? Delicious!
Leftover ragu? Try Kavey's recipe for stuffed courgettes. Brilliant!