sunday grill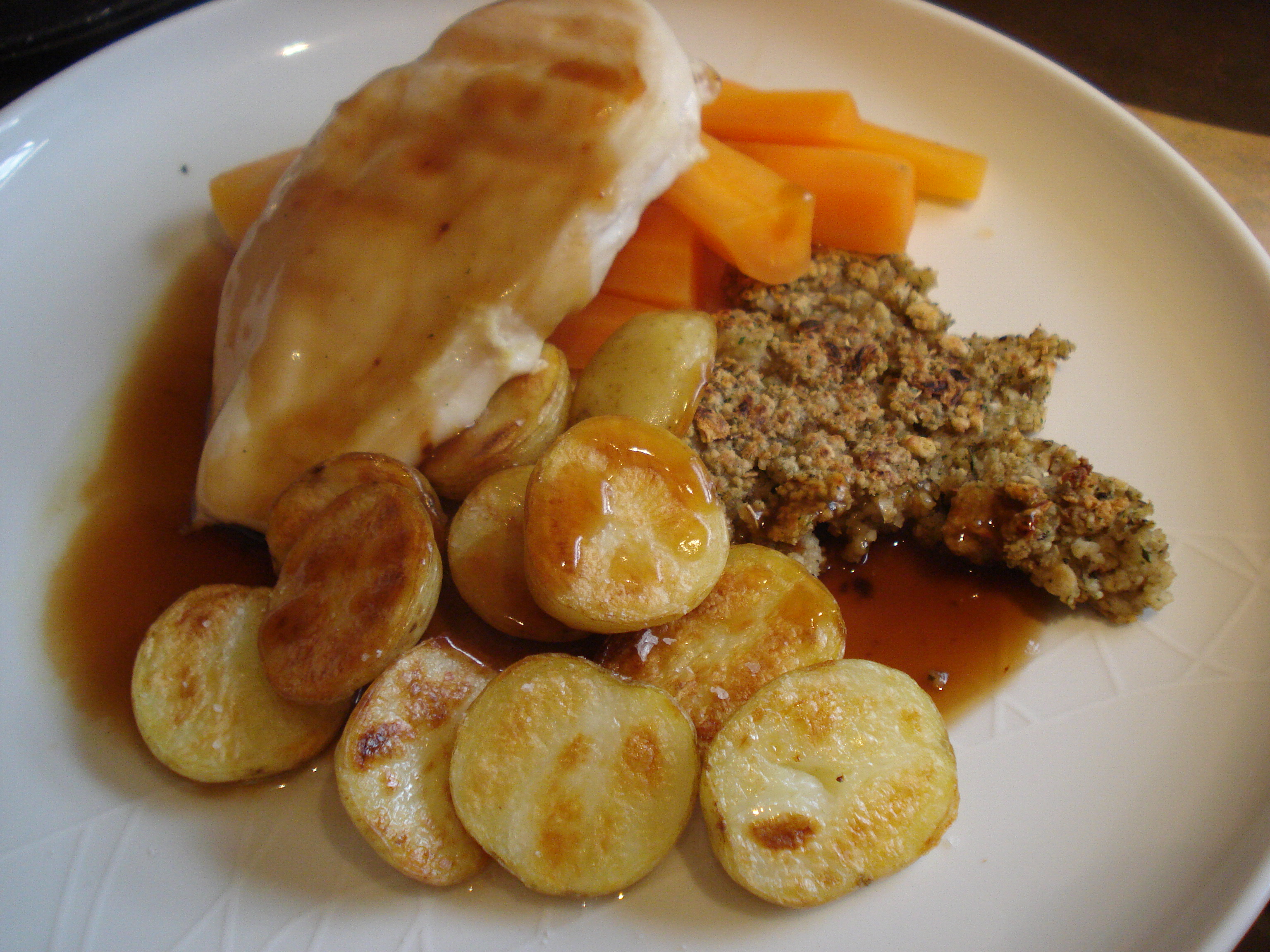 …Instead of Sunday roast, geddit? Except it wasn't roasted, and I ate it on a Wednesday. Simple, eh? Let me explain…
George Foreman Grills are making a comeback, it seems. They passed me by the first time around; just wasn't in the right place at the right time. So when I was invited to test-drive their new monster 4-Portion family grill
 I was intrigued. I tried out a few things but they were keen for me to try cooking a delicious four person meal.
Whatever my recipe was how could I leave out my thing, roast potatoes? So a version of that was definitely going to feature; from there it was only a short step to deciding I might as well do as much of a Sunday roast as possible on the little dude. I can't use my beloved Maris Pipers though, their texture will cause them to fall apart on the griddle. So I'm bucking the trend and using new pots here. Technically we end up with something closer to a saute potato but so much healthier.
With the potatoes sorted, it's on to the meat. Chicken seems like the way to go. But I want to maximise the flavour, I am not actually roasting here so a few leg-ups are needed to make regular grilled foods punch above their weight. My love affair with brining told me to try it here; it provides you with excellent seasoning and gives a much 'bigger' flavour. The final touch for the chicken is to rub it with a stock cube to impart even more deep chickeny love.
So there it is – my quick and tasty Sunday Grill. Once your chicken has brined I reckon it will take you 25 minutes to get it on the table, so it's a great midweek meal. Check back later this week where I'll be giving away a grill of your very own!
If you want to go shopping for a grill now, here's a deal for you: run over to George Foreman Grills and they're currently offering free UK delivery and a 50% off sale. But for an extra 10% off, use the code GFSAVE10 and grab yourself a bargain!
Thanks to Sophie for going to a lot (!) of trouble getting me a grill to test on. For more George Foreman Grill inspiration, check out Helen's lemony maple chicken thighs, and Katie's sticky griddled plums!
Sunday grill (serves 4):
4 chicken breasts
Lots of salt
1 bay leaf
1 tablespoon honey
1 chicken stock cube
500g new potatoes, halved
750g carrots, peeled and chopped
1 shallot, peeled
50g cooked chestnuts
4 pork sausages, skinned
1 rasher bacon
3 sage leaves
25g breadcrumbs
Gravy, to serve
Put your chicken breasts in a bowl and put it on top of some scales. Cover the chicken generously and note how heavy the water is. Work out 5% of the weight of the water, and add that amount of salt to the bowl. Ad the bay leaf and honey, cover and leave refrigerated for at least an hour, but no more than 6 hours.
When you're ready to cook, drain the chicken, give it a brief rinse in cold water and pat dry with kitchen roll.
Pre-heat your George Foreman grill to it's highest setting on both grill and griddle. Get a large pan of water on to boil. Crumble half the stock cube into the water. When it's ready pop the potatoes in and boil for approximately 8 minutes or until tender enough that a knife can pass into it. Drain and allow to steam-dry for a couple of minutes. As they cool add a teaspoon of oil and toss thoroughly.
In a food processor, whizz up the shallot, then add the chestnuts, sausagemeat, bacon, sage and breadcrumbs. Season well with salt and pepper and pulse several times until the whole mixture pulls together. Scoop out the mix and form into 4 balls, then flatten.
On the griddle section, add the potatoes cut-side down. This will cook for about 1o – 12 minutes, until the are beautifully golden brown. You should also just about have room for the stuffing patties. After about 6 minutes the stuffing should be flipped over and cooked on the other side.
Meanwhile, fill the saucepan that held the potatoes with boiling water again and get the carrots on to cook until tender to your liking.
After the potatoes have been on for about 4 minutes, rub the remaining stock cube half all over the chicken and add the chicken breasts to the grill. Cook for 7 – 10 minutes until cooked through. They will take longer to colour because of the brining, but they will cook inside in the same time. Serve everything up and pour over your favourite gravy.