paella gabriel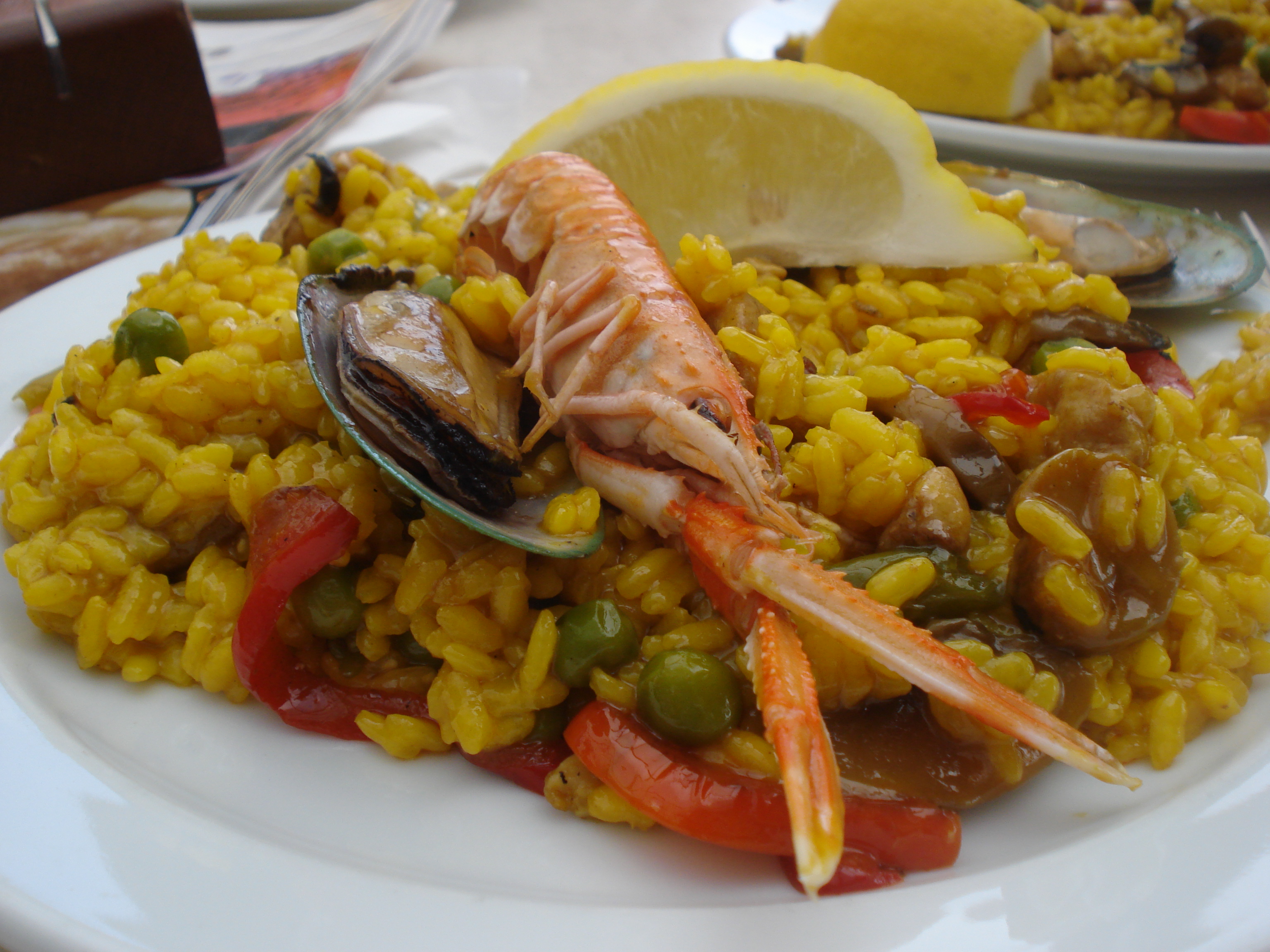 I'm fresh back from a week in Mallorca, and besides the balmy weather, powder-fine sandy beaches and beautiful views, one of my highlights was watching an expert cook paella for me up close. I've never had any particular technique for paella, throwing things in and waiting for a bit. But this guy, taking his time and enjoying it (and bursting into giggles throughout) had no qualms about cooking a monstrous dish of rice for 30 people.  And he talked about different versions too, of ones specific to Mallorca, a paella negra made with squid ink, and a gutsy paella brut.
I made my version totally identical to his, even going to a Spanish supermarket to get some powdered orange colouring, and it's really good. Fishy, meaty and completely enjoyable – though you can omit the fish if your family are as picky as mine! I've named this version after him as tribute to his demonstration. Make sure you serve it with sangria.
Paella Gabriel (serves 6):
4 cloves of garlic
300g chicken thighs, roughly chopped
300g pork loin, diced
2 peppers, sliced
Some mussels, opened
Some prawns
2 teaspoons powdered orange food colouring
Large splash of brandy
500g green beans, sliced
500g chestnut mushrooms, quartered
Large handful of peas
1 tin tomatoes
1 pint chicken stock
2 handfuls of rice per person
Lemon wedges, to serve
Crush the garlic and mix with the meats. Add a splash of oil and leave to marinate (overnight, if you have time).
Heat some oil in a large wok or paella pan. Fry the peppers and fish on a sizzling heat until the peppers are tender, then remove from the pan to one side.
Add the chicken and pork and continue to fry. Sprinkle a little salt and colouring.
When the meat is browned deglaze the pan with the alcohol. Allow this to bubble for a minute or two before adding the vegetables. Stir well to coat in the seasonings and then pour over the tomatoes and stock.
Once the liquid had come to the boil, tip in the rice. Simmer for a further 15 minutes, or until the rice is cooked. Stir occasionally to prevent the rice from sticking.
When the stock has been absorbed, turn off the heat and stir the fish and peppers back into the paella. Serve with wedges of lemon.